Blocksy is a powerful block-based WordPress theme highly compatible with Gutenberg Editor. The Blocksy WordPress theme is packed with robust customization options and super-fast performance. Let's dig deep and learn more in this Blocksy review.
If you are entering through the WordPress world, and you ever wondered how to build a website but have no idea about, this in-depth review of Blocksy WordPress theme might help you. ✌
Like a LEGO, the block design technique splits the website design into small pieces; every piece is individually designed like a puzzle and can be assembled on a whole-customizable page. That lets you set-up and rearrange every element of your website according to your requirements.
Blocksy Review – A Powerful Gutenberg Centric Block-Based WP Theme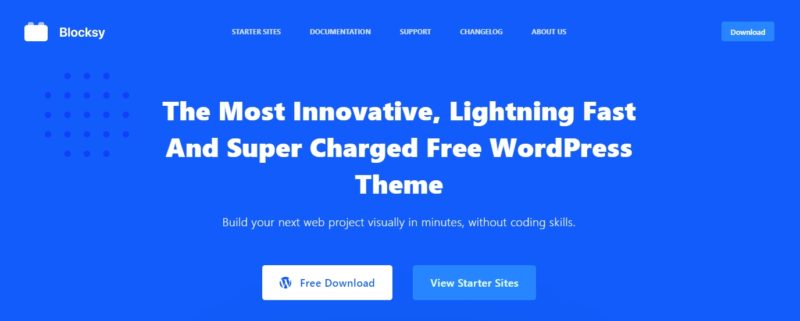 Blocksy theme for WordPress is a reliable, innovative, lightning-fast, and feature-rich theme. It is relatively easy to build a website with Blocksy. It is a multipurpose theme specifically designed to work with block-based page builders; this means that you can do creative pages and posts by drag & drop blocks, which gives you the chance to combine them in different ways.
The Blocksy theme is developed two by WordPress enthusiasts and friends Sergiu and Andrei from Creative themes. They are based out of Romania.
According to the official WordPress database, this theme for WordPress has a maximum 5-star rating over 200+ reviews and currently has more than 7,000 active installations.
The stats clearly suggest that the Blocksy WordPress theme is relatively new as it has only seven thousand active installs but that does not mean it is inferior in any aspect. I am sure that this Blocksy review will help you make an informed decision.
Let's mine deeper and find out the good and not so good features in this Blocksy WordPress theme review.
Blocksy – Desing and Key Features ?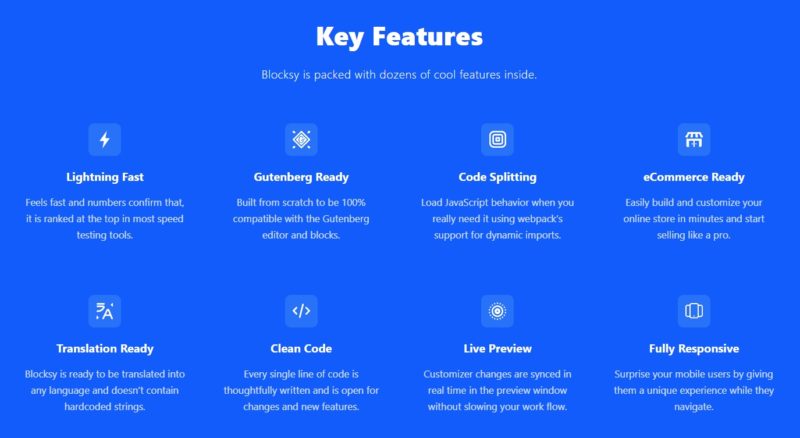 Let's explore through this Blocksy theme review what we consider the key features of the Blocsky theme:
Blocked-Theme – Whole customizable.
Intuitive from the very start, this will let you choose every design aspect to consider. As a designer, rearrange blocks in real-time; the Live Preview option will allow you to see your progress while working on the visual design.
Instant Customization – Live preview to see the progress on the ongoing work.
Design your website in real-time, have total control of every design aspect as headers, footer, sidebars, single pages, and much more.
Social Friendly – Share your content instantly to social media.
Add social media buttons on your header to get more traffic and engagement into your social media profiles, drag and drop buttons you need, and redirect your social media profiles.
Fast Loading – Lightweight as a feather.
As it is built with the latest technologies, you will have access to a daily improved block editing platform, allowing you to enhance user experience. Anyhow, you need to consider that you will also need up-to-date web browsers to ensure optimization.
eCommerce Support – Sell products or services quickly.
Whether you're a web design professional or plan to build your eCommerce website, Blocksy theme is compatible with WooCommerce plugins, so you can start selling your products or offering your services quickly.
Fully Responsive – Don't worry about screen issues anymore.
Guaranteeing that the web design will work on every accessible screen is not an easy task. Luckily, you won't have website visualization problems across devices due to this theme's fully responsive feature.
Blocksy Theme Customizations Highlights ✨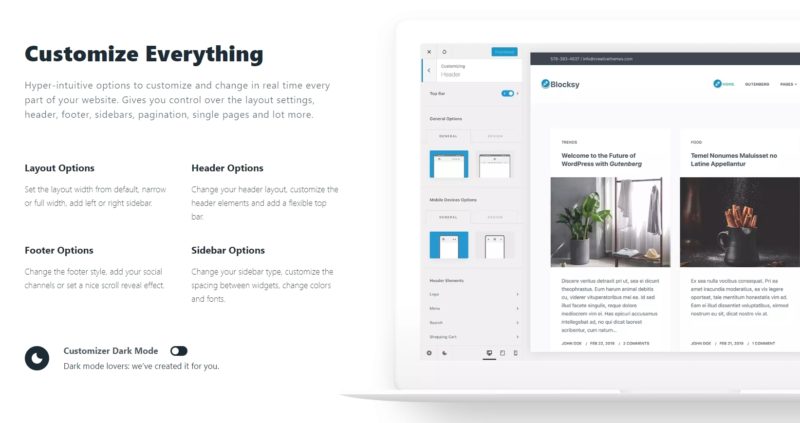 There are tons of customization features available with this theme. In this review of the Blocksy theme, we'll focus on the 4 core customization features i.e. Header and Footer Builder, Color, Backgrounds & Advanced Typography Options.
Header Builder Overview
Drag and drop up to nine elements to your header. Add buttons to your header, set up sections such as Blog, Gallery, Contact, About, and even a Search Bar. You are also able to arrange them according to your needs.
Use the advanced options to go even further and to fit the screen to any device. Get the blocksy documentation for the header builder and explore in full detail all the Blocksy Theme offers for you.
Drag and drop social media buttons on your header to redirect traffic through your different networks and add a 2nd heading box if you need a second one by activating the feature.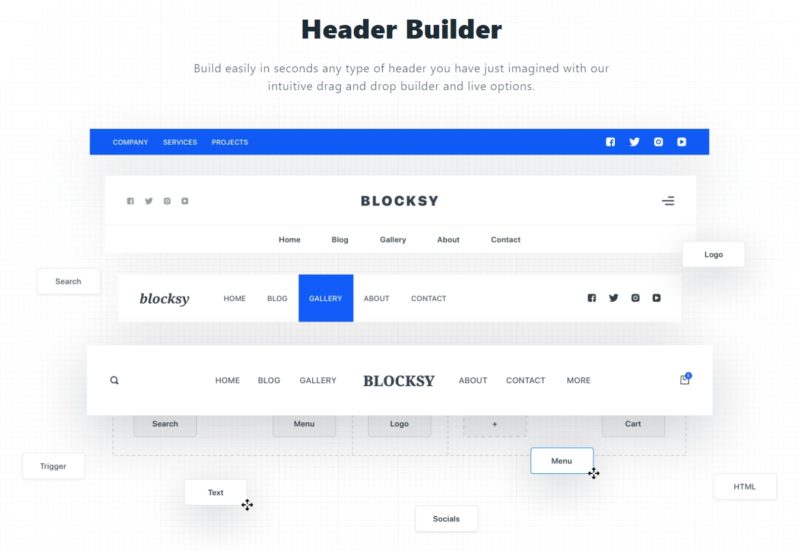 Color and Backgrounds
Colors are a vital aspect to take into consideration when designing a website.
Feel free to customize your website with a color scheme; you should know that color is essential and will affect everything.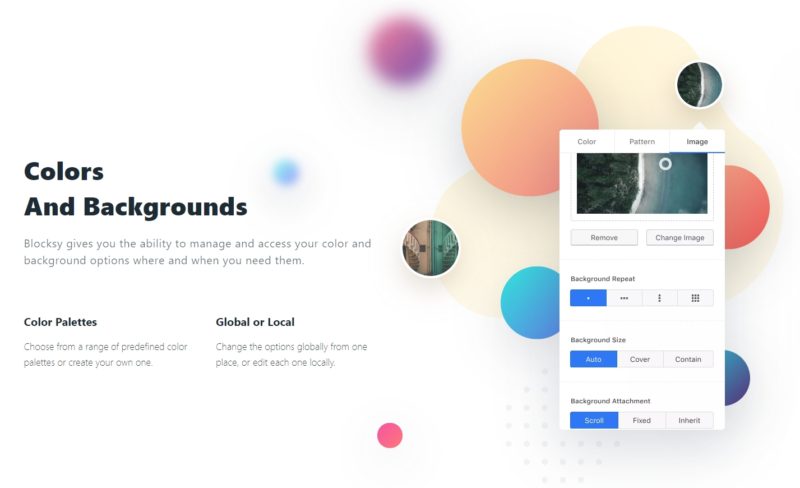 Advanced Typography Options
Forget about restrictions on fonts. Get full control of the size, format, or color of your texts. Access instantly to a gallery of 900 available Google fonts.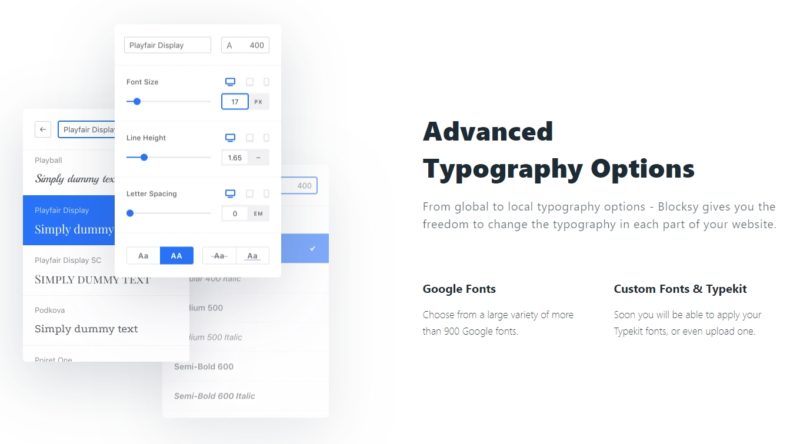 Once you have installed the blocksy companion, you can use Blocksy's footer builder to fully customize this section.
You can customize your footer in the elements tab by entering contact information and social media access and adding up to four widgets areas. While in the general tab, you can add a site reveal effect.
Modern Archive Layouts
Blocksy allows you to select from different templates and let you pick a template for your main blog post list, category folders, and more.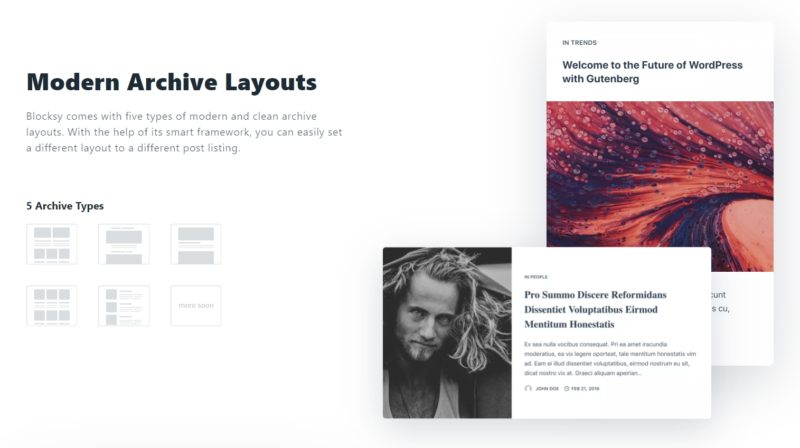 Feel free to switch between responsive views for desktops, mobile devices, and tablets while working on your website. You'll be able to see how your concept looks on the mobile device and customize it.
Blocksy Theme WooCommerce Integrations ?
No doubt, Blocksy and its integration with WooCommerce and the Gutenberg page builder are some of the best stuff.
Including additional features such as product easy view, add to cart, and different product gallery types are potent tools.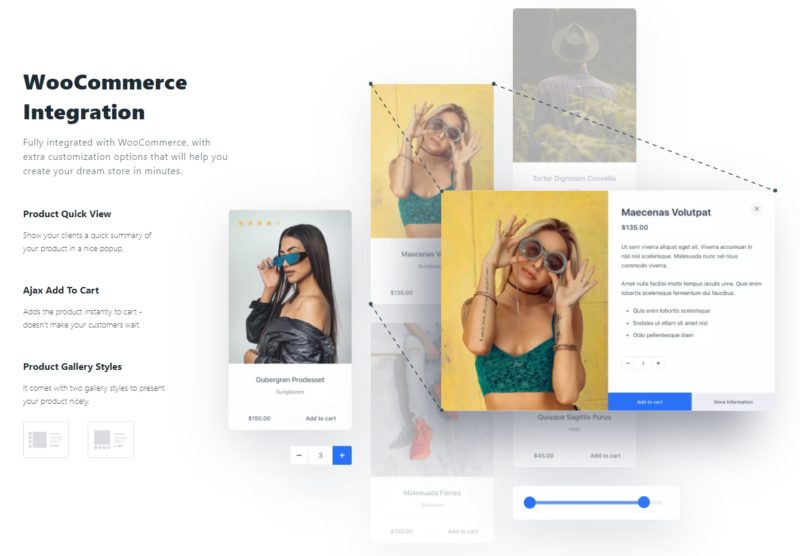 Blocksy – High Compatibility with Page Builders
For several years, WordPress has been one of the most solid website design choices. But now and due to technology and the help of advanced plugins and resources, it expands at an even faster pace.
From day to day, many individuals are now able to create their websites without designers or developers. A page builder simplifies web design for users with minimal technical skills.
Blocksy theme is regarded as a theme for general purposes, and you're eligible to work up to perfection with other well-known page builders such as Elementor, Beaver Builder, and Brizy as well. You have options to go according to your knowledge, experience, and ambitions.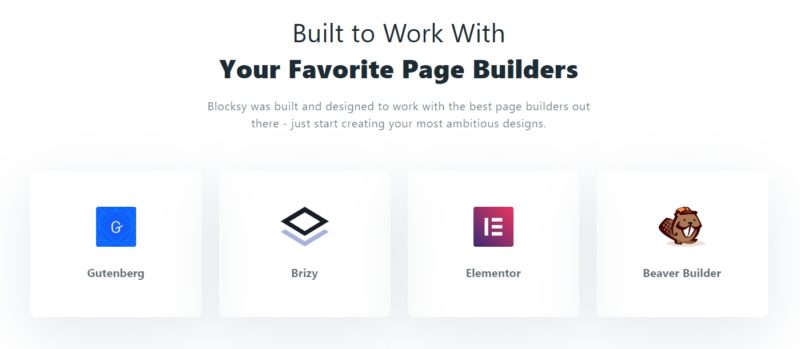 Gutenberg
Blocksy WordPress theme and Gutenberg editor are made for each other. Indeed, this clean-coded theme was built to work with the editor's new version, making it possible to exploit the full potential of Blocksy.
Brizy
Get exclusive features with Brizy that are not available in other page builders by paying an affordable amount. Explore professionally designed blocks of Blocksy with the compatibility of Brizy. And it also works with WordPress WooCommerce plugins.
Elementor
One of the easy-goings page builders you can find around, create a header, a footer, or a theme. It also counts with an intuitive design and exclusive right-click menu options. Elementor is a highly compatible and recommended page builder to use with the Blocksy WordPress theme.
Beaver Builder
Beaver Builder offers a whole designed system to get total management of your web design. It also works flawlessly with the Blocksy theme. If you want to give an opinion based on experience, you can try the real-time demo they offer for free.
If you do not want to use a page builder and looking for some lighter options for your blog or website.
I would recommend you to check out this article for GenerateBlocks Review. GenerateBlocks is a block-based WordPress plugin compatible with the GeneratePress theme to create multiple layouts easily.
Blocksy Child Theme ??
If you want to go advanced and feel like modifying Blocksy's core files, our suggestion for you is to install and activate the Blocksy Child Theme. Don't worry about messing up the main theme.
You can download the Blocksy child theme from here and follow the next steps to install it properly:
Go to Appearance → Themes in your WP dashboard.
Click on the Add New and then Upload the Theme button.
Select the blocksy-child.zip file you downloaded before.
Then, Install Now & Activate the theme.
Voila! Your Blocksy Child Theme is active.
Now you can start adding your CSS into the child theme style.css file. Visit the official documentation site for more details.
Blocksy Starter Sites ?
Technology advances every day, and the Blocksy WordPress theme is living proof of them. Save time with the starter sites Blocksy has prepared for you.
The performance, availability and quality of starter sites was the core part of our Blocksy review.
Blocksy starter sites are pre-designed web templates. You can download and edit these templates in the customizer as per your requirement. It will help you to achieve your goals in a faster way.
With special attention to details and functionality, these one-click templates are ready to simplify your work.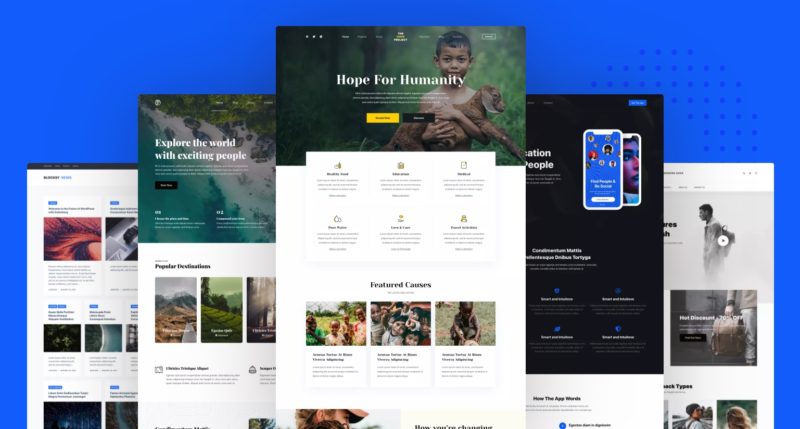 Finally, the code is clean and clear, and in our honest opinion, SEO friendly feature does the job up to perfection.
Blocksy Companion (A Feature-Packed Addon) ?
Take full advantage of Blocksy with the blocksy companion. Once you install it, you will access vast demo templates, extensions, and useful tools on your hand.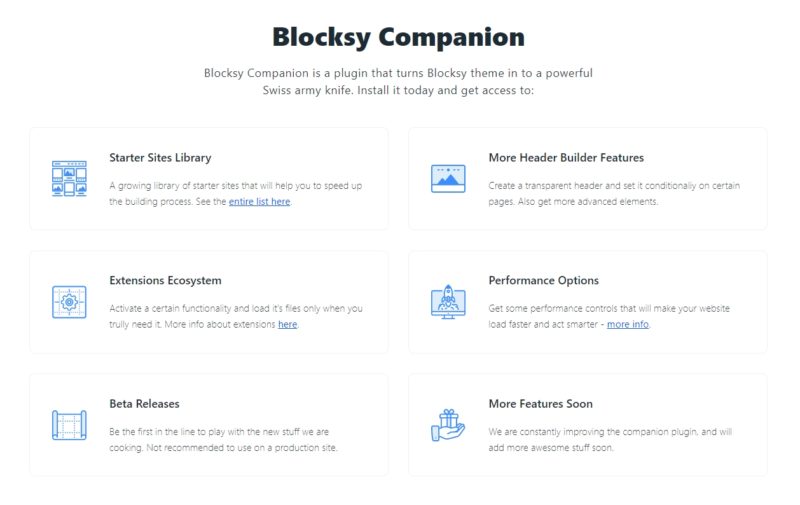 The Blocksy Companion Addon offers,
Cookie-Consent Popup,
Instagram Gallery Integration,
Newsletter Signup Form with Mailchimp integration,
WooCommerce Integration
Add extra widgets
Visit the blocksy companion official documentation site to get full information and a complete step-by-step installation guide.
Blocksy Performance ⚡
The clean code and the use of modern web technologies such as React, Webpack, and Bable make Blocksy is a lightning-fast WordPress theme.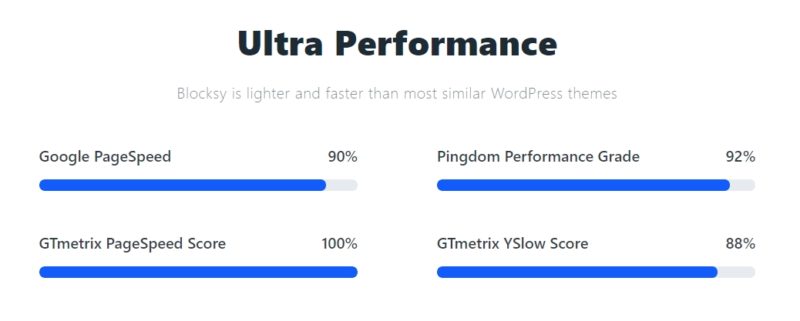 During the testing for this Blocksy Theme Review, we have found that the Blocksy theme offers an Ultra-fast performance and loads faster than most of the similar WordPress themes.
| | | |
| --- | --- | --- |
| Blocksy Performance Test Results | Overall Score | Load Time (sec) |
| Pingdom Performance Grade | 94% | 1.2s |
| GTmetrix PageSpeed Score | 93% | 1.5s |
| GTmetrix YSlow Score | 91% | 1.5s |
| Google PageSpeed | 93% | NA |
| KeyCDN Website Speed Test | 90% | 1.2s |
Blocksy Performance Test Results
10 Core Features of Blocksy WordPress Theme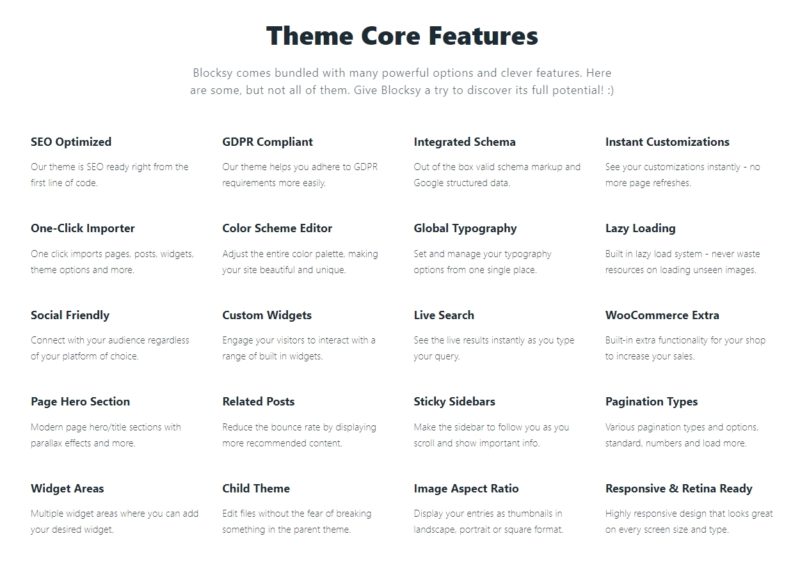 SEO Optimized – From start to finish, get the most of your web.
GDPR Compliant – Protect your customer's data. 
Instant Customizations – Forget about pressing F5. From now on, you'll see customizations instantly.
One-Click Importer – You are one click away to import as many elements as you need.
Lazy Loading – This feature enables you to reduce resource-wasting by not loading unseen images.
Social Friendly – Redirect traffic to your social media profiles
Live Search – See real-time results in the search bar when you are typing.
WooCommerce Friendly – Get the most of your online shop.
Child Theme – Access to file editing. Don't be afraid of breaking something in the main theme.
Responsive – Blocksy theme design fits on all screen sizes.
Blocksy Pro
The Creative Themes team has recently launched the premium version of the Blocksy theme called Blocksy Pro.
The Blocksy Pro theme is bundled with many advanced features such as,
Multiple conditional headers, sidebars, and footers
Content block hooks
Supports Custom fonts and ability to use Local Google fonts
Mega menu with advanced features
Desktop off-canvas drawer and many more.
Blocksy Pro is also going to offer few more premium features soon like an Advanced blog module, a Portfolio extension, and Premium starter sites.
Blocksy Pro plans are give below –
Yearly plans of Blocksy Pro theme starts from $25 for a single site, $35 for 5 sites and $49 for unlimited sites.
Get Lifetime plans of of Blocksy Pro in $75 for a single site, $99 for 5 sites and $149 for unlimited sites.
Blocksy vs GeneratePress vs Astra
It is essential to know what is the real objective we are looking for. The balance will always lean more towards the tool that best suits our expectations.
The Blocksy review would be incomplete if we do not compare the theme with its competition. Let's check out the pros and cons of the three most popular WordPress themes and draw your conclusions. Blocksy vs GeneratePress vs Astra –
Blocksy vs GeneratePress vs Astra
Pros
Cons
Blocksy
– Free WordPress theme
– Vast Layout Options for Pages
– High Page Builders Compatibility
– WooCommerce Ready
– Awesome Demo Sites
– So Many Updates as it is new
– Documentation is okay but limited
– The numerous features can confuse beginners
GeneratePress
– Best for Blogs
– Page Builder Compatibility
– Many Customizer Options
– Extensive Documentation
– WooCommerce Integration
– Flexible Header Options
– Full websites demos are very less
– Poor 3rd party Integrations
– Very basic free version but Pro is amazing
Astra
– One of the Fastest WP theme
– Lots of Free Demo Sites
– Mega Menu Feature
– Custom Layouts Options
– WooCommerce Support
– LearnDash Support
– Limited Header Style Options (Three)
– Basic Archive Page Styling
– Basic comment styling for blogs
– Basic Post Styling
A comparison of Pros and Cons b/w Blocksy vs GeneratePress vs Astra
Limitations of Blocksy
We need to understand that there are themes with many prefab starter sites and tons of customization features which are doing so well.
Limitations are the main problem of the themes; customizing your website from scratch is impossible since you're working on predesigned templates. All theme developers try to cover all aspects, but there will always be limitations.
However, a person entering the web design world can learn a lot and gain experience while experimenting with tools like Blocksy WordPress theme.
Another thing which requires improvement is the support from the developer, which is limited. They do respond to your queries, but it takes time because of small team. I am sure it will going to improved eventually.
Concluding the Blocksy Theme Review
Technology is fantastic. From day to day, more online tools show up to make the work easier. Definitely, Blocksy is one of the best WordPress because it is free and offers many powerful tools that improve your workflow.
We're dropping some ideas you can develop using this WordPress theme. Whether you are an artist, a non-profit organization, or plan to sell your products or offer your services, you have available tools and extensions that will get the work done.
Portfolios – As a photographer or a graphic designer, you will need to make a move sooner or later; if you think you have skills and curiosity, you can try setting up your portfolio to promote your work professionally.
Corporate Websites – If you are already established organization and currently looking professional on the internet, this is an affordable way to reach your visibility goals. Promote your business and the content properly.
Online Shops – Open your web store right now; the Woocommerce plugins are the perfect complement to the Blocksy WordPress theme, whether you want to sell clothes online or have planned to open an online store.
Blogging – The theme offers tons of customization to design a blog. You will love the options for Blog title and features image customization on a single page and multiple Grid feature on the Blog and Archive pages. A superfast performance and clean design make Blocksy a great option for blogging.
Did you use Blocksy theme? Would you recommend it? How do you find our Blocksy review? Do let us know in the comments section below.
FAQs- Frequently Asked Questions
Why should I use a Block-based Theme like Blocksy?
The clean and blocky interface and design will give you confidence. During the process, you will feel how the theme itself guides you to achieve your goal. Its intuitive design will not make you feel lost all over your path.
How Do I Make the Most of the Blocksy WordPress Theme?
Take full advantage of this theme with the Blocksy companion plugin. You will have access to many demo templates, extensions, and useful tools by installing this plugin. Visit the official documentation site to get full information and a complete step-by-step installation guide of the Blocksy Companion
How Does Blocksy Pro Theme Help Me Build a Reliable Website?
Blocksy Theme is a reliable and relatively easy way to build a website, and it was designed to work with block-based page builders. Make creative websites and posts by drag & drop blocks. Combine them in different ways to build responsive landing pages, corporate websites, or starting an e-commerce business.