GeneratePress is possibly the best multipurpose WordPress theme you can find in 2021. Let's dig deep and understand the good and bad aspects of GeneratePress in this in-depth review.
This detailed GeneratePress review will be focused on –
What is GeneratePress?
Why GeneratePress is so popular?
Head to head b/w GeneratePress Free vs Premium
Review of all the GeneratePress modules
GP Premium performance with real-life testing results
GeneratePress Pros and Cons and much more
GeneratePress Review — 2021
GeneratePress undoubtedly is the best WordPress theme for bloggers & freelancers. It is extremely popular; got a 5-star rating & downloaded 2000 (approx.) times per day from WordPress.org. Its lightweight framework & blocks-first approach make GeneratePress a highly versatile and one of the fastest WordPress theme for blogging & small businesses.
What is GeneratePress?
GeneratePress is a WordPress theme, developed by Tom Usborne, that focuses primarily on speed and usability.
With over 300,000 active users and over 70,000+ paid customers, GeneratePress is among the top used WordPress Themes.
It also boasts remarkable ratings from users – over 98.5% 5-star ratings out of a total of around 1100+ WordPress ratings.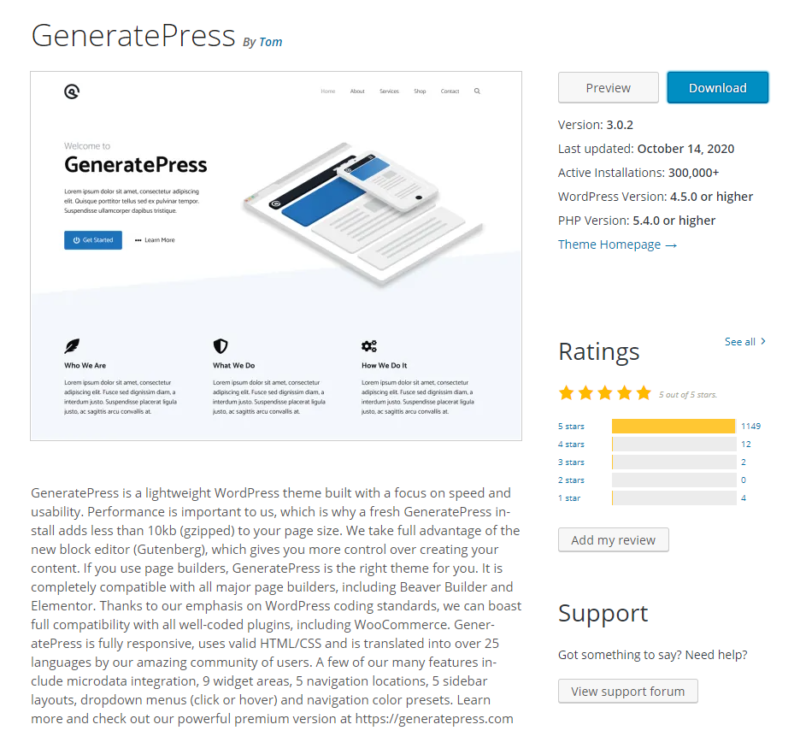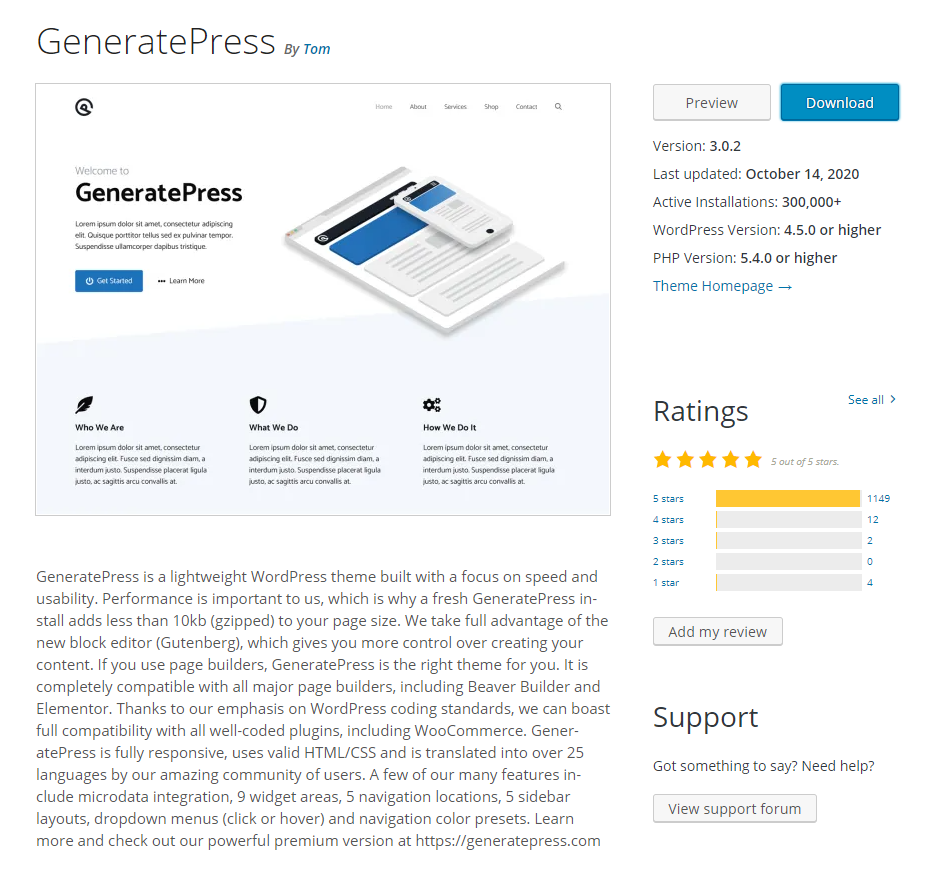 You can judge GeneratePress free theme popularity by the number of downloads per day.
In the last six months, on average, the free GP theme is downloaded more than 2000 times per day from wordpress.org.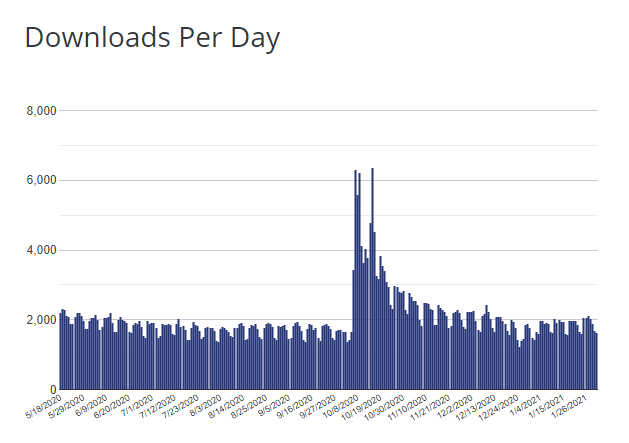 The theme is quite flexible and has a good existing collection of readymade themes to choose from and hence it is quite suitable for a variety of website categories – blogs, product services, e-commerce – they've got it all covered.
It comes in a free as well as a premium package, with the premium having a lot to offer, which I will delve into in this GeneratePress review.
Since you have stumbled on this article during your perusal of this theme, you may be on the journey of developing your website. I suggest going over our article on Best Blogging Platforms – Detailed Comparison where we discuss and compare blogging platforms like WordPress, Blogger, Wix, Squarespace, etc. among others in detail.
If you are a beginner to website development, do check out our article on 20 Tips for Beginner Bloggers as well to help plan your journey ahead.
GeneratePress Reviews – What Do Users Have to Say?
Let's head over to WordPress reviews to find out what users have to say about GeneratePress.
GeneratePress draws quite a number of good reviews daily and I'm not surprised.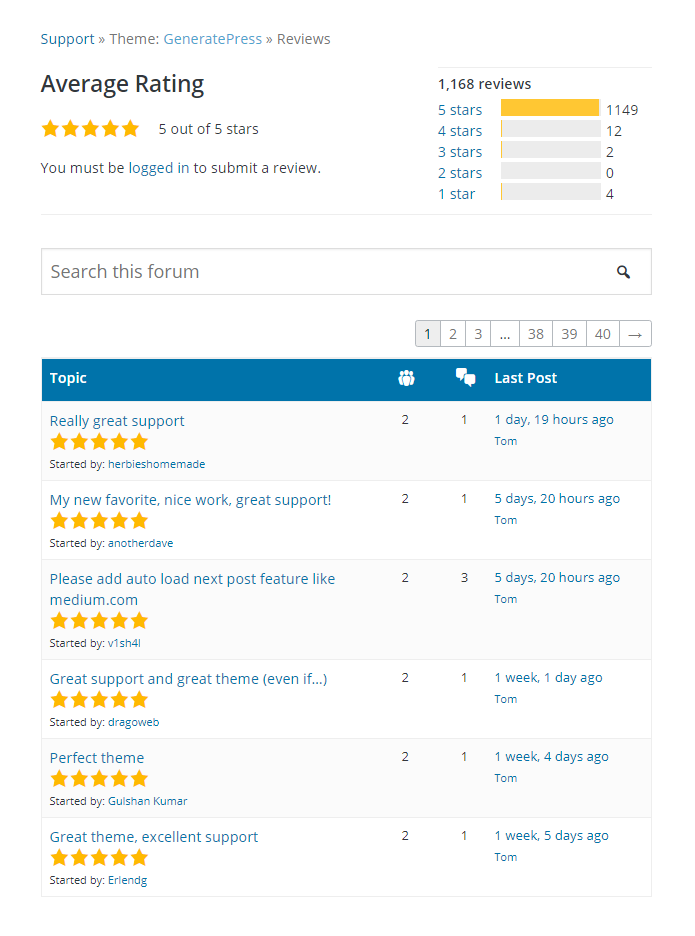 GeneratePress offers some of the best support out there, very prompt to address issues by users.
The following user, in particular, was quite pleased that they decided to buy it a second time after initially not understanding its capabilities.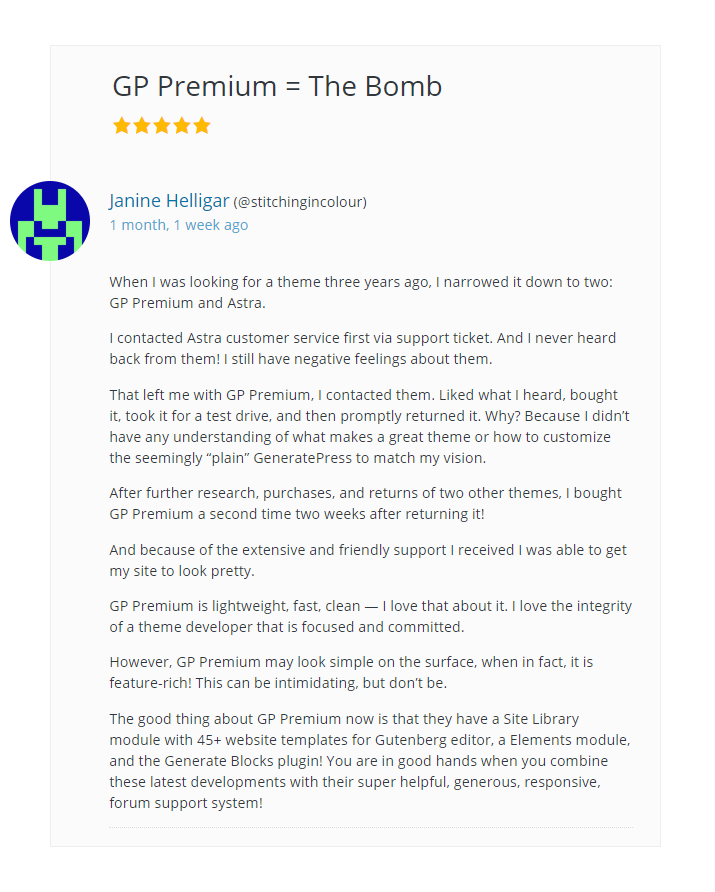 Another user notes how they found the elements module as the key feature that made GeneratePress well worth their purchase.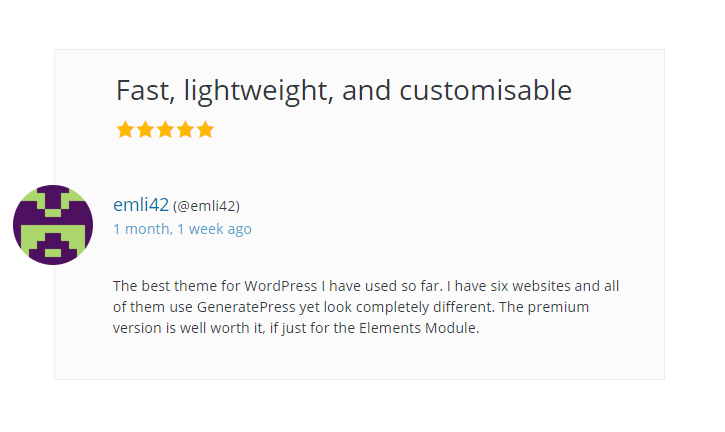 Let's go over the key features of the GeneratePress theme as well as GP Premium in the following sections.
Key Features of the GeneratePress WordPress Theme
I briefly go over some key requirements that a theme requires in the 'Things to check before You buy a Theme' section located towards the end of the GeneratePress theme review. So you can understand how GeneratePress ticks all boxes.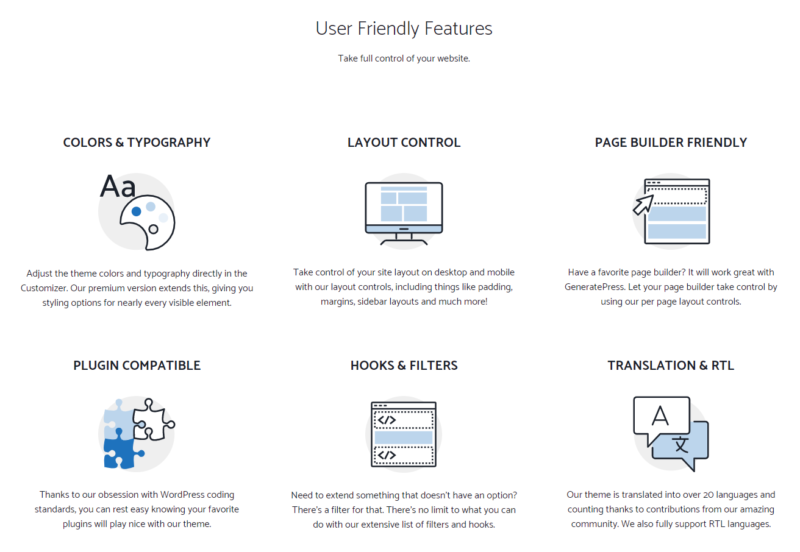 Performance-oriented theme – Very Low Size making it Faster to load.
Uses only Vanilla JavaScript to avoid rendering issues.
Uses good data structuring making it SEO Optimized.
Follows Web Content Accessibility Guidelines 2.0 making it applicable for building sites that are friendly to disable or impaired individuals.
Great compatibility with major page builders such as WordPress, Elementor, and Beaver Builder.
Good compatibility WooCommerce and other with major plugins.
Available in over 25 languages including RTL (Right-To-Left) languages.
Extensive Documentation and Support.
How To Install GeneratePress
Lets learn the step by step process to install the GeneratePress WP theme, free and premium version both.
Installing GeneratePress Free Version
To install a Free version of the GeneratePress theme, just head on over to
Dashboard → Appearance → Themes
Then click on 'Add New', search for 'GeneratePress' and click on Install, followed by 'Activate'.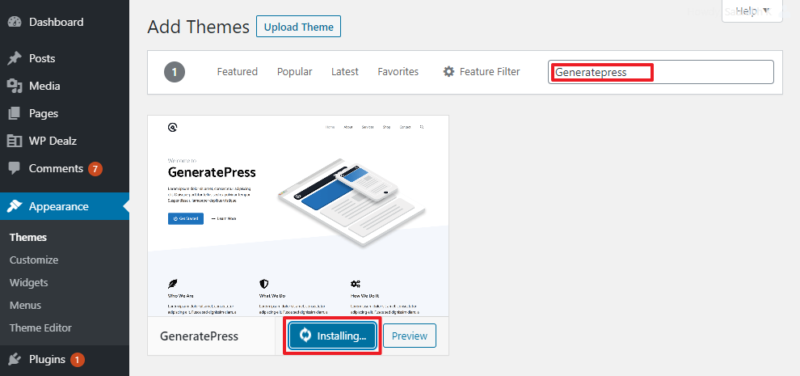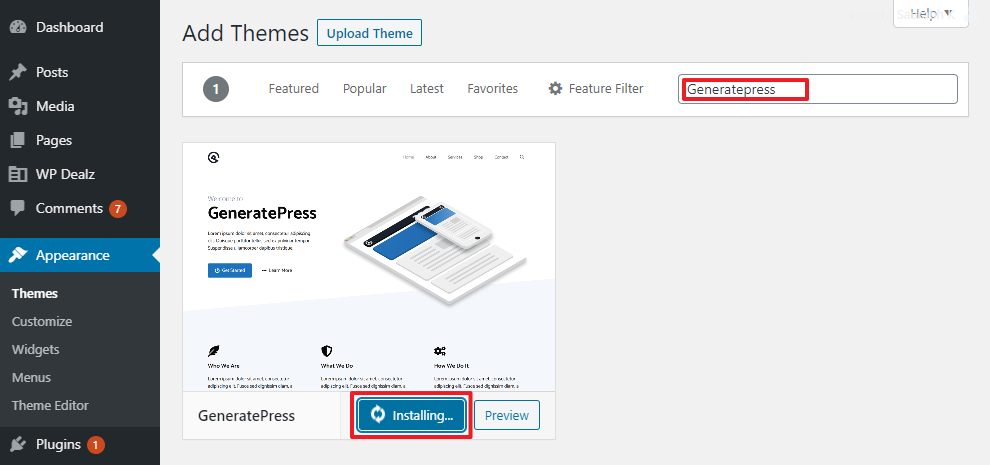 GeneratePress Premium comes in the form of plugins. In order to install GeneratePress Premium, follow these steps :
First install the basic theme using the steps above, the same as the free version.
Then, once you purchase GP Premium from the GeneratePress website, download the required files from the GeneratePress Premium download page.
Your download will be in the form of a .zip file.
Now navigate to the Plugins page of your WordPress Dashboard (Dashboard → Plugins → Add New).
Click on the 'Upload Plugin' button and browse for the premium plugins' .zip file that you downloaded in Step 3.
Once uploaded, click on 'Activate Plugin'.
Now go to Dashboard → Plugins → Installed Plugins and you will find 'GP Premium' in the list. Click on 'Configure' (Note: Make Sure you followed Step 1, otherwise you will not be able to access the configuration page).
You will find a list of all the available modules, and Activate them all.
Installation is now successfully complete 🙂
As stated earlier, the free GeneratePress theme can be installed directly to your WordPress site. Hence you can directly try it out quickly to check if it suffices, but I recommend the premium, as it is worth the price.
I'll go over the main features that you will find in the Customization Panel in brief, so that you have a quick overview of what the premium version offers. A further detailed explanation of the premium modules can be found below as well.
GP Premium offers tons of features for customization and performance optimization.
Let's go over and do a review of the key features of GeneratePress Premium.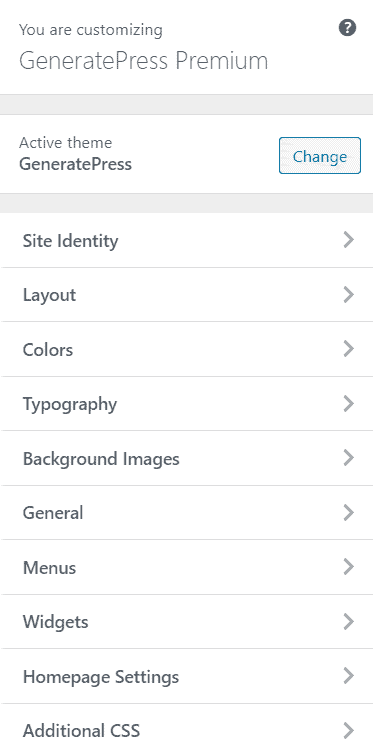 #1. Site Library
The Site Library module allows you to explore through a myriad of existing readymade themes that you can directly apply to your website and customize the individual elements.
The Library also lets you choose the templates that work with the Standard WordPress, Elementor, and Beaver Builder editor.
To access the GeneratePress Site Library, navigate to :
Dashboard → Appearance → GeneratePress → Site Library
You can browse among 60 or more templates that you can use right off the bat by following the installation instructions that are detailed here.
#2. Colours
With over 60 options, GeneratePress offers you the ability to edit the color of nearly every element of your theme individually.
The Colour options can be found in the Customization panel.
It contains various subpanels, among which I've shown 'Header' and 'Sidebar' options below.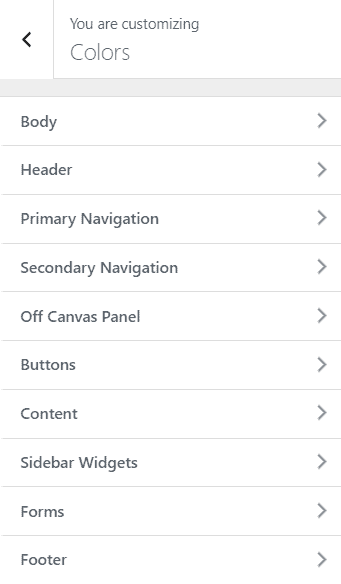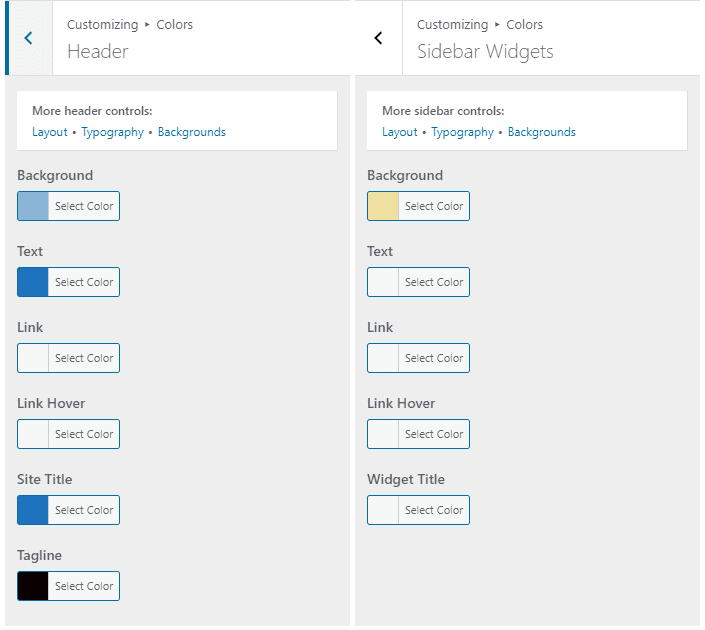 #3. Typography
Typography allows you to set the font and font styling of different aspects of your site.
GeneratePress provides an extensive set of over 70 options with the Typography settings that you can tweak to suit your taste.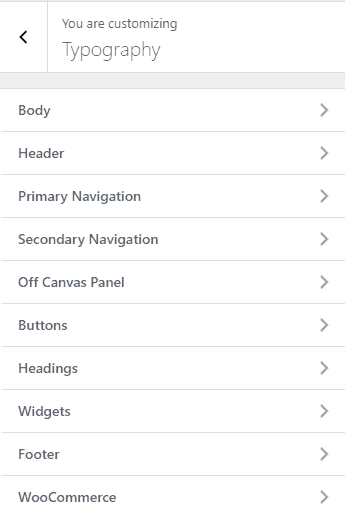 You can also upload your custom font and use it as a local font with the GeneratePress theme, and extensive documentation for the same is here.
#4. Elements
A more advanced and very useful feature, GeneratePress Elements basically allows you to create and/or edit certain elements in depth.
The Elements editor was introduced in GP Premium 1.7 and it combined the functionality of certain previous modules into a single module.
Currently, the Elements editor has 4 main options: Header, Hook, Layout, and Block.
The module is packed with so much functionality that explaining the whole 'elements' module is worth an article itself!
Fortunately, GeneratePress's extensive documentation has you covered. However, I will try to give an overview.
Once you activate the Elements module, you will unlock the 'elements' editor in the WordPress dashboard. Navigate to:
Dashboard → Appearance → Elements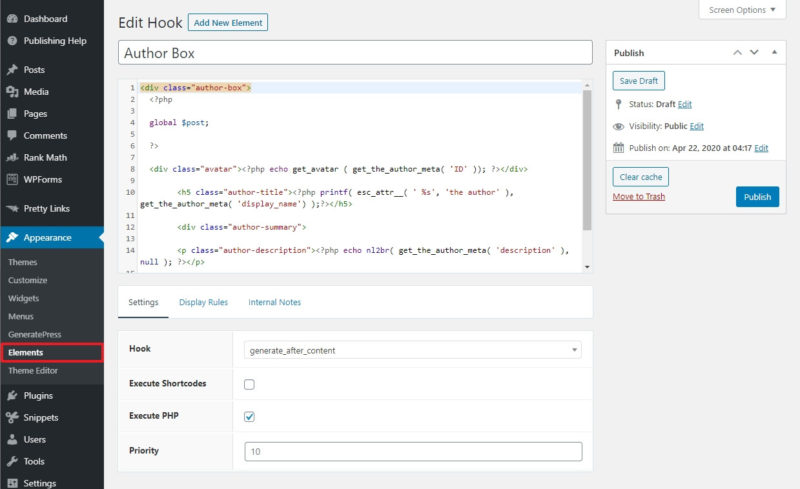 You can add custom hooks (i.e. codes) to use within your theme without changing core files. You can use HTML, JavaScript, PHP, or custom shortcodes in these hooks.
You could also use it to replace the existing elements of your site.
Header Element
A crucial feature is that you can create, for example, a hero image for a page or post by creating a page header using the 'Header Element'.
Layout Element
The 'Layout' element gives you all the functionality of the default layout customization panel, but it gives you more fine-tuning – for example, you can create a page or post specific layouts that may be different from the remainder of the site.
Blocks Element
The 'Blocks' element, that was introduced starting in GP Premium 1.11.
With the 'Blocks' element, you can use the WordPress block editor to your own custom site headers, hooks, footers, sidebars and replace your site's existing version of these.
Hooks Element
The 'Hooks' element allows you to insert hooks into certain locations within your site, a specific page, or post. It comes with some existing GP hooks, but also allows you to create your own.
These elements combined with the GenerateBlocks plugin makes page/post customization super easy and full of features. Read more about it in our detailed GenerateBlocks Review.
#5. WooCommerce
In order to access the WooCommerce plugin of GeneratePress Premium, make sure your site has the WooCommerce plugin installed.
The first set of WooCommerce customization can be found in the Layout options in the Customization Panel, which allows for extensive customization of your store's layout.
Dashboard → Appearance → Customization → Layout → WooCommerce
In addition to the layout, other elements of your store, such as the title, notice, catalogs, image sizes, checkout page, etc. can be customized at:
Dashboard → Appearance → Customization → WooCommerce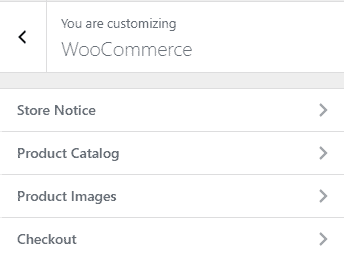 GeneratePress gives you the ability to create multiple Menu presets, and then equip these presets as required in the Primary, Secondary and Off-Canvas locations.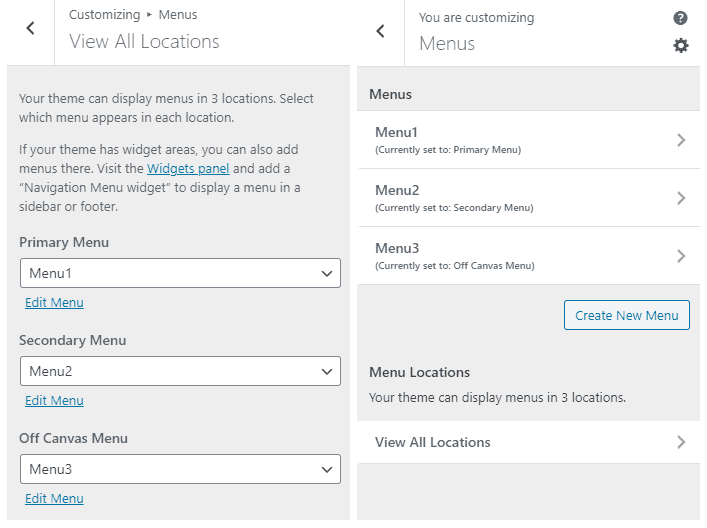 The Menu Plus feature of GP Premium further allows you to enable Sticky Navigation for your Primary menu, the option to add an Off-Canvas Menu, as well as a mobile header.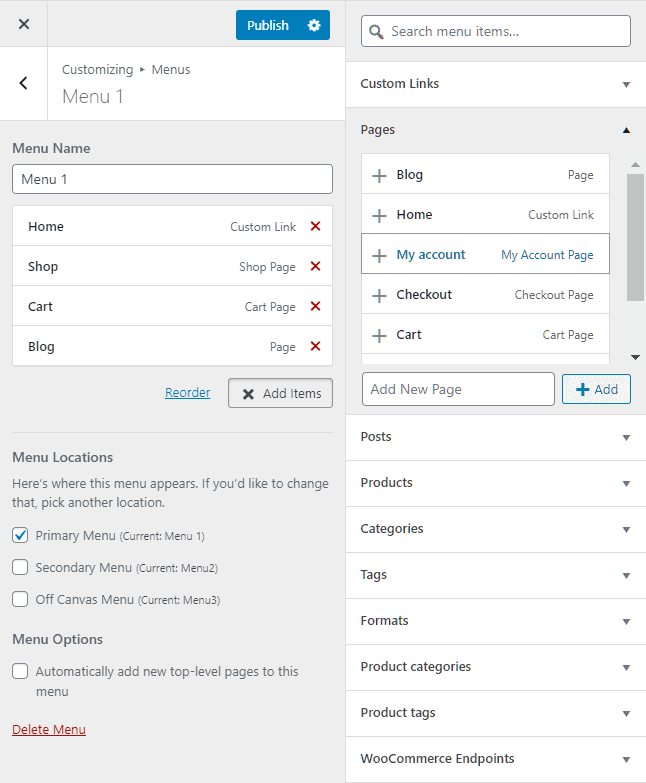 Off-Canvas Menu is the type of menu that, when it is opened, appears into view as an overlay that prevents interaction within the main page until it is closed.
The Mobile header allows you to create a separate header for better optimized mobile viewing and can be toggled through the 'Header' option in the Layout panel.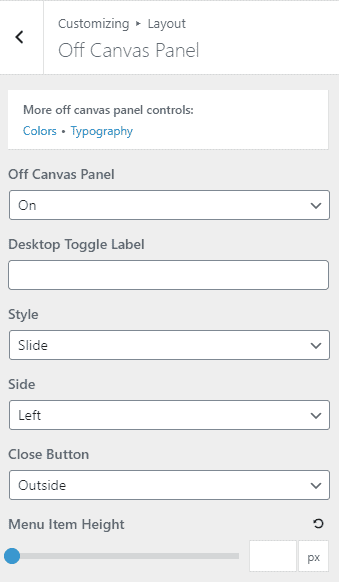 Sticky Navigation is a setting that when turned on displays the Primary Menu (located in the header) over the screen as a top bar while scrolling up or down.
To turn on Sticky Navigation, navigate to:
Dashboard → Appearance → Customization → Layout → Sticky Navigation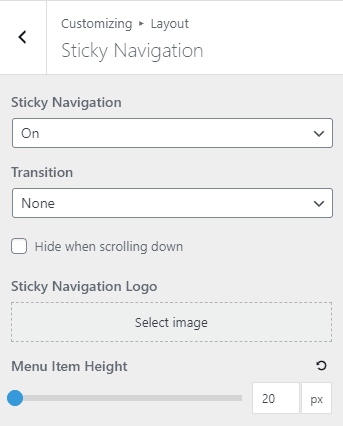 #7. Spacing
The Spacing module allows you to control the size of individual elements of your website's layout such as the container, header, menus, sidebars, and footers.
These can be accessed by navigating through the 'Layout' option in the Customization panel.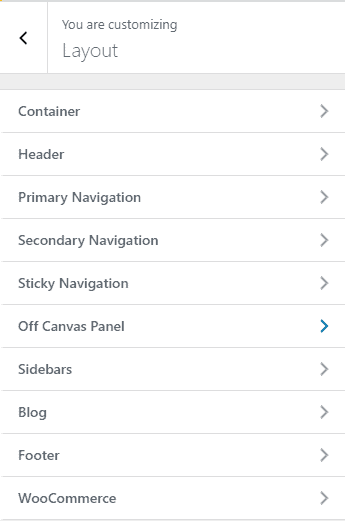 Under Layout you will find each element, and the settings for each can be found within their respective options.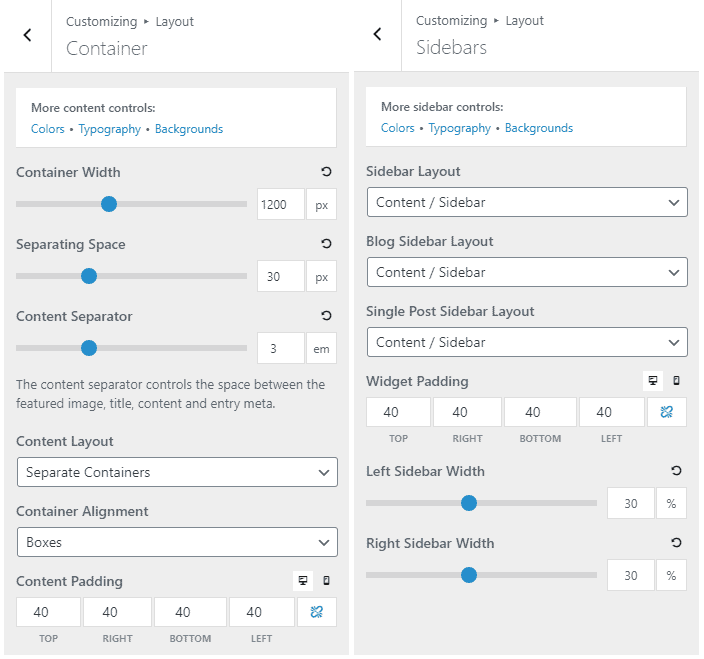 #8. Blog
While the free version only allows you to select the 'Content Type' option, GeneratePress premium offers extensive blog layout editing from the Customizing panel.

As discussed above, you can equip your created Menus to the Primary, Secondary, and Off-Canvas Locations.
The Primary Navigation is the main menu that is usually present above or below the header but can also be shifted to different locations such as a floating menu, or to the sidebars.
In addition to Primary navigation, GeneratePress Premium offers the ability to add a secondary Navigation, which can also be located in the same locations as the primary navigation.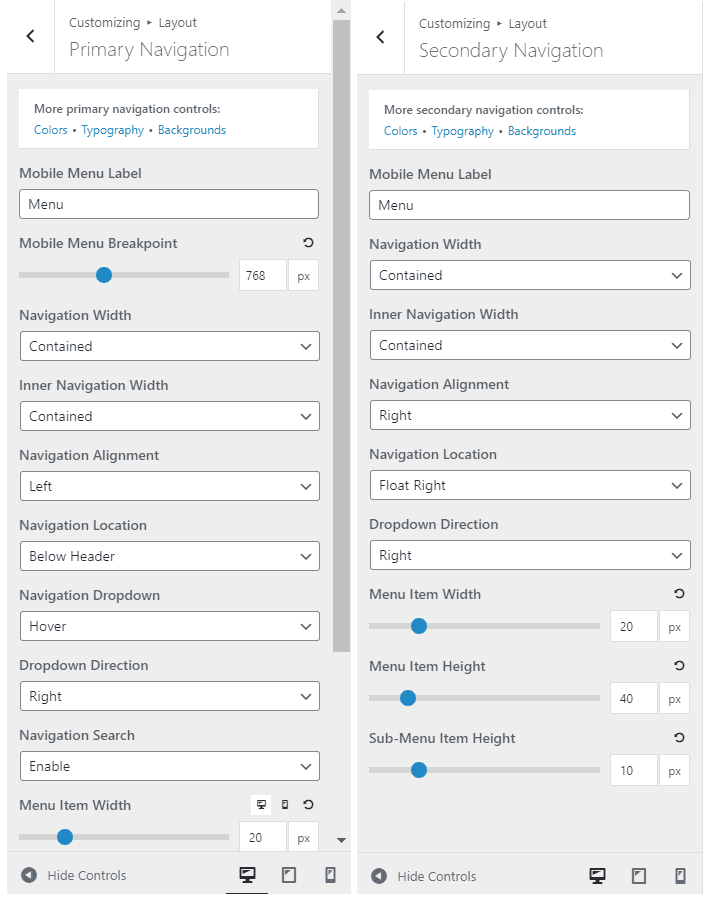 #10. Backgrounds
One of my favorite features of GeneratePress is the extensive ability to edit the background image of things like the body, header, and footer separately.
Indeed with GeneratePress premium, you have the ability to add different background images to each element of your website.
You can find the 'Background Images' option in the Customization Panel.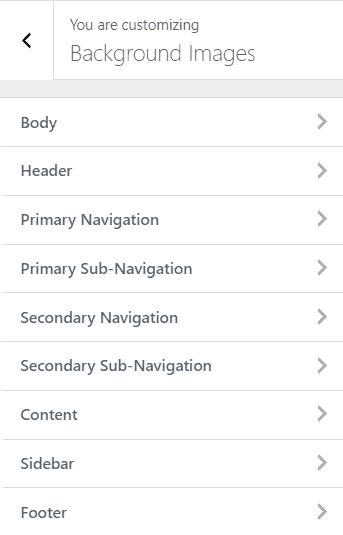 #11. Sections
This module acts a page builder and allows you to create sections within your pages and posts.
For example, if you head on over to the GeneratePress Website's homepage, you can see that a single page is divided into sections that contain unique aesthetic elements, layouts, and backgrounds.
This allows for a better overall look, as well as improving the readability, accessibility, and ergonomics of your website.
By default, sections can be used on posts and pages.
You can enable the use of sections on an individual post/page, enabling that will replace the default editor by the Sections module of the GP Premium theme.
Apart from the title and content, here are section setting you can play with to customize your page.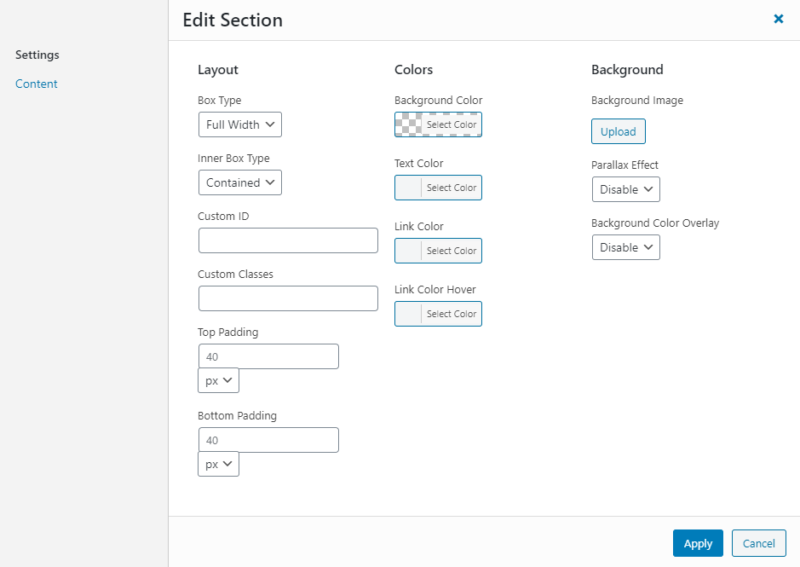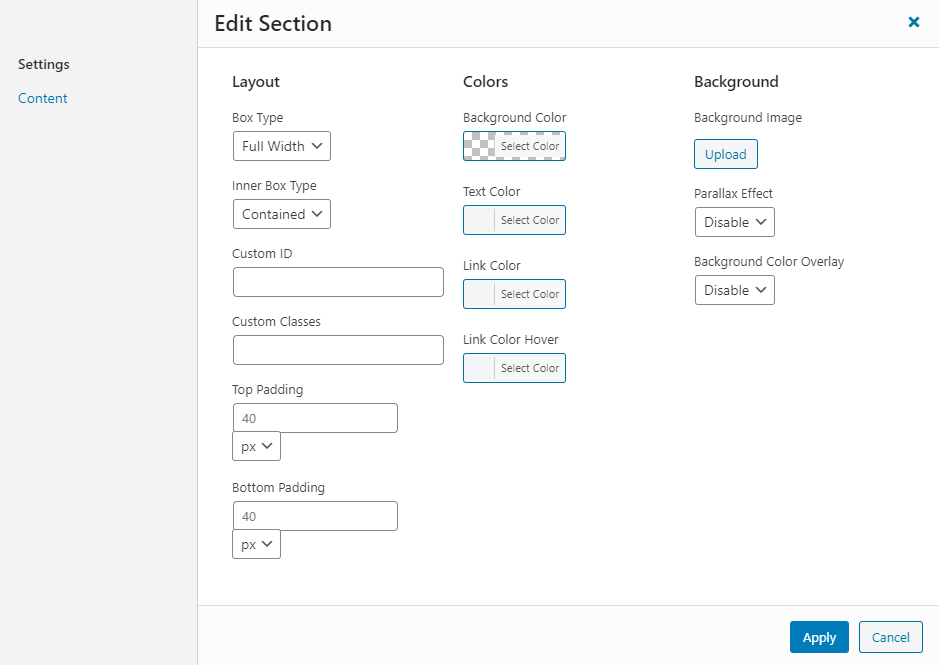 #12. Disabling Elements
Disable Elements allow you to hide elements of your site for specific pages, posts, or the site as a whole.
For example, you can improve the readability of your post or page by, for example disabling the header or sidebar for that individual post or page.
In order to access the feature, first make sure it is activated.
Navigate to:
Dashboard → Appearance → GeneratePress
Next to the 'disable elements' option, click on Activate.
Next, go to the Pages option in the Dashboard, select the page in which you would like a certain element disabled.
Click on 'Edit', and in the settings panel on the right side you will find the option 'Disable Elements'.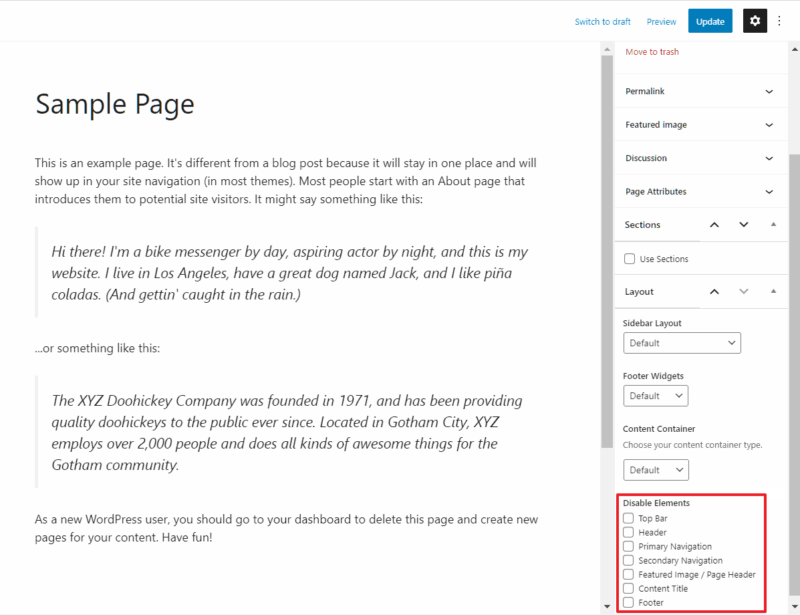 #13. Copyright (Custom Credits)
The free version of GeneratePress does not allow you to remove the "Built With GeneratePress" clause from your site tagline in your footer.

The Copyright module allows you to edit this from the site customization. Navigate to
Dashboard → Appearance → Customization → Layout → Footer → Copyright


#14. Import & Export Themes
The Export module allows you to export all settings of your GP website into a single .json file. Import allows you to import a .json file containing the above.
It is quite handy when you are a developer and wanted to create a custom bootstrapped version of your theme to save time.
For advanced users, you can also export and import individual module settings for quick replication.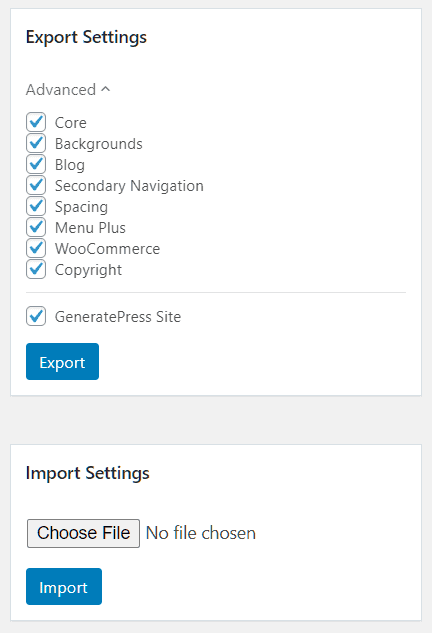 GeneratePress Child Theme
It is quite easy to generate and use a GeneratePress child theme.
You can download a blank GeneratePress child theme from their official site. Upload it to your theme folder and start using it.
It would be a good idea to use a child theme while developing your site, however, you can use it on an old site as well without losing any changes in the Customizer. Read their in-depth documentation on how to use a GeneratePress child theme here.
You can purchase GP Premium for just $59 for a year. With the GeneratePress yearly plan, you will receive free updates for a year along with premium support.
Once purchased, you can use GeneratePress Premium on up to 500 websites, and your purchase includes lifelong GeneratePress Premium functionality and an annual license.
They also offer a 30 day money-back guarantee.
You can also get a lifetime license of GeneratePress for just $249. Yes, it means that you will receive a lifetime premium support and updates.
This lifetime plan is really awesome, I do recommend it to freelancers and web developers. It will pay its price in just one year.
You can check out GeneratePress Premium here.
You can renew your license annually at a 40% discount or purchase a lifetime license.
Renewing your license allows you to continue receiving updates and support, however, choosing not to will not take away the premium functionality of your current purchased version of GeneratePress.
GeneratePress Documentation and Support
GeneratePress offers top-notch support for its customers.
You have access to the extensive documentation, an active support forum and if you have a query prior to purchasing, you may ask that as well through the Contact page as well.
GeneratePress Documentation
GeneratePress Support Forum
GeneratePress Contact Page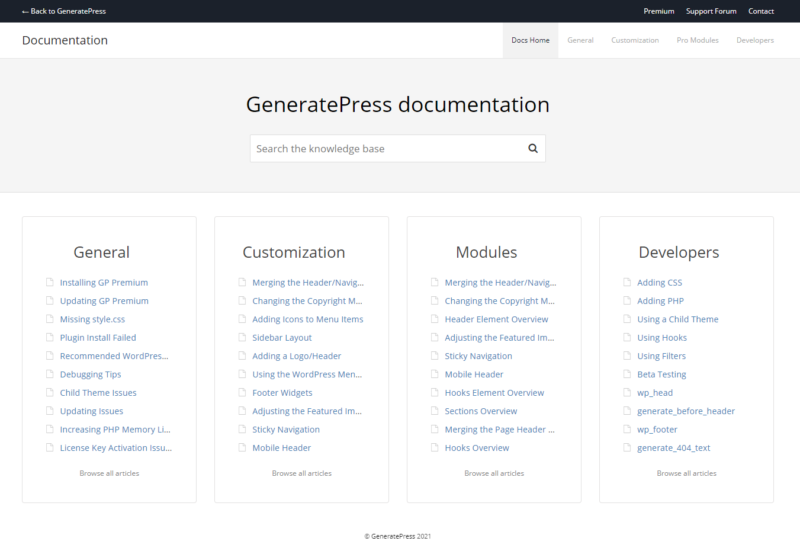 When purchased the GeneratePress Pro, you will get access to the premium support available for the duration of your plan.
The yearly purchase gives you access to 365 days of premium support, whereas the lifetime purchase grants you lifetime access to premium support.
Every user is free to start a topic regarding their query in the support forums as well.
And GeneratePress's support forum is super active, with developers as well as dedicated customer support staff ready to answer your queries.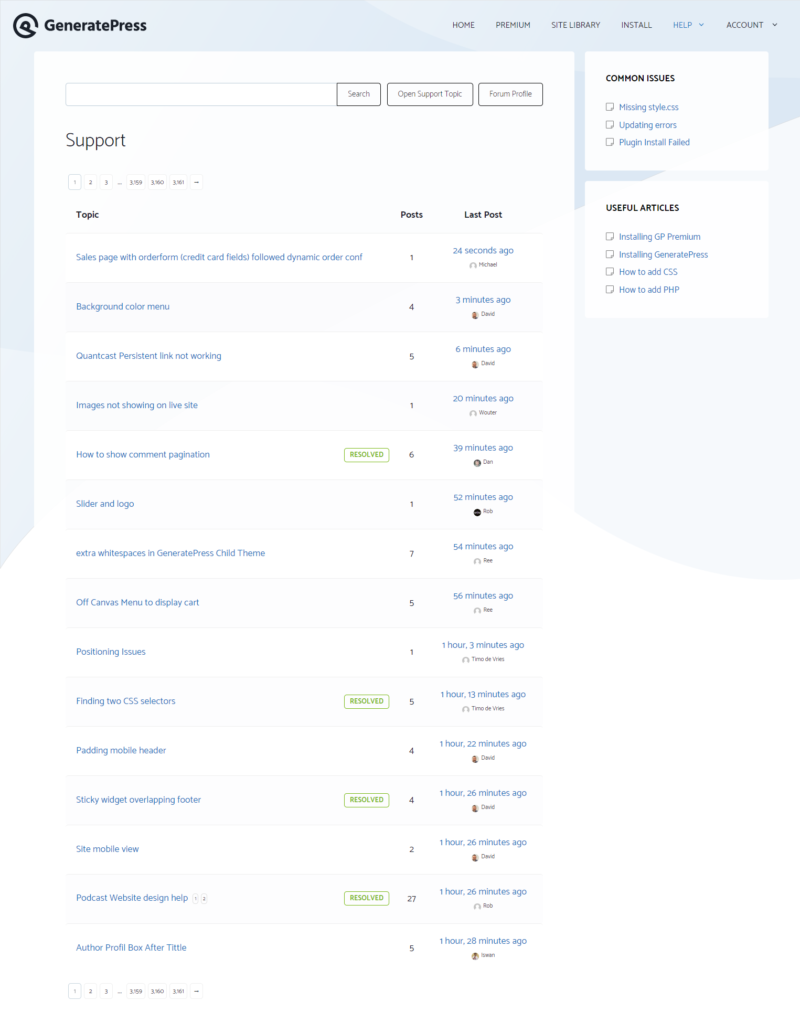 Free support is also available through the WordPress support forum which you can find here.
GeneratePress Performance
GeneratePress theme built on a very lightweight framework with performance in mind. It comes preloaded with lots of performance-centric functionality and features.
To name a few of its performance-focused features are; it is less than 10KB in size and has no dependencies on memory-hungry plugins like jQuery etc. that cause slow page speed.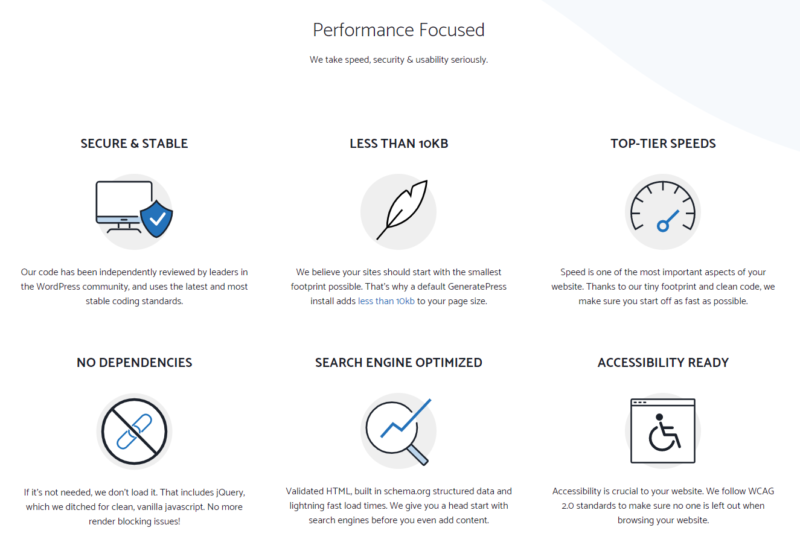 Here at WPChimp, we have built our site from scratch using GeneratePress. And to find out how it performs, let's take a look at our scores in various categories.
These scores should serve as a testament to the performance that the GeneratePress theme offers.
I have explained in more detail about these performance criteria in the coming sections below.
PageSpeed & Load Time – wpchimp.com
These results are based on the raw performance of GeneratesPress theme.
No performance optimization was enabled while testing the theme.
The default gig was as follows –
WordPress Installed with 15 posts.
GeneratePress Premium Theme
Bluehost Pro Share Hosting Plan
RankMath SEO plugin
Easy Social Share Buttons Plugin – Social Share Buttons + Newsletter Signup Popup
| | | |
| --- | --- | --- |
| GeneratePress Performance Test Results | Overall Score | Load Time (sec) |
| Google PageSpeed Insights (Desktop Site) | 98 | NA |
| Google PageSpeed Insights (Mobile Site) | 91 | NA |
| Lighthouse (Desktop Site) | 100 | NA |
| Lighthouse (Mobile Site) | 95 | NA |
| Pingdom Performance Grade | 95 | 1.19 s |
| GTMetrix Website Speed Test | 99 | 1.1 s |
| KeyCDN Website Speed Test | 93 | 1.19 s |
GeneratePress Performance Test Results – wpchimp.com
WPChimp Desktop Performance on Google PageSpeed Insights: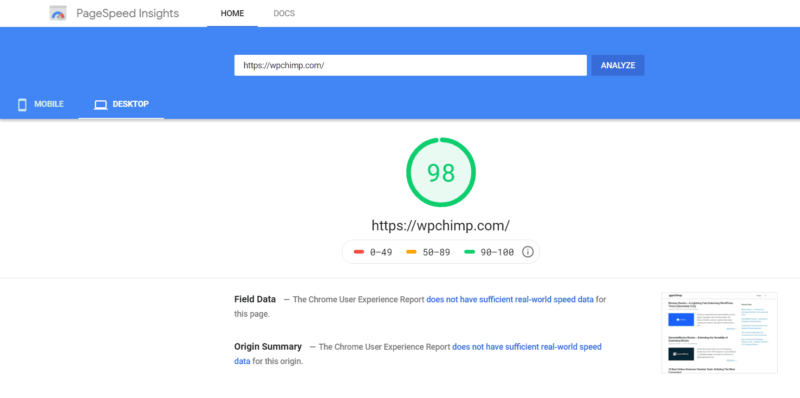 WPChimp Mobile Performance on Google PageSpeed Insights: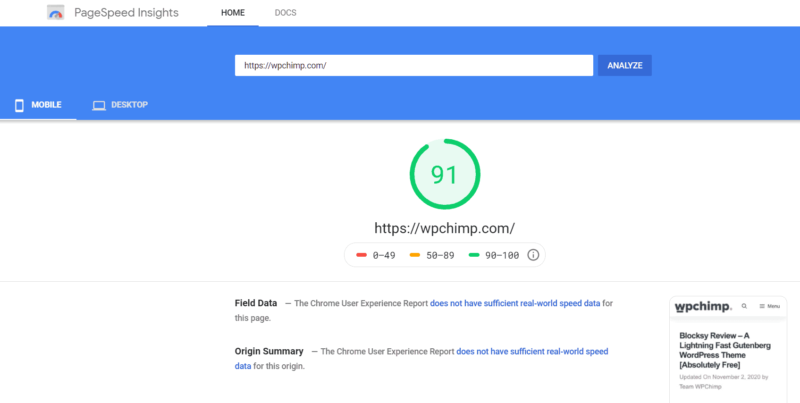 WPChimp Desktop Performance on Lighthouse (Chrome Developer Tools):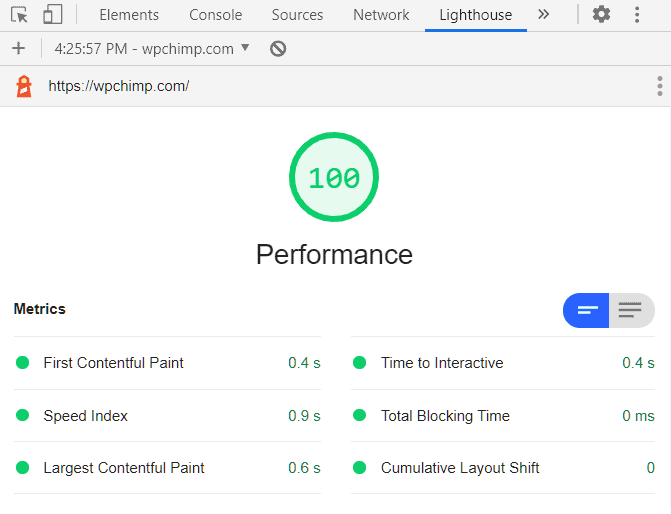 WPChimp Mobile Performance on Lighthouse (Chrome Developer Tools):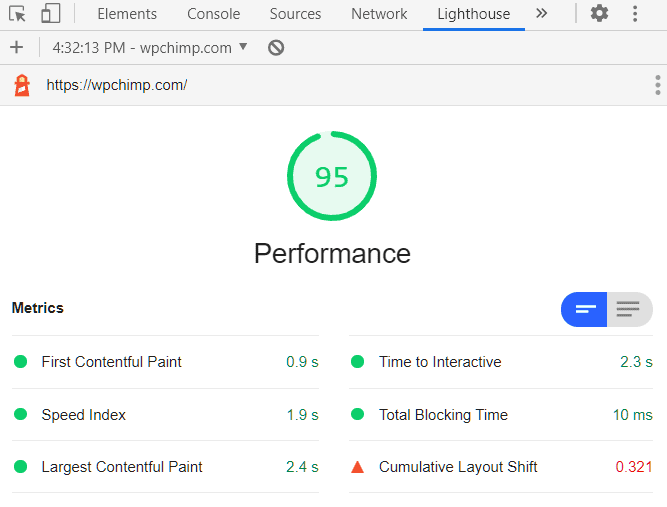 WPChimp Performance report by GTMetrix: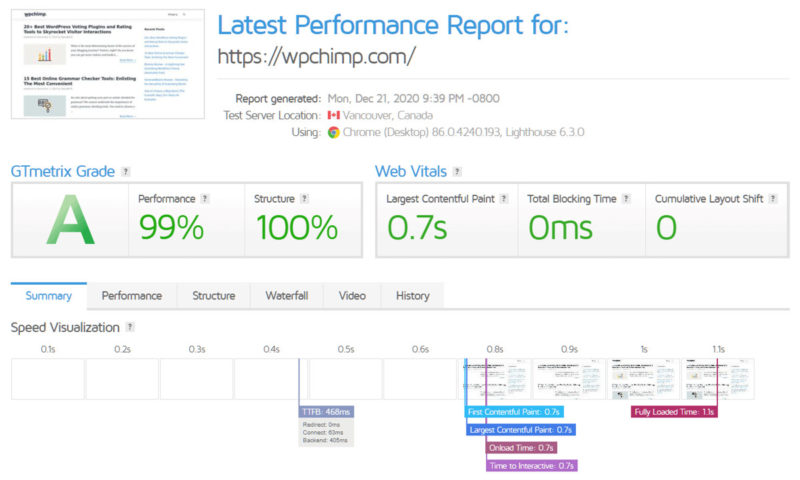 WPChimp Performance results by Pingdom: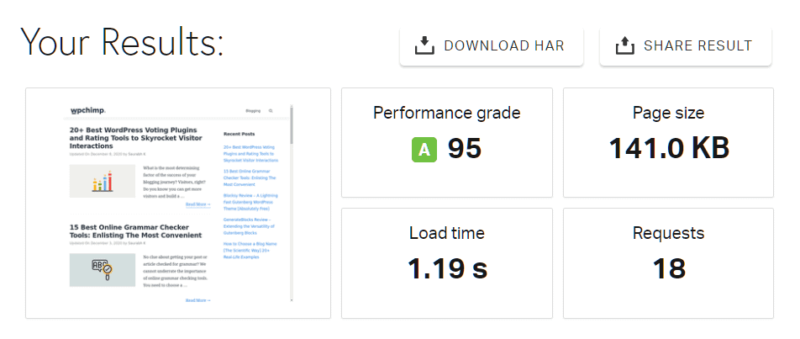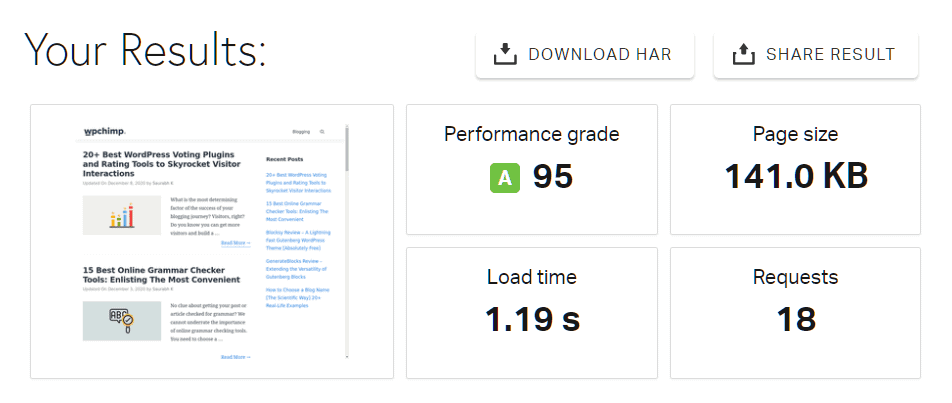 WPChimp Test Result using KeyCDN Website Speed Test: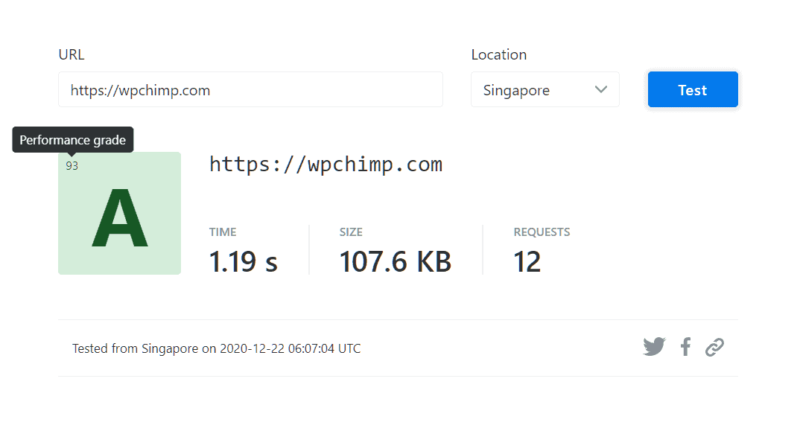 Structured Data
Google Structured Data Testing Tool Report on WPChimp:
As you can see to the right of the image below, the testing tool was able to correctly parse the items into appropriate categories, with no warnings and no errors.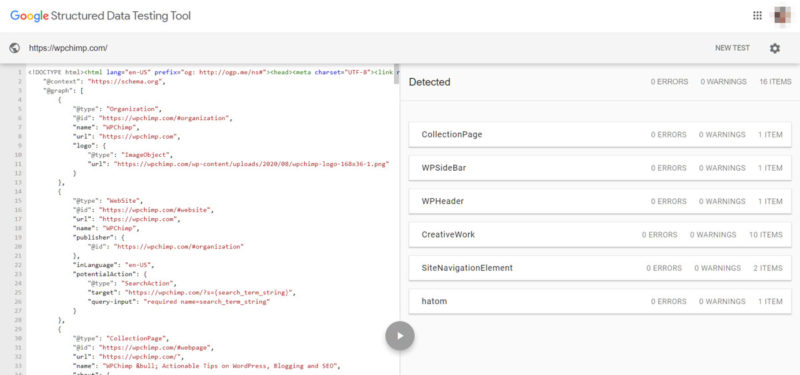 This is possible because we use a well built theme like GeneratePress which uses proper data structuring.
Google Rich Results Test
Google Rich Results Test result on the WPChimp website yielded good results as well, with all website elements passing the test.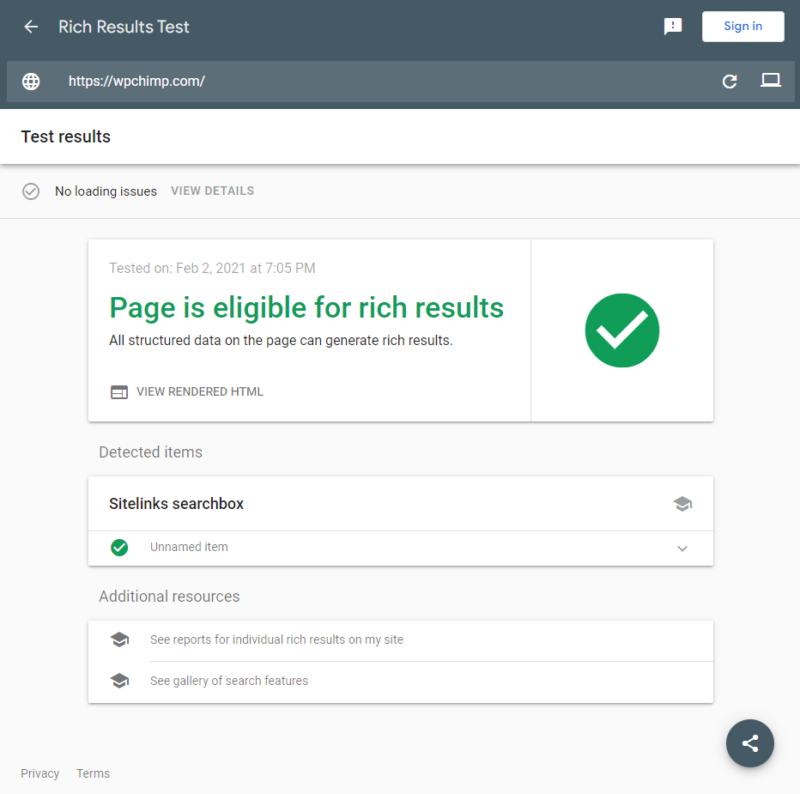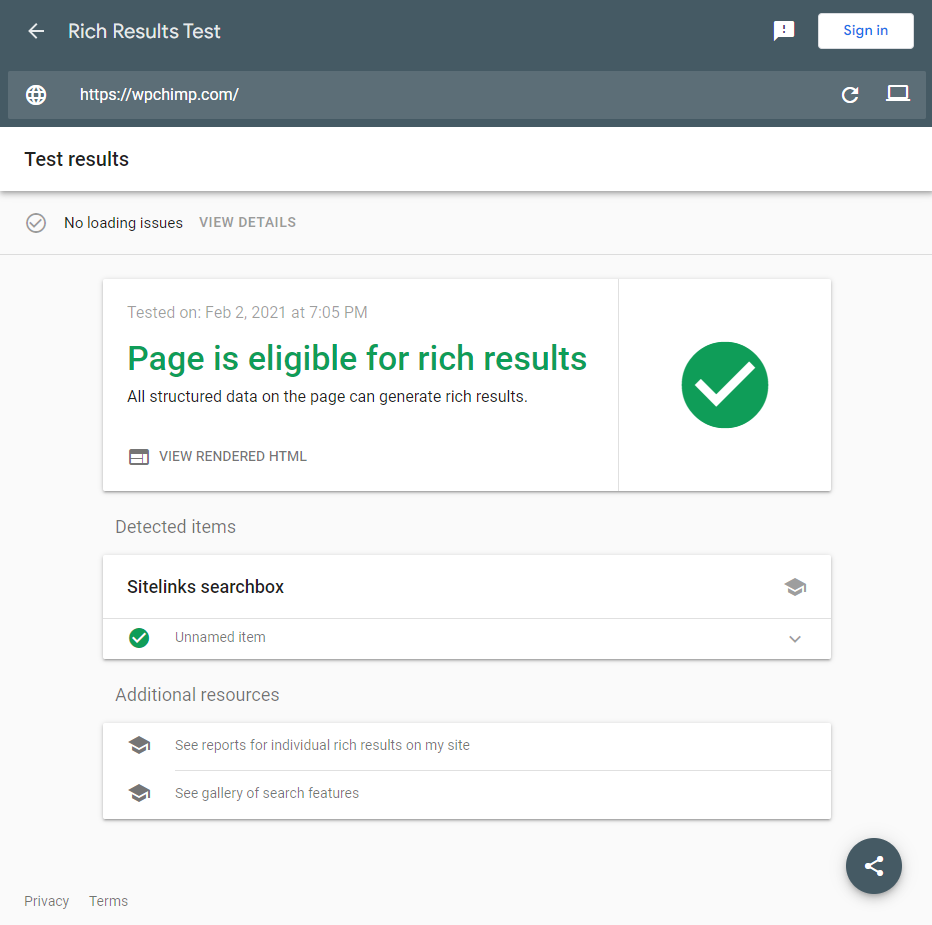 Mobile Friendliness
We tested the WPChimp website's mobile-friendliness using Google's Mobile-Friendly Test: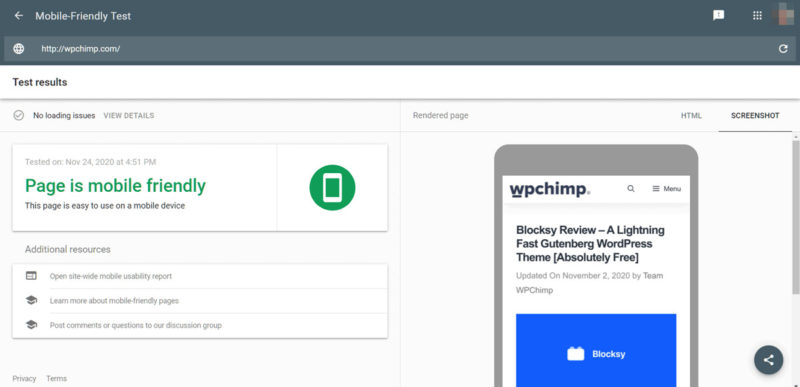 What do you think after these results? I am pretty sure you are convinced with the results.
Here is Why Top Marketers Loves GeneratePress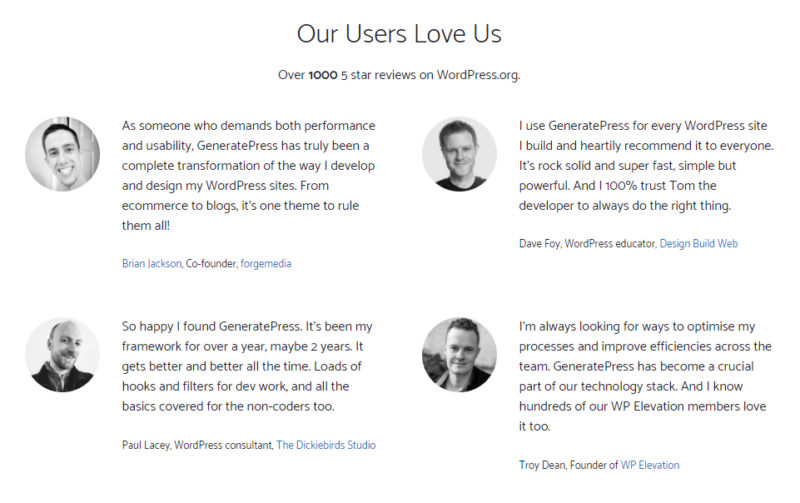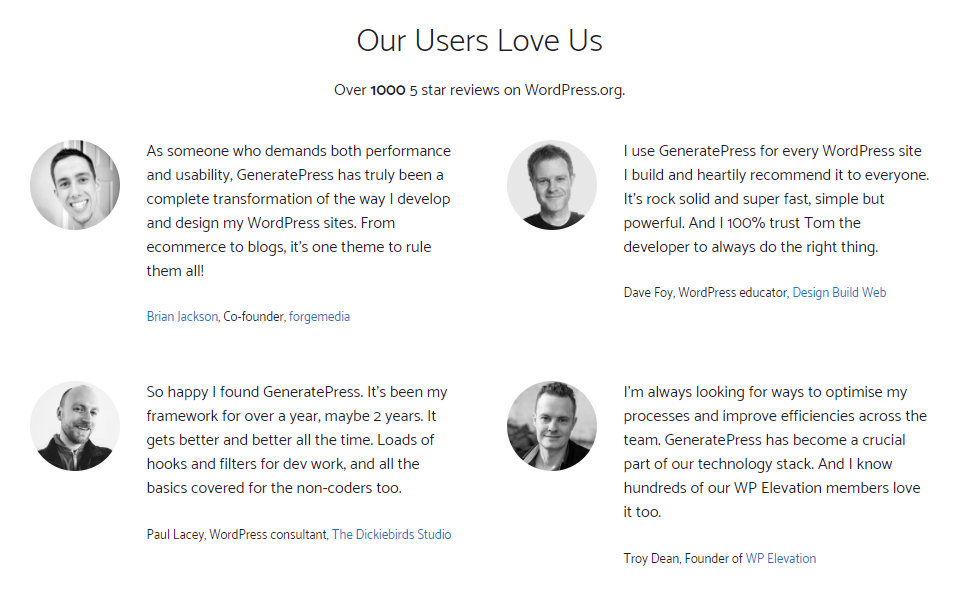 Be a part of this awesome community, get GeneratePress today.
Things to Check Before You Buy a Theme
When you choose a theme for your website, it is crucial that you ensure some elements in order to ensure that it is visitor friendly.
For example, if your website takes too long to load, or if your website looks cluttered on a mobile browser, it will have a significant negative impact.
I have summed up some key areas of evaluation that you should ensure your theme works well in
Ergonomic & Mobile Friendly – ensure that your website sizes itself properly on different platforms and uses collapsing columns.
Cross-Browser Compatible – Your website should work well on various popular browsers such as Chrome, Firefox, Safari, Opera among others.
Typography – Key elements include proper contrast between text and background, the spacing between successive lines of text, confining text within a column, proper image alignment, and an optimum number of words per line.
Not Heavily dependent on JavaScript – Many users/visitors may have JavaScript disabled for a number of reasons to ensure that your website is maximum independent of JavaScript. However, if it isn't, make sure you inform the user that JavaScript is required for your website.
WordPress Compatibility – Make sure that your theme is well compatible with the WordPress site editor. Otherwise, core features of WordPress such as Headings, Archives, Menus, Posts page, sidebars, footer widgets, comments, etc. may not function well.
Plugin Compatibility – Depending on the purpose of your website (i.e. Blog/Forum/WooCommerce), ensure that the theme supports the plugins you require.
Well-defined Structured Data – For your website to have good SEO, this is crucial, as search engines parse through your website data to decide its relevance to a particular search query. Since the data that you enter on your website is contained within the theme, the theme is responsible for structuring it well.
Performance – Fast loading time is crucial for being featured in Google's search results, as well as for users who visit your website. A recent study by Pingdom found that for an average load time of 2-3 seconds, the bounce rate was only 6% but for 4 seconds, it jumps to 24%.
Accessibility – Accessibility involves making your site friendly for individuals who may have disabilities or impairments. A healthy practice is making your text more readable by having good contrast between the text color and the background color.
GeneratePress Alternatives/Competitors
The two top competitors to GeneratePress are Astra and OceanWP. Lets see what these GeneratePress alternatives has to offer over GP theme.
Astra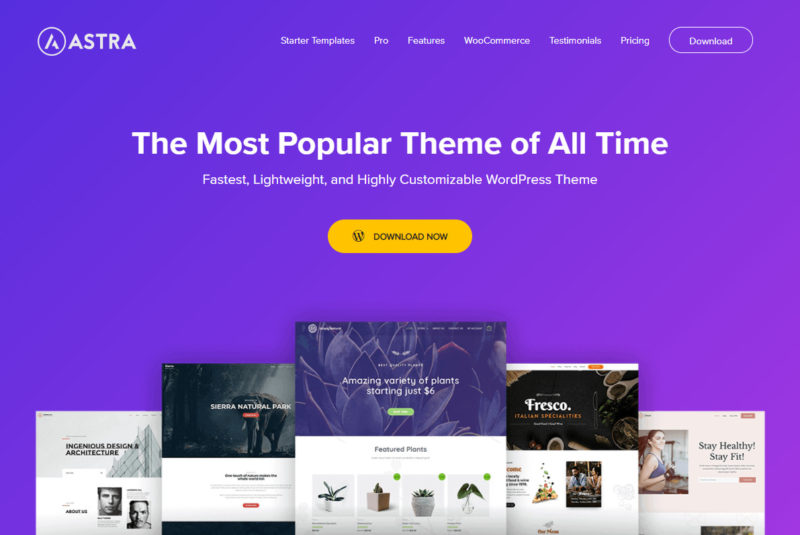 The theme that GeneratePress is most compared to is Astra.
Astra is a lightweight multipurpose theme, boasting over 1+ million active installations, and over 4700 5-star ratings out of a total of 4,800 reviews on WordPress.
It has an average of 5,000 new installations per day on WordPress and boasts over 20,000+ daily downloads across the web.
Due to its customizability, it is also suitable for a variety of applications from business to personal – blogs, portfolios, WooCommerce stores – Astra is one of the most ductile themes out there.
They have extensive demos available that you can browse through.
OceanWP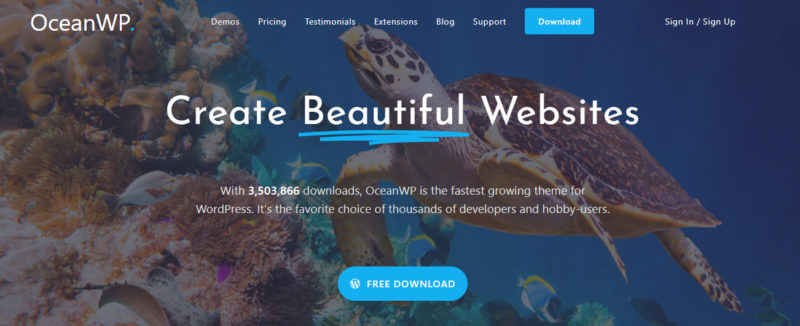 OceanWP is another free to use WordPress theme with additional modules available with the premium version.
It boasts over 600,000+ active installations and over 4,100 5-star ratings out of a total of 4,200.
It is also quite flexible for implementation and has a variety of templates to choose from – for Blog, Portfolio, business site, and WooCommerce site.
It is well compatible with popular page builders such as Elementor, Beaver Builder, Brizy, and Divi, among others.
OceanWP has an extensive set of demos that the user can browse from. It also has templates for the free version that can be used directly.
GeneratePress vs. Astra vs. OceanWP
GeneratePress vs. Astra vs. Ocean
Pros
Cons
GeneratePress
– Best for Blogs
– Fast & Performance-oriented
– Page Builder Compatibility
– Many Customizer Options
– Extensive Documentation
– WooCommerce Integration
– Flexible Header Options
– Can be used on an unlimited number of sites

– Full website demos are very less
– Poor 3rd party Integrations
– Very basic free version but Pro is amazing

Astra

– One of the Fastest WP theme
– Lots of Free Demo Sites
– Mega Menu Feature
– Custom Layouts Options
– WooCommerce Support
– LearnDash Support
– Can be used on an unlimited number of sites
– Limited Header Style Options (Three)
– Basic Archive Page Styling
– Basic comment styling for blogs
– Basic Post Styling
OceanWP
– Best for building a site quickly
– Great flexibility for purpose and
design
– Fast WP theme
– Built-in SEO
– Free Demo sites available
– WooCommerce Integration
– Base premium plan is cheaper for a single user compared to the competition
– Limited number of sites (Can only use on 25 sites)
– Poorly organized overwhelming clutter of options in the options panel – hence not beginner-friendly
– Not compatible with Speed Optimization plugins

Comparison of Pros and Cons between GeneratePress, Astra and OceanWP
GeneratePress – Pros and Cons
Pros
Very good performance and speed.
Well Priced.
Extensive and intuitive documentation with well-made video tutorials.
Easy to use – intuitive arrangement of options.
No additional paywalls for commercial usage compared to other themes that charge much more for 'agency' packages.
Longer money-back period of 30 days compared to competitors' 14 days.
Cons
Very few templates for Magazine and Business sites.
Very limited functionality in the free version compared to other popular themes.
No templates for the free version.
GeneratePress coupon code can only be obtained from their official site. They usually offer GP Premium discount codes during Black Friday, Cyber Monday, and Christmas Sales.
You can find official GP Premium discount coupon on the top of their site whenever available.
As per their official statement…
Sites offering GP discount codes/coupons as following, are unofficial and provide fake discount codes to gain traffic.
GeneratePress Coupons
GeneratePress Discount
GeneratePress Promo Codes
GP Premium Discounts
GP Premium Discount Codes
50% discount for GeneratePress
Concluding the GeneratePress Theme Review
GeneratePress has performed well in our testing and we were very impressed. The pricing is very reasonable, and clearly offers more value for money than many of its competitors.
This is why we at WPChimp have developed our site using GeneratePress.
You can also use GeneratePress for commercial purposes for your clients with up to 500 installations on each purchase, which is excellent value for money for commercial usage.
With respect to performance, GeneratePress definitely lies at the top of the list of fastest WordPress themes out there.
We are also very happy with the documentation and support that GeneratePress provides.
Overall,
We highly recommend GeneratePress Theme to anyone that is looking for a lightweight, multipurpose, well documented easy to use WordPress Theme.
Did you find this GeneratePress review helpful? Have you used GeneratePress for your websites?
Do let us know what you think in the comments!
Frequently Asked Questions
Is GeneratePress Free?
GeneratePress is a free to use WordPress theme that you can install directly from the WordPress repository. GeneratePress also has a pro version know as GP premium that provides valuable additional functionality to its free version.
The missing styles.css error occurs when you upload the GeneratePress Premium 'zip' file to the Themes section of the WordPress Dashboard. You must instead upload the .zip file to the Plugins section of the WordPress Dashboard.
How does the Yearly GeneratePress Pro Licence Work?
On purchasing the annual license of GP Premium, you will be equipped with premium add-ons, support, and updates. The support and updates are valid for 1 year. The premium add-ons are valid for a lifetime, but after 1 year the updates will stop. So you will be able to continue with GP Premium addons but will be stuck to the version that was last released before the expiration of your license.