What is the most determining factor of the success of your blogging journey? Visitors, right?
Do you know you can get more visitors and build a loyal audience by creating various Polls and Surveyors on your site? Let's discuss how to choose the best WordPress poll plugins and rating tools to gain a loyal audience by increasing visitor interactions.
Today, we are going to find out the best tools to create polls and surveys on your WP site.
I will also discuss the difference between voting and rating systems. And we will wrap up by concluding by suggesting 2 to 3 best plugins in each of the categories.
So, let's start right away with the important question "how do you benefit from the best WordPress poll plugins?"
How the Best WordPress Voting Plugins Are Helpful for Your Blog?
Well, there are many proven ways to get visitors to your site but converting them into a loyal audience is always a challenge for beginners.
One simple yet effective way to do that is to engage with your audience and increasing visitor's interaction.
Use of Polls, Surveys, and Rating systems known to be an effective technique to increase visitor's interaction.
You can create various Polls to understand public opinion about a list of products. Use Surveys to know their feedback and implement a rating system to the recorded instant feedback from your visitors.
For your website, having a high-quality voting system will allow your visitors to be more social when they are on the platform.
Having aboard the best plugin to create WordPress Polls help you build a community around your website. As a result, you'll have organic visitors who will keep coming back to your website whenever you publish new material.
You may also use the Voting System on your WP site to gather the opinions of your users about the content, goods, or even the services you provide on the website.
All these methods will help you to increase the audience engagement on your blog and that will aid you to boost the visitors and conversion rates. You should know what will work and not work so that you won't commit any mistakes that bloggers make in general, right?
Now, let's begin with the tools to create awesome polls and surveys on your blog. I'm going to categorize the plugins into WordPress Voting Plugins [Free+Paid] and WordPress Rating Plugins.
There are different interesting WordPress nomination and voting plugins. Let's dig in to know them in the section.
---
Best WordPress Voting/Poll Plugins [Freemium Included]
Here is the handpicked list of the best premium Voting Plugins for WordPress. Though a couple of them also offers a Freemium version of WordPress poll plugins.
TotalPoll Pro – Responsive WordPress Poll Plugin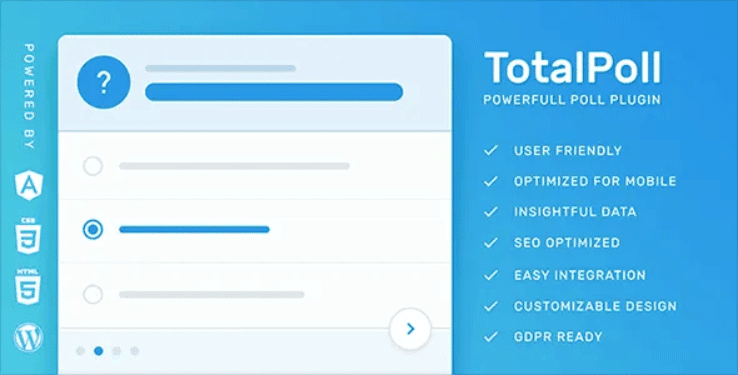 TotalPoll Pro is one of the best WordPress poll plugins for fast polling development and integration. It offers a range of tools and enhancements that allow you absolute power of the polling and is easier to use.
TotalPoll Pro has a range of features that render it suitable, expandable, and flexible for all widely used browsers.
The main features of TotalPoll Pro are,
It supports various voting formats, including email, shortcode, HTML, or multimedia alternatives such as images, audios, and videos.
You will welcome and thank the members in five customization environments, and five distinct field styles can help you gather more knowledge.
Vote Tracking, follow each vote back to the IP information and watch the statistics as well.
It lets one to authorize users to vote on cookies, IP, user position, date and time, quota, and other stuff, and show outcomes on condition.
Can also conduct a blind survey in which voters are asked to vote before the results are shown.
We can integrate a poll with a widget, direct connection, or shortcode. 
A powerful admin dashboard shows real-time stats of your polls and surveys.
Allow you to send email notifications to contestants and participants.
The polls are compact and any polling can be imported or exported.
Last, but not least, the plugin is reactive, designer-friendly, and easy to submit when you ask Google. And that clears the exam to get into the list of the best WordPress poll plugins.
Price – You can purchase the tool at $29.
Isn't it worth it?
---
Responsive Poll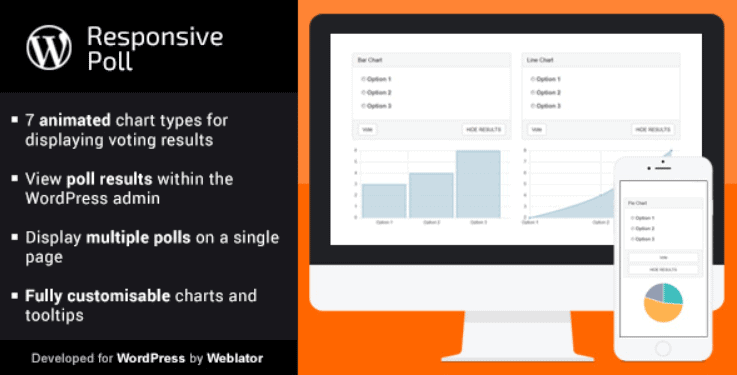 Responsive Poll enables you to quickly and easily build WordPress polls and publish it on your site. The plugin offers reports in the form of charts within your admin dashboard. This WordPress poll plugin is highly customizable and versatile.
Let's dive deeper into the features to find out if it is one of the best WordPress poll plugins out there.
There are some completely customizable HTML5 animated charts for results.
Responsive poll supports multiple votes on one single page and absolute personalization as a Bootstrap-based plugin.
You may use seven-type charts with various animations for showing data, including pizza, bar, doughnut, radar, and polar as well as Bootstrap advance bars.
Both poll results can be seen from a strong admin area and either shown to guests or covered. After an individual has voted, you can also set the results to show.
Identical polling is indeed totally minimized because the ID, IP, or even cookies of the browser can be used to trace a person.
This plugin promotes all widely used browsers using the HTML5 canvas feature.
Price – The tool costs $16 for purchase.
Responsive Poll plugins only focus on the Polls and Survey, and its comparative features make it one of the famous WordPress Poll plugins.
---
WP Foto Vote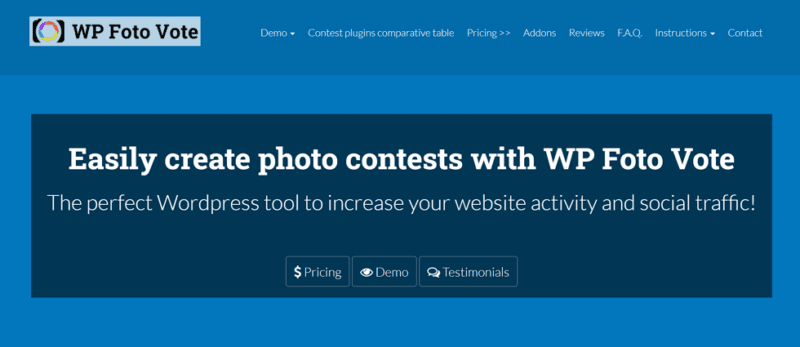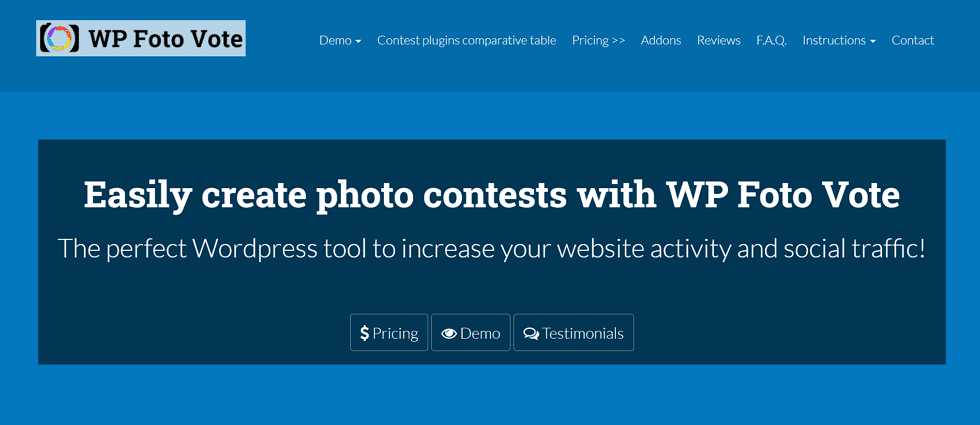 WP Foto Vote is a plugin for user-generated photo competitions you want to use. It helps you, from your WordPress dashboard, to install photo contests, video contests, or even Instagram contests.
The features of the WP Foto Vote plugin are as follows.
If this plugin is enabled, users can upload content from the front end, and others can vote for it.
You will pick the order in which the images show and handle it from the back end.
Shortcodes can allow you to display the survey somewhere

.

Unlimited tournaments as you like can be arranged at a time.
You can create your own shape using a drag-and-drop builder.
Both e-mails on your website which be submitted to e-marketing sites such as MailChimp.
Multiple languages are supported and fraud protection is offered.
Price – The price is in three variations. They offer at $39 for professional, $29.99 for a single, and $99 for business requirements.
Doesn't the pricing show us how well they have understood the category of customers? If so, doesn't it definitely deserve to be called the best WordPress Contest plugins to create photo and video Tournaments?
---
WPForms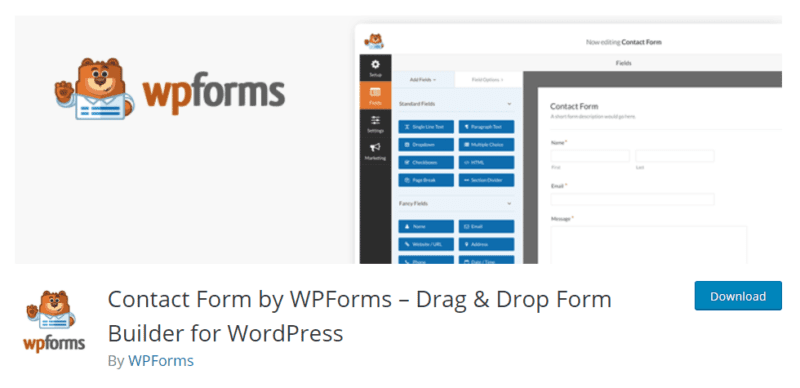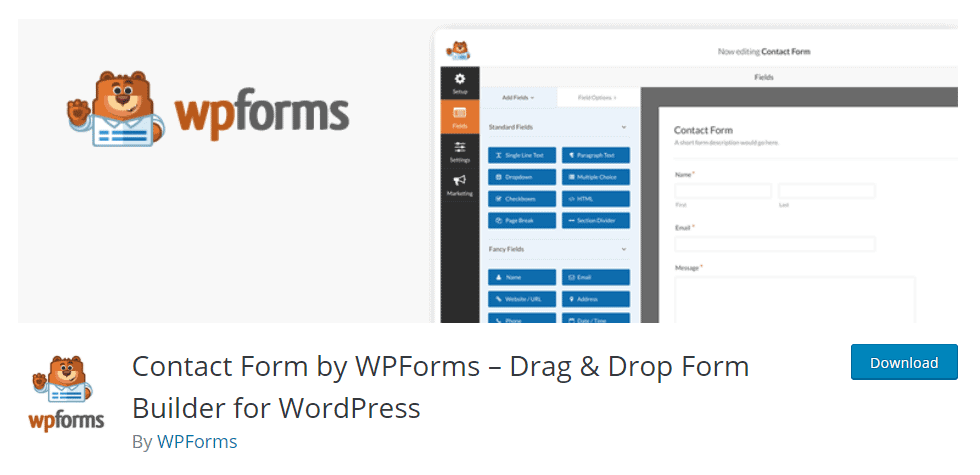 WPForms is a drag & drop WordPress form builder that gives high priority to user experience. It offers various add-ons with its premium version and one of them is Polls and Surveys.
The features of WPForms – polls and surveys add-on are,
The polls and surveys add-on of WPForms lets you create beautiful and interactive polls/surveys without writing a single line of code.
You can create various types of Polls and Surveys, with additional options of file uploads and conditional logic.
It guarantees the mobile responsiveness of the polls and surveys.
Sends email notifications to the surveyors or voters.
Also, it's highly optimized for the website so that it doesn't affect SEO.
WPForms has a pro version that offers additional features such as email subscription forms, multi-page contact forms, feedback forms, payment forms, and other types of forms very fast. etc.
Price – WPForms is a free plugin if you only want to add a basic contact form on your site. For premium features such as polls and surveys the price starts from $79 for one site to $599 for an unlimited number of sites.
These awesome features and a comprehensive set of tools in a single plugin makes WPForms one of the best premium Polls and Survey plugin for WordPress.
---
Gravity Forms Polls Add-Ons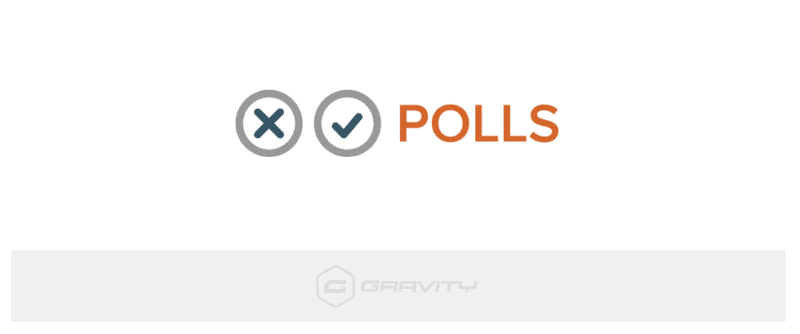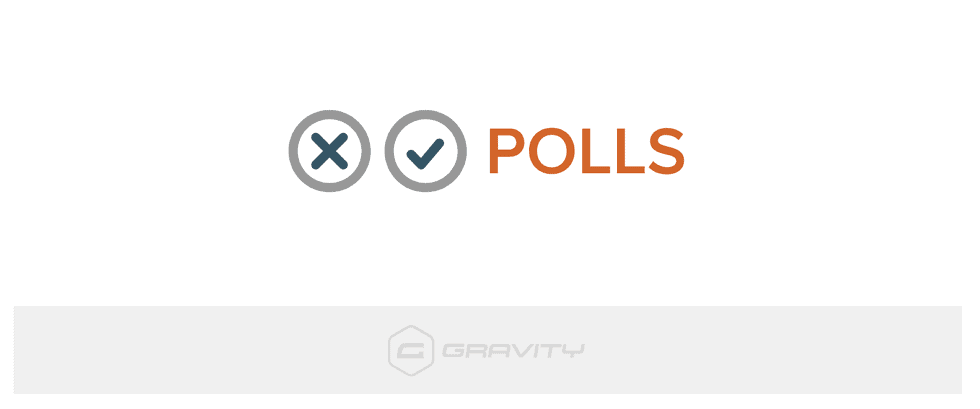 Another popular WordPress poll plugin on this list is Gravity Forms. Gravity Forms is a common approach on the website to add forms using this popular form builder.
Polls-add-on or Survey-add-on can be utilized in our site without the help of other providers if we have the Gravity Forms on.
You must have an Elite license of the Gravity Form builder because two of those add-ons are Elite-add-on. Even so, it will be a big advantage to be completely reliant on the trustworthy asset in the sector.
Get poll results on your WP dashboard and choose what to show on the web.
Use the drag-&-drop builder to create Polls and Surveys.
Conditional logic for an endless possibility of customization.
Design beautiful forms, use the template designs, or create your own using custom CSS.
Price – Gravity Forms With Add-Ons costs $59 for basic license.
Gravity Forms are very popular among the developers and pro-bloggers. Add-ons like Polls and Surveys allow us to recommend Gravity Forms easily.
---
Getsitecontrol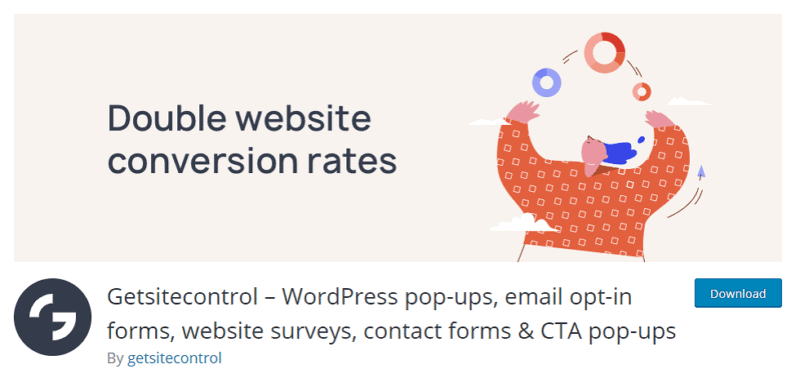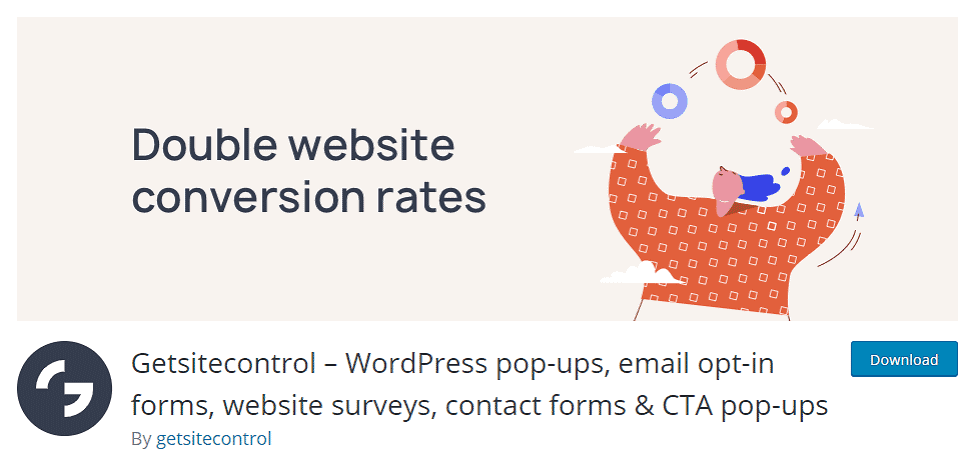 Getsitecontrol is a great method to conduct a survey with a pop-up on your blog. Use this Plugin to monitor and track the pop-up on the site to register for a Getsitecontrol account.
This offers a smooth interface on the webpage where we could query a customer about their opinions or even why they left a certain tab. For pop-up calls to action, the plugin will double.
Offers various templates to save time on widget creation.
Awsome responsiveness and flawless mobile popups for surveys.
Easy to use CSS editor for styling.
Social Media Integration.
An easy to use admin panel for all the customization and forms creations.
Audience segmentation is based on the visitors' location, device, UTM, etc. to reach the potential customer.
Sends email notifications on the completion of the survey.
Display widgets & launch popups based on visitors' behavior i.e. Session length, scroll depth, and exit-intent triggers, etc.
Price – There are three levels of cost. It starts with a small package for $7/month, medium for $14/month, and large for $28/month.
---
Forminator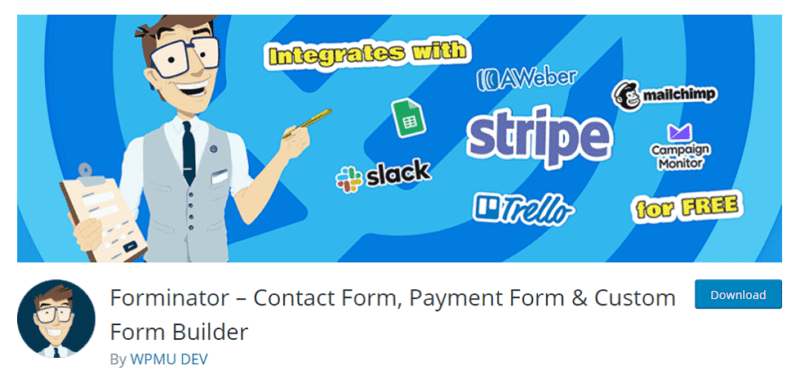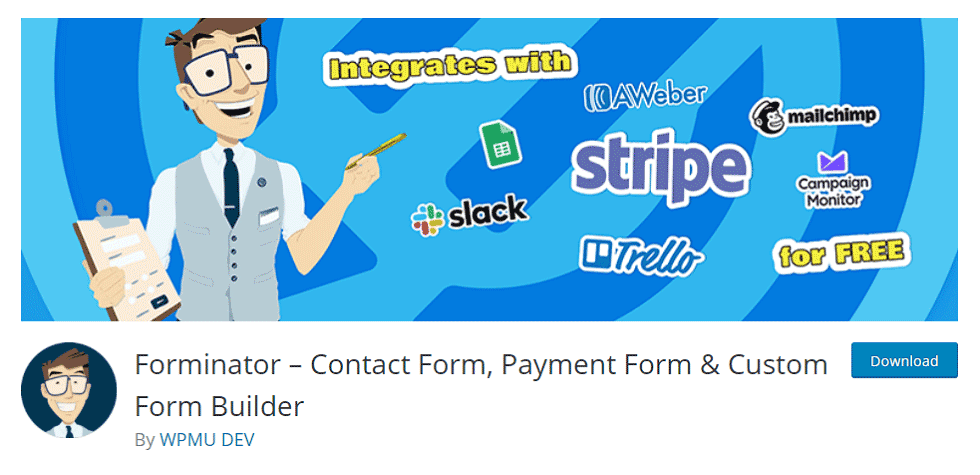 In each scenario and site, Forminator is simple in using as a WordPress form maker. Formator is yet another plugin dependent on the design but provides built-in polling and checks capabilities.
Drag-and-drop editor.
Designing a new type of poll is simple.
Ability to customize CSS to adapt it to your own brand.
Forminator also indicates the position and measurements, such as views and visits, of all participating types and surveys.
Price – The cost starts at $19 for a single website.
---
Modal Survey – WordPress Poll, Survey & Quiz Plugin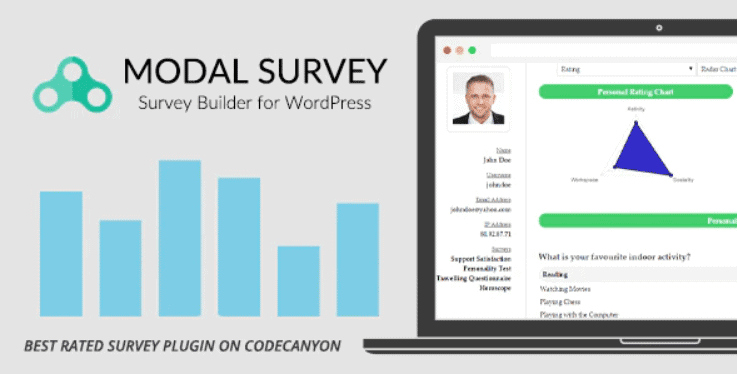 Modal Survey – WordPress Poll, Survey & Quiz Plugin is one of the best-rated Poll and Survey plugins on Codecanyon. It allows you to create polls, surveys, quizzes, evaluation tests, and a WordPress rating system along with a comprehensive reporting dashboard.
Modal Survey gives a chance to listen to the voice of the guests by surveying their interest.
If one wants the audience a great deal to be interested, the modal survey is a reasonable alternative without constraint on the number of polls or surveys you may perform.
From embedding.
Pop-ups and modal boxes.
Parallax scrolling.
Color picker for RGB.
It also offers several ways for viewing the outcomes of the surveying: circle graph, bar graph, progress bars, and a lot.
Price – It costs $35 while you approach for purchase. The free version of this plugin is available with the name WordPress Survey & Poll on the WordPress repository.
---
Advanced Poll for WordPress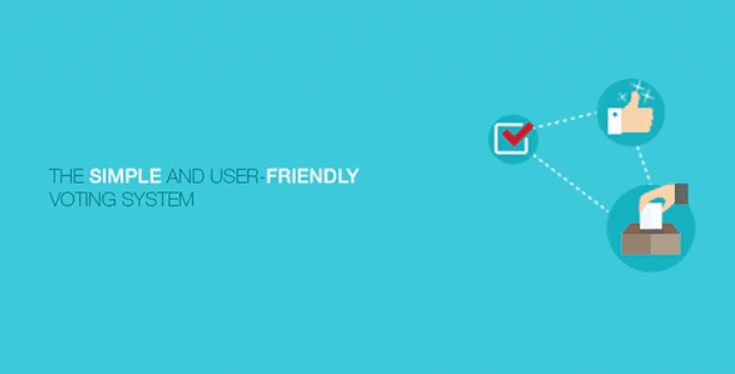 Advanced Poll for WordPress is a rigorous and complete WordPress plugin that helps all of us to efficiently build and control polls.
For WordPress, this poll is famous for its ease of usages with little difficulty in creating polls while in progress. The features of Advanced Poll for WordPress are as follows.
It is quite easy to use.
Allow you to accept the image, media, and even HTML as your poll answers.
Prevent Fake votes or Spam votes by capturing cookies, IP Addresses, User Ids, etc.
Customize your own Poll theme using various style options.
Easily integrate polls to the sidebar with the Advanced Poll widget or implement using a shortcode.
The reports section allows you to analyze poll statistics using various graphs.
Furthermore, the plugin's capacity to integrate media in polling responses makes it specifically distinctive. All these features make it a very good poll plugin for WordPress.
Price – The plugin costs $17.
---
Reactions WordPress Plugin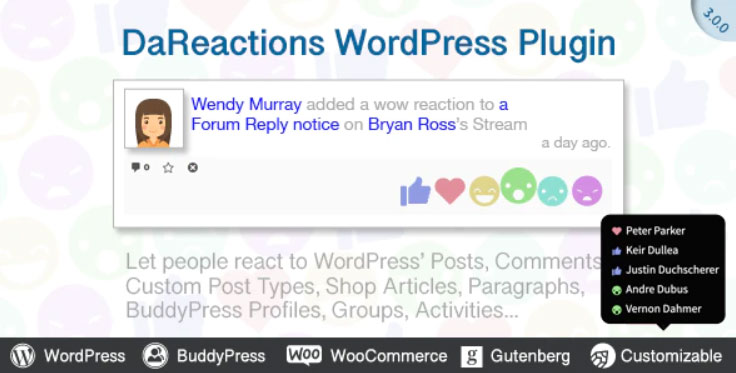 Reaction buttons are created which can be used along with content and comments to which it could be added using the Reactions WordPress plugin.
When you just want to be imaginative about your vote on the website, Reactions WordPress Plugin is a perfect option. The main features are,
Introduces multiple reaction buttons to material that makes it much more interactive in contrast to a conventional voting button.
You can connect Responses, with websites, comments, files, and more as well as with BuddyPress.
Reactions for participants or visitors may be conveniently activated or disabled.
Allow you to generate your own reactions that perfectly match their online existence.
Price – It costs $23 to buy the tool.
---
Poll Maker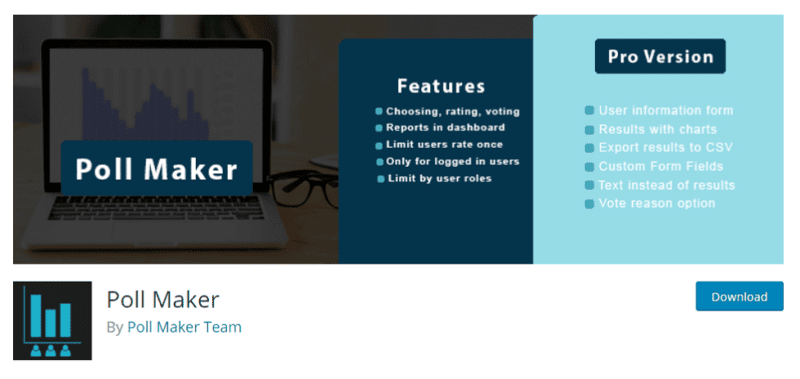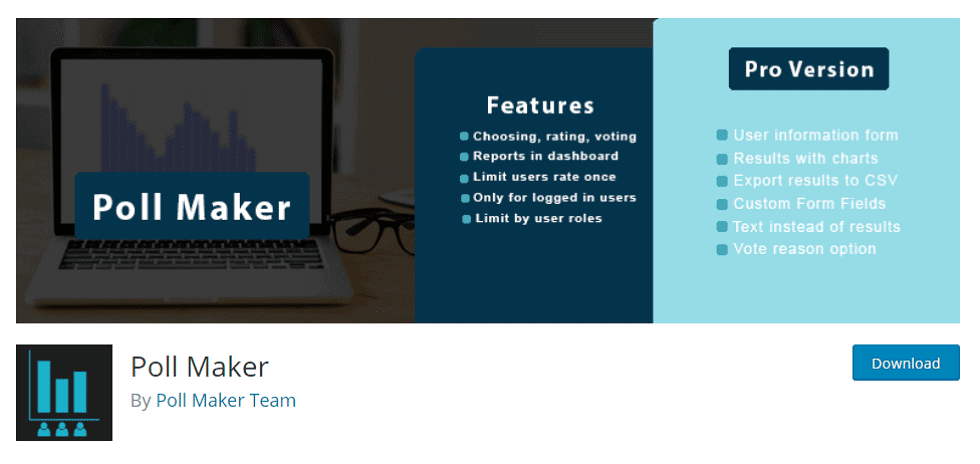 Poll Maker is an outstanding decision to make an appealing survey with 13 types and the opportunity to customize colors, bounds, templates, and pictures.
The main features of Poll Maker plugin are,
It provides a "schedule poll" functionality to assign a start date when users to your website can start to see it.
The choices that visitors can choose from are not restricted and options with Emoji or star-rating icons to vote and score.
Price – It has two levels of pricing. The essential version is available for free and the standard version costs $23 per month.
---
WordPress Polls – Poll, Survey, Questionnaire and Voting system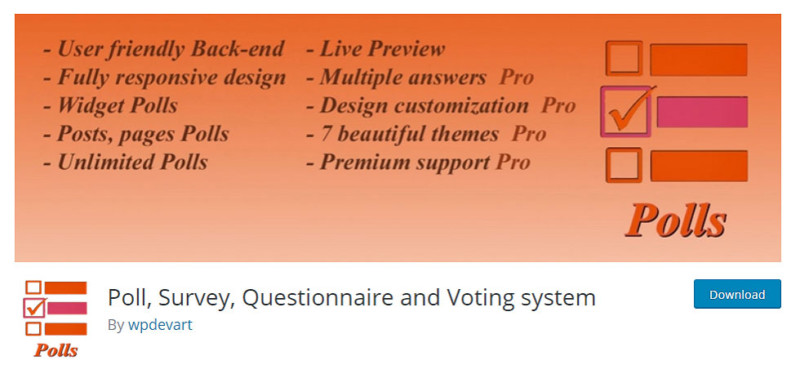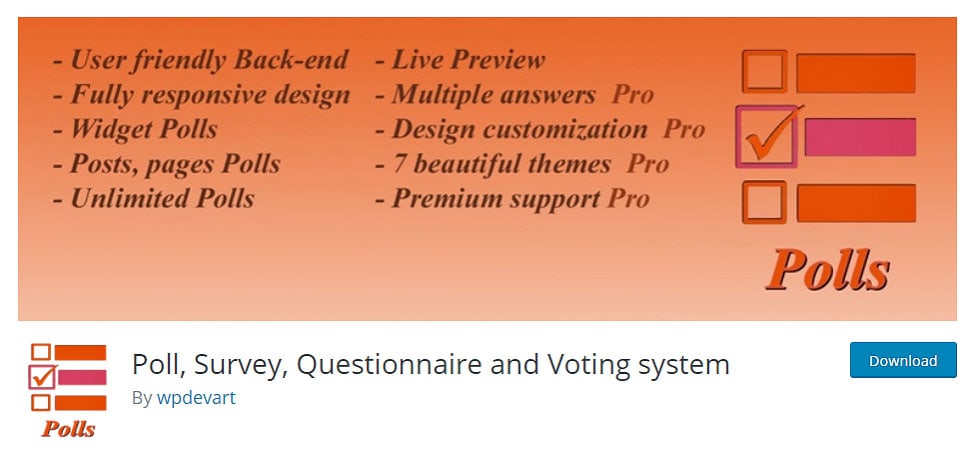 If you're a novice, a specialist, or a codification expert, and want to add a survey to your website and forum, Polls Widget (Poll, Survey, Questionnaire, and Voting system) should be your method.
It's a free WordPress plugin that functions when a poll, questionnaire, or even voting method is required. You can easily do the task actually fairly, so no complicated tasks are required. That implies the widget of polling is for everyone.
The features provided by Polls Widget include
Allows Picture or Image integration.
The ability to unlimited polls or surveys.
Allow you to use the shortcode on posts and pages.
WordPress posts editor for questions.
Allows you to check Live preview.
The plugin is Fully Responsive & SEO-friendly.
Having knowledge about these wide features, do you think it's one of the best WordPress poll plugins?
Price – It's a free plugin with standard features. The paid version starts from $10.99 comes with premium features.
---
We have reached half of our trip through the extensive list of best WordPress poll plugins. Let's continue the exploration.
Best Free WordPress Polls/Survey/Voting Plugins
I have cherrypicked all the majors in the list of best free WordPress voting plugins for you.
WP-Polls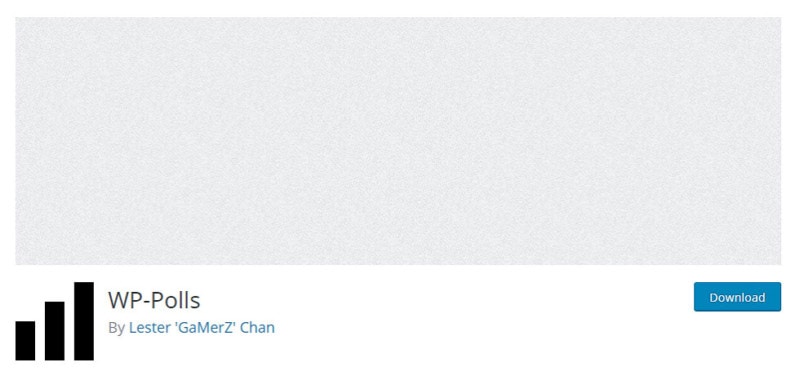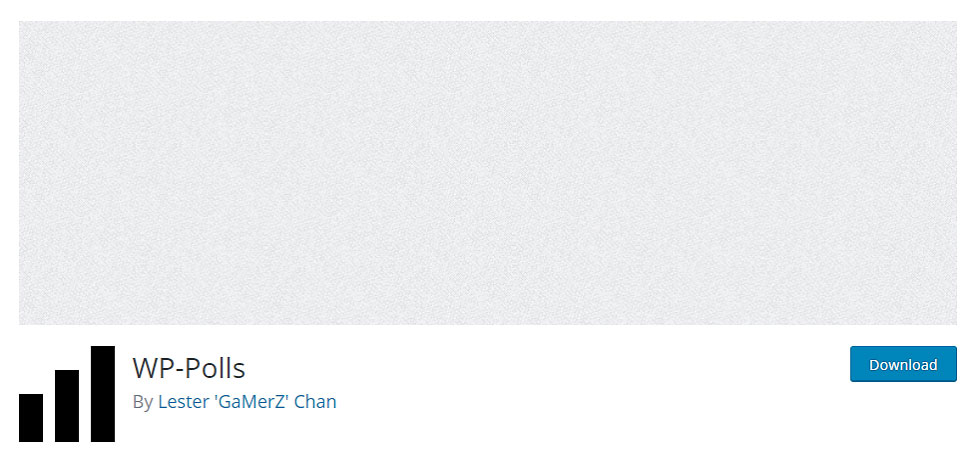 The first Poll plugin on this list is WP-Polls, the plugin is highly flexible via presets and CSS types, and there are plenty of ways for you to use to assure that WP-Polls operates the manner users like.
The major features of this top ranked in the list of best WordPress poll plugin are,
WP-Polls will enable you to connect webpages to a polling module.
It's AJAX powered and is simple to set up.
Extremely flexible, the plugin provides lots of ways to get it to come out the way you like.
Participants can choose from several responses.
Utilizing code samples, you can view or insert random or particular surveys and show poll results.
Using models or CSS, the plugin enables extreme flexibility.
Price – It's a free plugin. Download it from the WordPress plugin repository.
Ever thought the best WordPress poll plugins would be available at no cost?
---
YOP Poll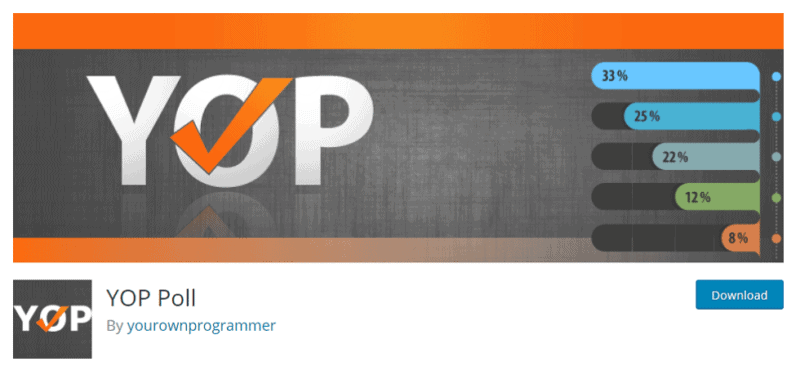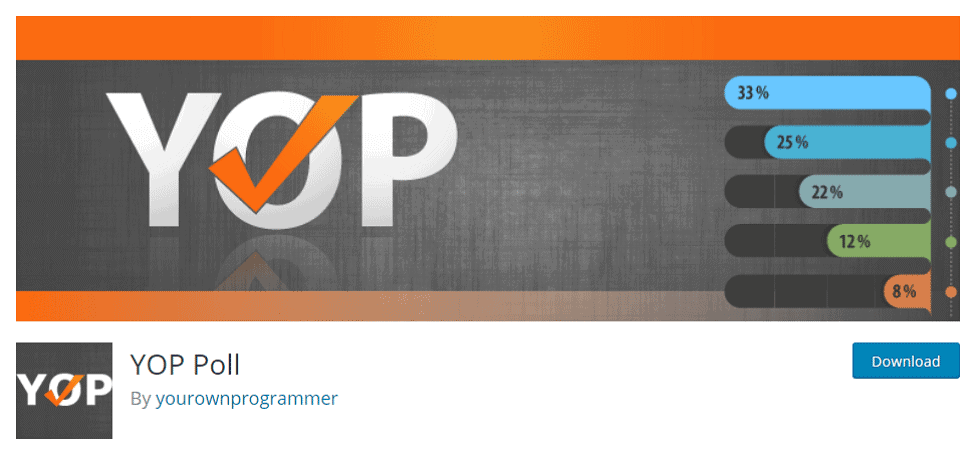 YOP Poll is another popular WordPress voting plugin that helps users to quickly embed a survey into one's blog post/page.
You can handle the surveys from inside your WordPress dashboard, but it provides far more than most related items.
The features of YOP Poll plugin are,
With the YOP Survey, any number of surveys can be performed and all questions, responses, and results can be monitored.
Each survey has a unique ID, so handling them is simpler.
You can also share the results with participants.
Enable several responses, sort survey data in the way you wish, handle outcomes, and choose which outcomes to view and which to keep as private.
To run simultaneously or one after the other, you can schedule posts.
Established polling, poll questions, poll choices can be edited, cloned, or removed.
The plugin preserves correct logs, so you can access them at any time to older material.
Allows you to assert on voting rights if needed, such as guest registration or blocking particular users.
Price – It's a free plugin.
So now you know why I introduced the plugin as one of the best WordPress voting plugins, right?
---
WP Voting Contest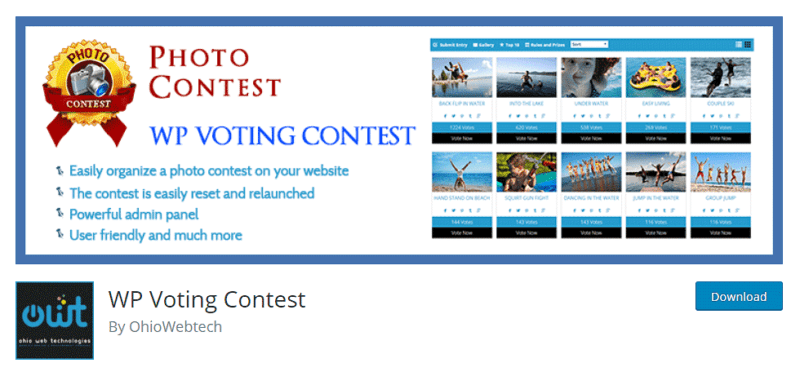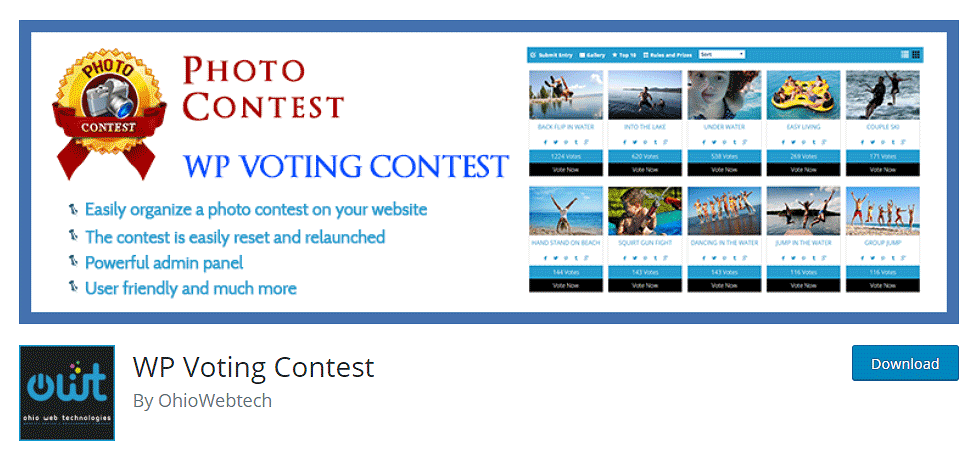 WP Voting Contest plugin effectively allows users to vote in contests for photos/images. If you want to operate an online photo contest, use the WP Voting Contest to do it seamlessly. This is the best Photo Voting Contest plugin for WordPress.
The features of WP Voting Contest plugin are,
The single fact that it is simple to use but full of great features.
The plugin enables you to start and relaunching the competition as many times as you like super fast. Nevertheless, at the same time, you may get a multitude of distinct tournaments.
The WP Voting Contest produces two buttons after you mount and trigger the tool. One is a button for Voting Now and the other displays how many votes a photo has got. It's a fairly easy solution to some degree, but it certainly does the trick.
Price – It's a free plugin.
So, it is one of the best WordPress voting plugins for a Photo, Image, or Video Contest you want to run on your website.
---
WP Poll Survey & Voting System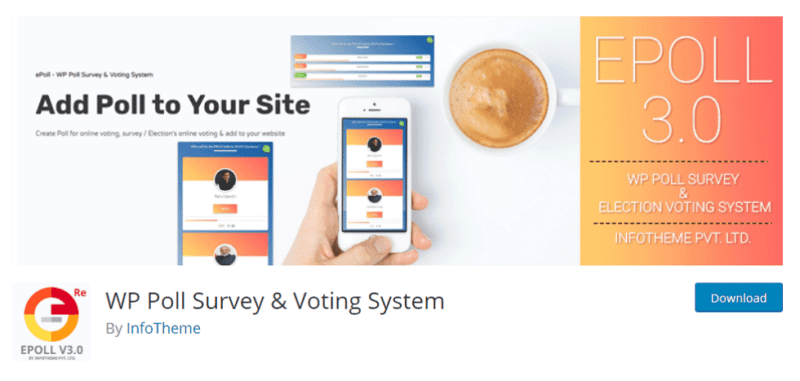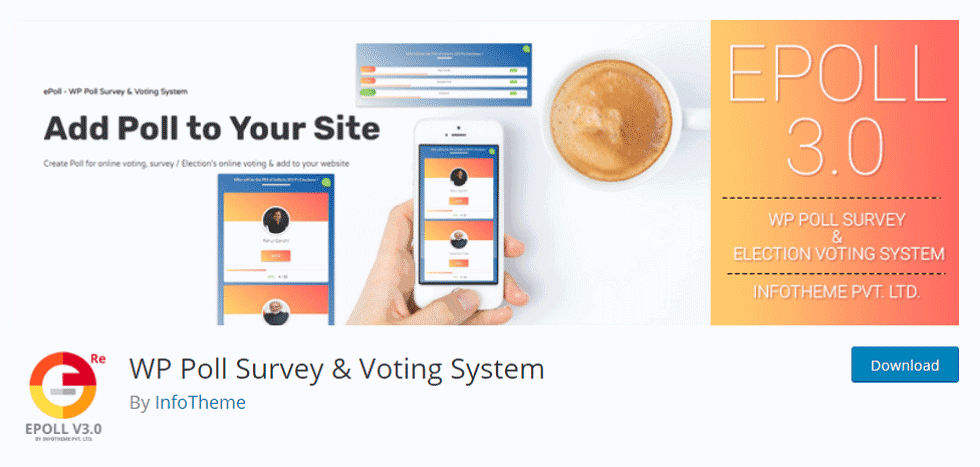 WP Poll Survey & Voting System is a flexible WordPress election plugin with a range of options. Individuals could now carry out multiple poll surveys quickly and also allow users to vote.
You should try this one of the best WordPress voting plugins for your website to know if it's compatible with your needs.
The main features of WP Poll Survey & Voting System are,
A handy listing and grid style that you can use for all kinds of purposes is supported by the WP Poll Survey & Voting System.
People will vote and engage in all types of various events including politics, restaurants, travel, film, etc.
With the sophisticated, but user-friendly, admin screen, it will be a pleasure to build new surveys that you can specifically customize to your project.
Sends email notifications to the surveyors or voters.
Price – It's a free plugin.
Check out the quality and affordability at the peak make it one of the best WordPress voting plugins.
---
bbPress Voting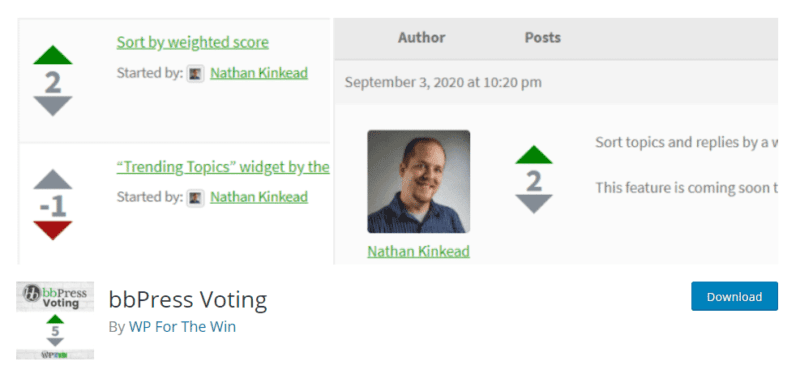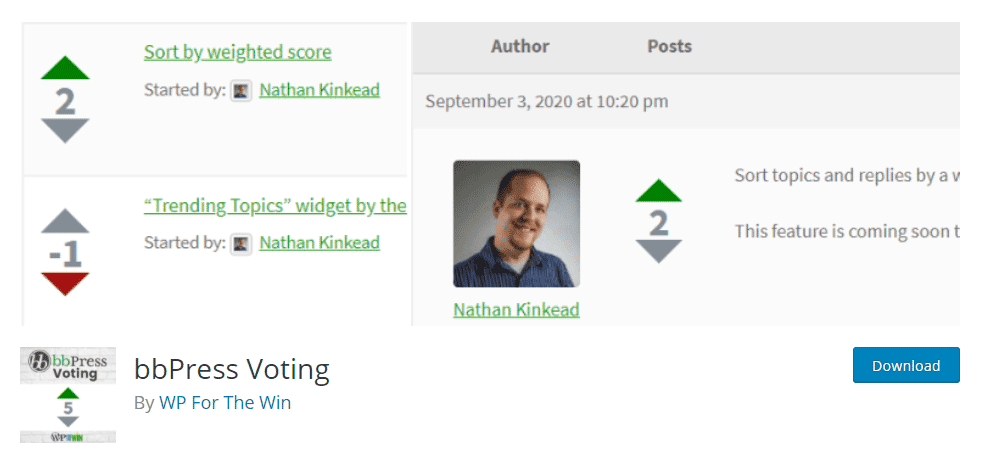 The bbPress Voting is a WordPress upvote plugin that is quick and effective. It interacts with the bbPress plugin platform to bring new functionality that lets users or guests vote on issues and responses up or down.
If you might like to insert a voting attribute to your bbPress website, you can seamlessly do it with bbPress Voting features. And guess what? This aspect is compelling enough to include in the list of best voting plugins for bbPress.
But wait. Let's find out if we can count it in the creamy layer list of the best voting plugins.
The features of bbPress Voting are,
A simple choice to up-or down-vote a subject or a reaction is introduced.
Highly compatible with all the bbPress themes.
Allows visitors to vote only once.
The final score shows automatically, letting everybody know the number of votes a comment or a subject has in the group.
Price – It's a free plugin.
---
WTI Like Post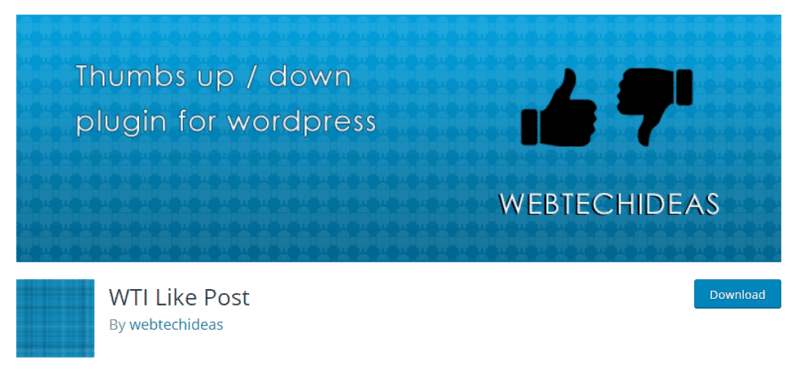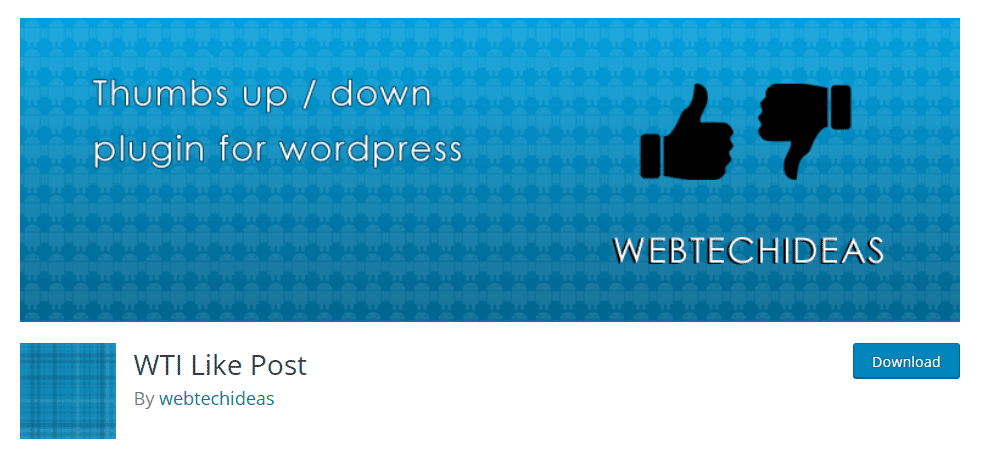 WTI Like Post introduces a convenient feature to every blog to put the Thumbs Up or Thumbs Down option to vote up or down a post.
The features of this post voting WordPress plugin are,
It allows you to select from a list of the most favorite post or links.
There are two widgets available- one for the most liked posts and the second for the recently liked posts.
Three voting types are given in the plugin and you can hide the +/- symbols before your thumbs.

The pro plugin makes award points for voting, displaying user profile pictures versus voters, and the incorporation of BuddyPress operation.
Price – It's a free plugin.
---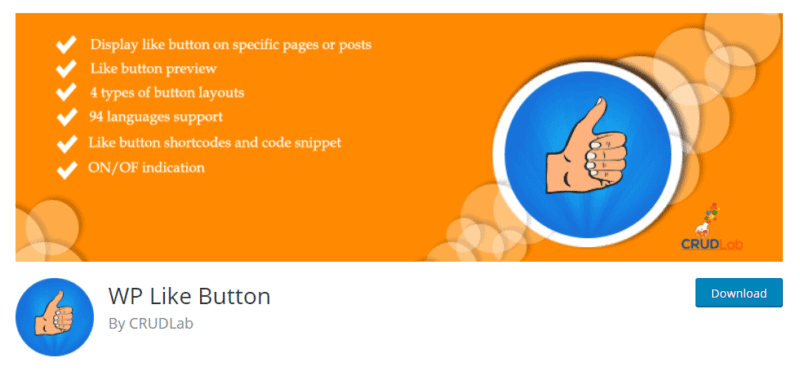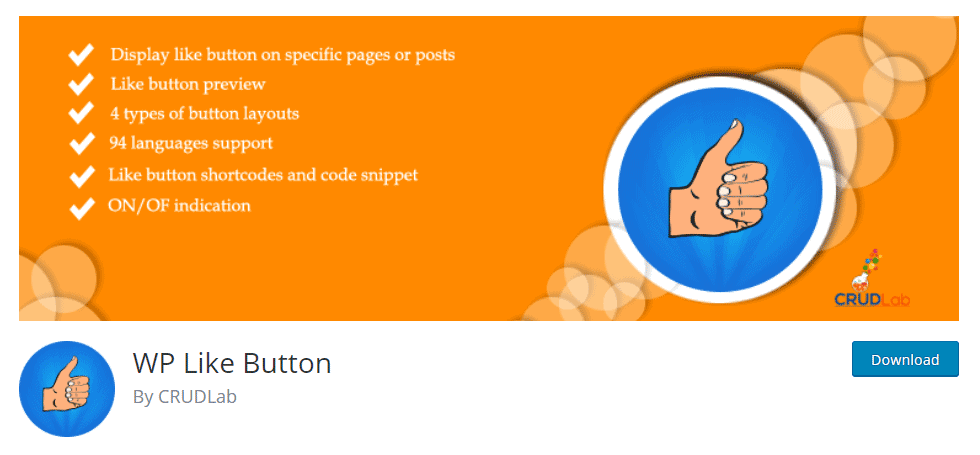 WP Like Button is built by the people at CRUDLab and is an awesome WordPress Like Button plugin which allows one to integrate a Facebook type of Like Button to WordPress. Besides it helps if you to install sharing buttons next to a like button.
The main features of WP Like Button are,
The plugin has 4 button configurations of various styles.
You can build a similar button for your posts, pages, and your website as a whole.
Moreover, the button is shortcode compatible with almost all the WordPress themes like Blocksy, Astra, and GeneratePress.
Price – It is available to install for free.
---
In the section, I have collected a few best WordPress voting plugins based on their quality and price for you. How about the rating plugins?
Best WordPress Star Rating Plugins
In the previous section, I am sure the list of best WordPress poll plugins has helped you to arrive at a rational decision. Here I have compiled a small list of the best WordPress star rating plugins.
YASR — Yet Another Stars Rating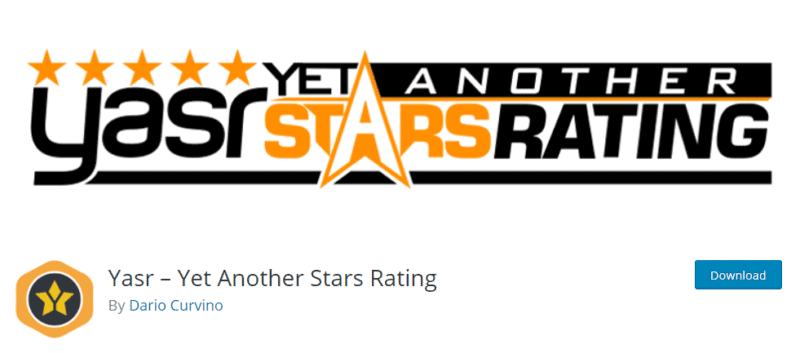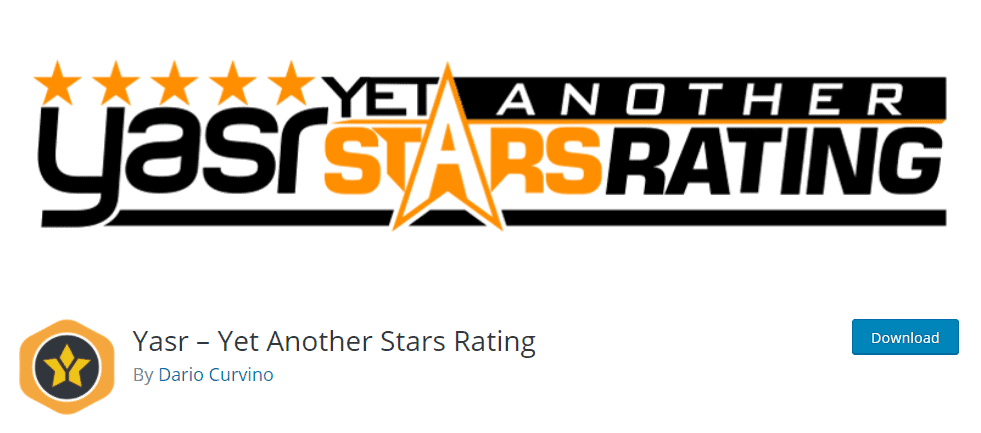 YASR (Yet Another Stars Rating) plugin is an effective way to incorporate search-friendly user feedback and reference without adjusting the pace to the posts, pages, and CPT of one's websites.
Main features YASR (Yet Another Stars Rating) plugin are,
YASR plugin provides WordPress with a strong star rating system that lets users assess the website content.
It encourages you to do your own analysis (poll an assessor) or requires guests to vote.
Offers rich snippets for search engines like Google and Bing.
Create numerous sets of stars based on various page or post parameters.

When the plugin is mounted,

a meta box shows up and the cumulative review ranking can be done at the start or the conclusion of the post.
Put it somewhere with a shortcode in the visual editor. You can put a shortcode anywhere the stars display for visitor votes.
Supports almost all the schema.org itemtypes for rating.
YASR provides premium extends for user ratings, customized rankings and optimization features for the stars when the plugin is open.
Price – It's a free plugin.
---
kk Star Ratings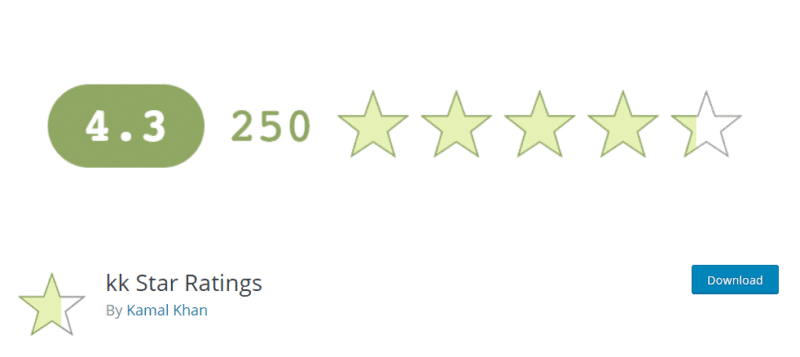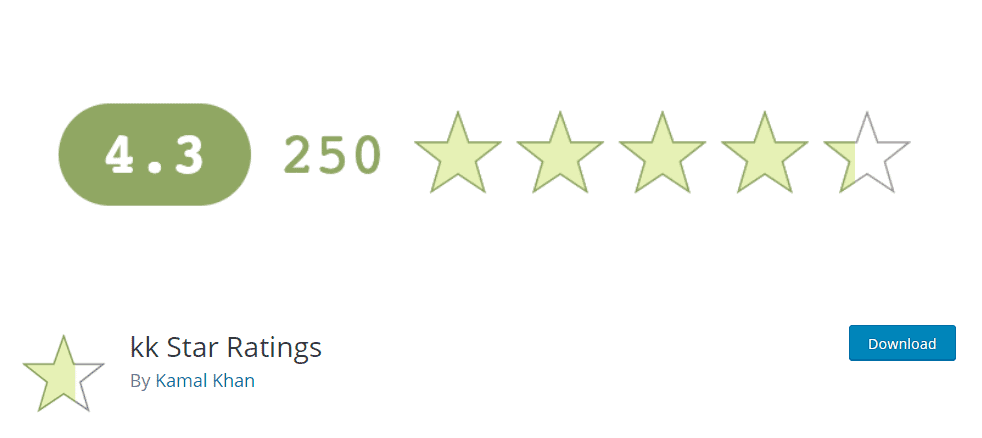 Being, a commonly utilized star rating plugin for WordPress, the kk Star Ratings plugin is a name you might have already heard. It is quite simple to implement a star rating system on your blog with this popular WordPress star rating plugin.
The main features of kk Star Ratings plugin are,
Showcase the most famous posts using the widget.
Opt to view reviews on the homepage, files, articles, or pages from the plugin's configuration tab.
Also, pick the ranking placement inside the pages.
The standard number of stars is five, but this can also be modified and the number of votes from a different IP can be checked.
Allows Google Rich Snippets, which implies that within a Google search result, the scores are likely to turn up.
Allows you to build scores/stars without playing with coding.
Price – It's a free plugin available for download at the WordPress plugin repository.
---
WP-PostRatings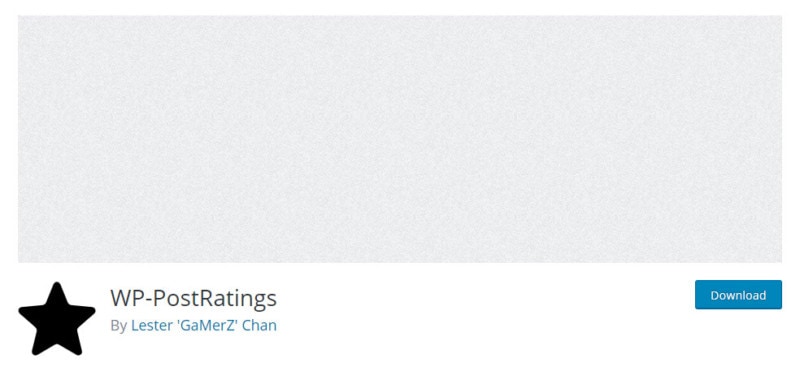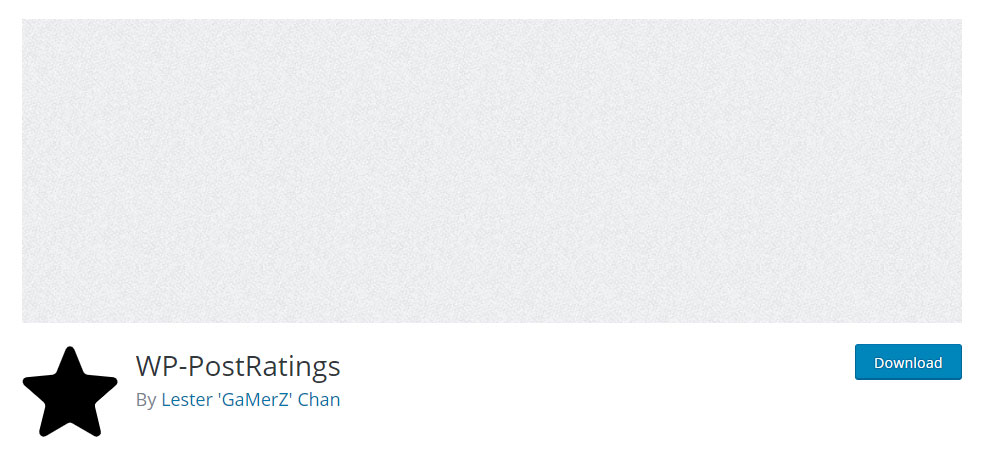 The WP-PostRatings plugin offers several options to show ratings, such as stars, thumbs up/down, ticks/crosses, hearts, and numbers. From the get-go, though, you should know that to get it to function on your web, this plugin needs a bit of technical configuration.
The main features of WP-PostRatings plugin are,
You can pick the rating pictures to view on the plugin's settings tab.
Set the rating option to show up on all posts or selectively on some posts using code.
Allows you to change the image type from GIF to PNG.
The plugin has the option to display the top-ranked entries, the lowest ranking, the highest rating, and the most rated posts.
You can display these stats in a widget on the sidebar. The widget can be configured to display the title, count of posts, and perhaps more.
Price – WP-PostRatings is also a free plugin and can be download from the WordPress plugin repository.
Despite its versatility and features, it is free and that makes it one of the best star rating plugins for WordPress.
---
WP ULike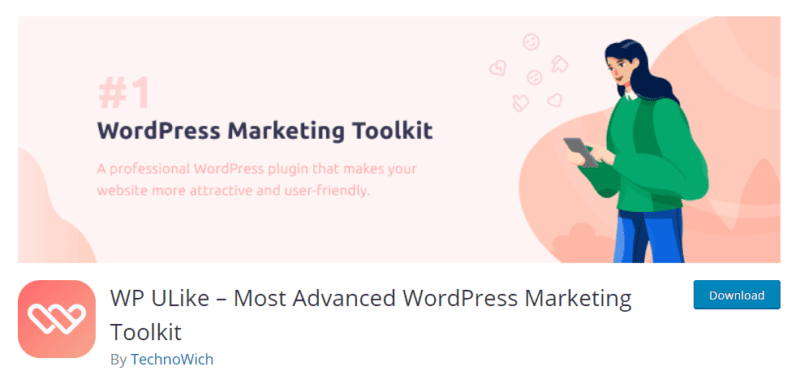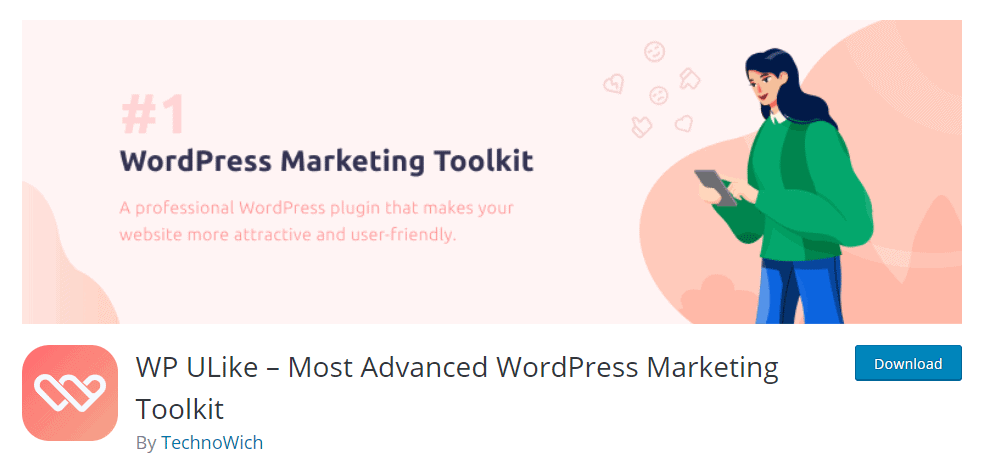 All the posts one has on one's website can be voted on with the support of the WP ULike plugin. WP ULike aims to meet all the desires in a ranking system of clean formats and elegant models.
It supports BuddyPress and helps users to record their favorite content styles, such as messages, forum discussions, and responses, reviews, and feedback using pretty Ajax buttons.
The Key features WP ULike plugin are,
Professional Schema.org Generator that creates Google Rich Snippets star ratings.
Create Likes, Dislike, and Votings buttons.
Allows you to create AJAX-based login, registration, and profile edits pages.
20+ pre-made rating system templates.
Offers a

comprehensive reporting Panel with various options.

Notifications System for vote submission.
Shortcodes and compatibility with popular page builders and much more.
Price – The basic version of the plugin is free and available at the WordPress plugin repository. For premium features, you can get WP ULike Pro at $39 per year.
Due to its high-level features and functionality, the WP ULike plugin bab is one of the popular and most advanced WordPress rating plugins out there.
---
Rating-Widget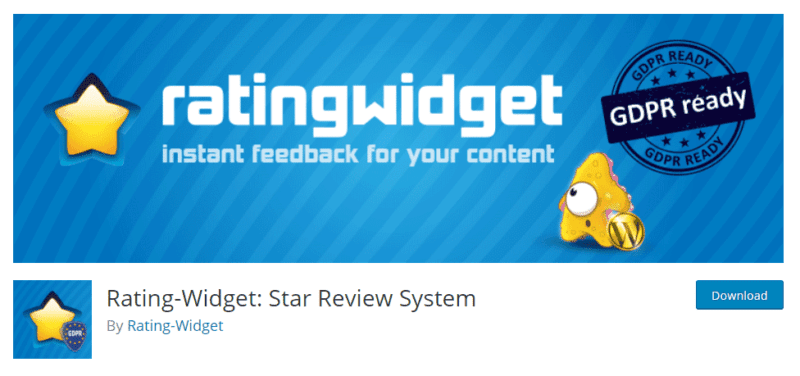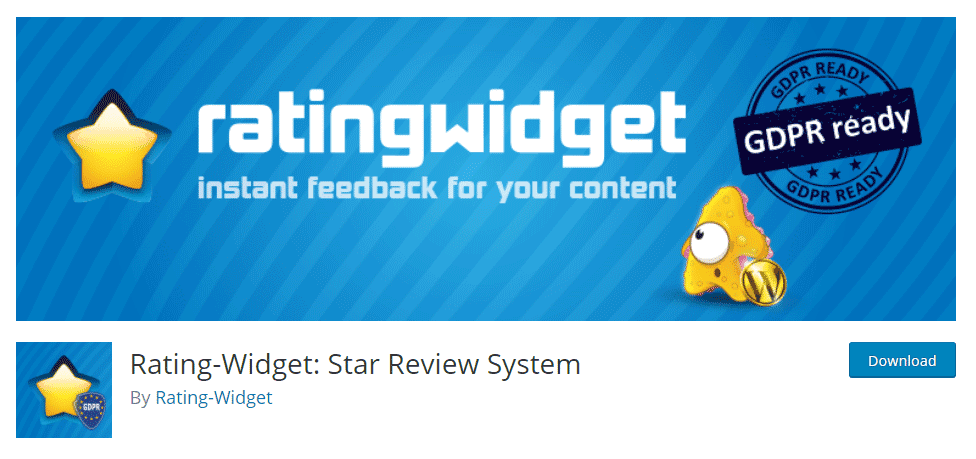 Rating-Widget is a very prominent GDPR-compliant Five Star Review Framework that allows you to place a ranking feature on the site. For blogs, pages, feedback, WooCommerce, BuddyPress and bbPress forums, user-friendly reviews.
You might also attempt the Rating-Widget to add a review to some kind of stuff. This plugin's star review program enables you to add star and thumb reviews into blogs, websites, and comments.
The features offered by the Rating-Widget plugin are,
The plugin doesn't require any setup, and from your WordPress dashboard, you can build and track ratings.
Create unlimited reviews. On your page, a toolbar widget shows the highest post.
This plugin's free edition is eligible for one million page views and arrives with advertising.
You will have to buy premium plans to eliminate branding.
Such plans include a safe connection for fraud detection, Google rich snippets, email assistance, and IP identification of tourists.
Voting may be based on different parameters, and with WPML and Polylang, the plugin incorporates.
Price – It's a free plugin with limited features.
That's it about the WordPress rating plugins. So, that was a quick trip that started with the best WordPress voting plugins and ended with rating tools.
Time to see the difference between the poll plugins and rating systems.
---
The Difference b/w Voting/Polling & Rating Systems
It's quite easy to understand the difference between Voting(Polling) & Rating Systems.
In a voting system, voting implies that as a result of the preference shown, action will be taken. The polling is also to get an understanding of what the general preference is, but there will be no action taken, it's just for interest.
So, the polling plugins and voting plugins serve you more or less in the same way, right? Then what about the rating system?
In a rating system, the quality of a specific product or service is measured by the rating. That can be denoted by a number between 1 to 10 or through star ratings or several others.
Our journey through the best WordPress voting plugins would be incomplete if we do not summarize the whole piece of information in a conclusion.
---
Wrapping It Up
So, this is just one of the comprehensive list of best WordPress voting plugins and rating plugins for your blog/website. Based on the intensive study, the following are the recommended plugins in each of the categories.
Best WordPress Poll/Voting/Election plugin – TotalPoll Pro, WPForms, and WP Poll Survey & Voting System
Best WordPress Image voting plugin – WP Foto Vote and WP Voting Contest
Best Post-Voting WordPress plugin – WP ULike and WTI Like Post
Best Star Rating plugin for WordPress – kk Star Rating and YASR (Yet another Star Rating)
Hope you found this article useful. Do let's know which WordPress voting plugin I listed fascinated you. Also, share if you have any recommendations for star rating plugins.
How Do You Create a Poll on WordPress?
You may install any of the best WordPress poll plugins mentioned in the article and you are good to go. The plugin will guide you to easily create a poll and share it on the page.
Which is the Best WordPress Voting Contest Plugin?
WP Voting Contest is one of the best WordPress voting plugins that aid users to vote in one's contests for photos/images. But there is another I would like to recommend, read the full article to know more about the voting contest plugin for WordPress.
Which is the Best WordPress Election Voting Plugin?
WP Poll Survey & Voting System is one of the popular election voting plugins. It offers various features for voting on topics and contains many options for customization. Get into the article to find out the recommendations.