Grammar and punctuation errors are always a barrier to produce standard content. Agree? Today, I will show you a bunch of amazing online punctuation checker tools. All the features and pricing will be explained so that you can easily pick the best one for your requirement.
Let's start from the importance of punctuation checker tools for your website.
Why Bloggers or Freelancers Should Use Free Punctuation Checker Tools?
The value of reviewing your site content and job for errors is essential for freelance authors and bloggers.
The writing of inventive material, using metaphorical words, assembling & classifying our thinking, and grammar are many facets, to list only some.
Although grammar is the practical part of writing, it is only the means by which people can read material and enhance communication.
Briefly, a punctuation checker is a blogger's and a writer's finest companion in the development of content that one intends for.
We will find out all the online grammar and punctuation checker tools in the next section.
Best Grammar and Punctuation Checker Tools
There are several free punctuation checker tools to get the writing errors corrected such as google punctuation checker, punctuation app, etc.
The following are the best tools selected from them.
Grammarly

Grammarly is one of the best grammar and punctuation checker resource on the internet. It is a freemium tool. Nearly all the bloggers, editors, proofreaders, journalists use this web-based grammar testing service.
The features of Grammarly are,
It offers spelling error checks, grammatical error checks, comprehensibility checks, plagiarism, and style checks.
The site reviews more than 250 grammatical mistakes and punctuation mistakes.
It can be used on any platform and also in popular browsers such as Chrome and Firefox.
The extensions work easily with e-mail, messages, documents, projects, social media, and importantly in the WordPress editor, and any other text box.
Grammarly will actively assess one's manner of language and investigate whether they make grammatical errors, anywhere one types.
It is also offered as a Microsoft Word extension as well as an application for Mac OS utility.
Pricing – Grammarly has a free version with basic features. It offers a premium plan. The premium version costs $11.66 per month and the business plan costs $12.50 per member per month.
---
WhiteSmoke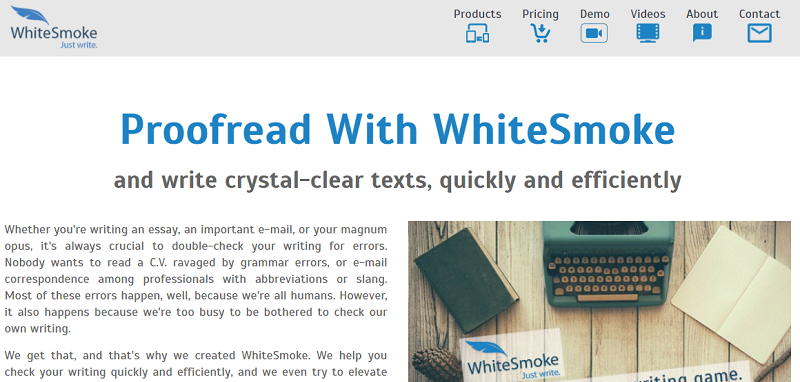 The characteristics of WhiteSmoke are similar to Grammarly, often referred to as Grammarly's rival. The features of the punctuation fixer are,
The functions of WhiteSmoke are quite similar to Grammarly, checking on the syntactical errors and properly punctuate the sentences.
The truth is though, that WhiteSmoke often struggled to notice contextual grammar errors. However, it fits perfectly and strongly encourages non-native English authors.
It's also offered as an application for Android and iOS versions, as opposed to Grammarly. It can even be used as browser extensions to help one repair syntactical and punctuation errors.
WhiteSmoke creators have made the tool suitable for use regardless of the gadget using it.
Pricing – The premium plan currently starts at $5.00 per month, billed as one payment of $59.95.
---
ProWritingAid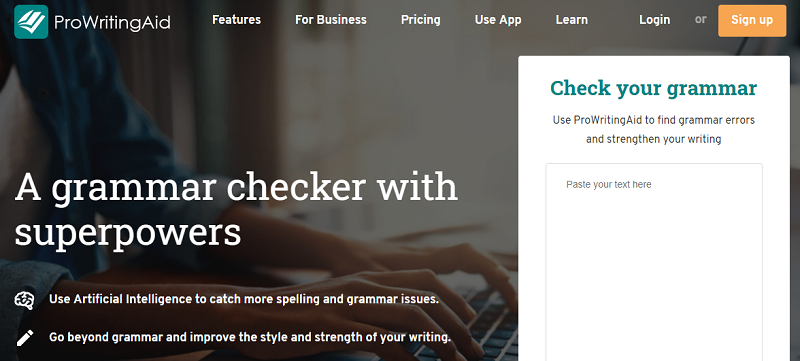 ProWritingAid is a resource often neglected on the web. It verifies the content for different kinds of errors, including contextual errors.
It offers spelling check, style check, grammar check and helps with the use of terminology for your work.
It's a product that is easy to manage.
This is the correct punctuation checker to use on any platform from Word to Gmail and Chrome to Firefox.
You can try it free of charge but it might not be able to equate it with that of the Grammarly version.
Pricing – Free version includes a summary of key features and a limit of 500 words. ProWritingAid offers a freemium plan. The pricing starts at $79.00 per year.
---
Hemingway Editor

Hemingway Editor is much of a tool for fashion that is popular as a free grammar and punctuation checker and corrector.
You should consider the Hemingway as a supplementary control to render your writing clearer if you beforehand have used one of those other resources for testing simple problems such as missed apostrophes.
They offer a free punctuation checker app. It is best as a comma checker too.
Hemingway is absolutely free and needs no account. You just need to add the content and evaluate.
Pricing – This is one of the free punctuation checker tools.
---
Ginger Punctuation Checker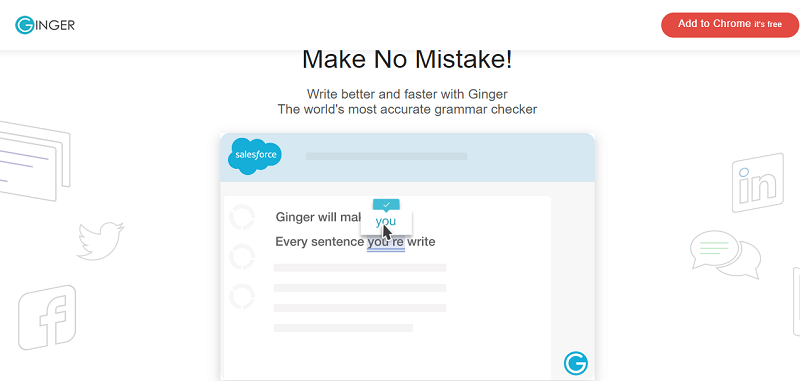 Ginger is among the greatest grammar & punctuation review resources that every freelancer can leverage.
It can also be added to Chrome, used in Office, Safari, Microsoft Edge, etc., and also as a Word add-on.
The edition is freemium. It is similar to Grammarly, in fixing grammatical and punctuation errors in the sentences.
The needless use of punctuation marking in your contents may also be observed.
Pricing – The free version includes a text editor, contextual grammar, and spell checker. They offer premium services. The pricing starts at $20.97 per month.
---
PaperRater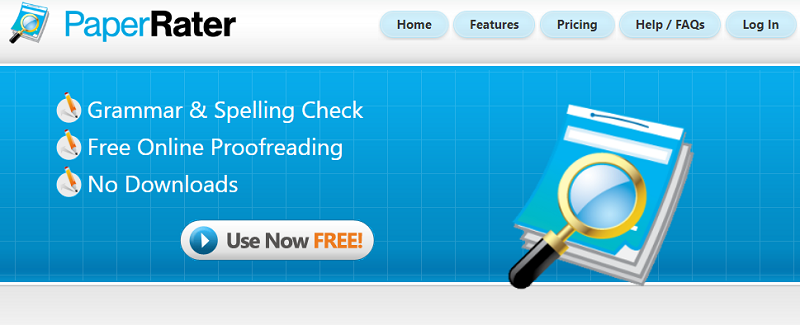 We only need to add the material or just the article in the edit box to use PaperRater. The text file could also be downloaded to your tool. The features are,
The basic plan supports primary functions with automated scoring, 50 submissions per month, and 10 plagiarism checks per month.
With the "get report" icon pressed, the data will be evaluated. It records mistakes in spelling, orthography, design, and punctuation.
This resource contains a plagiarism scanner in the paid version.
Nevertheless, they also formally suggest Grammarly conduct further studies.
Pricing – The free version offers basic services. The freemium version costs $11.21 per month or $71.55 per year.
---
After The Deadline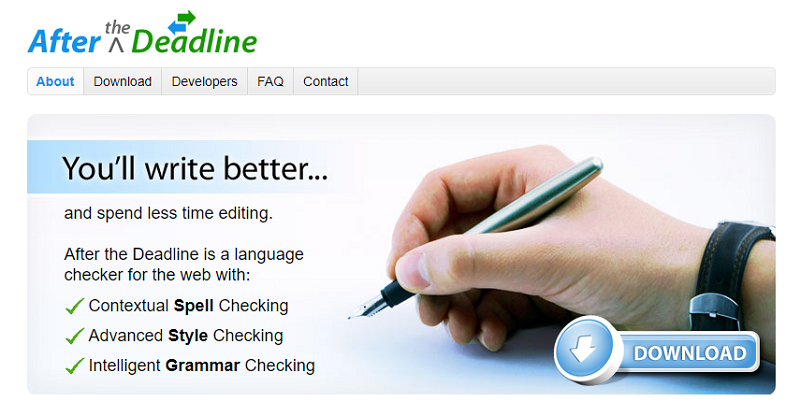 After The Deadline is the background story of WordPress CMS. The main features are,
It can be used as a bookmarklet for browsers like Chrome, OpenOffice, and Firefox, where it works like a command-line interface tool. Add-ons or Word is not provided.
We can find a similar reviewer in other plugins for WordPress such as the Jetpack plugin. So if you're a writer, you already know that.
This language management resource can also be found on After The Deadline's website. You only have to type into the textbox and tap on the screen to recognize and fix grammar and punctuation errors.
Price – This is a member in the list of free punctuation checker tools.
---
LanguageTool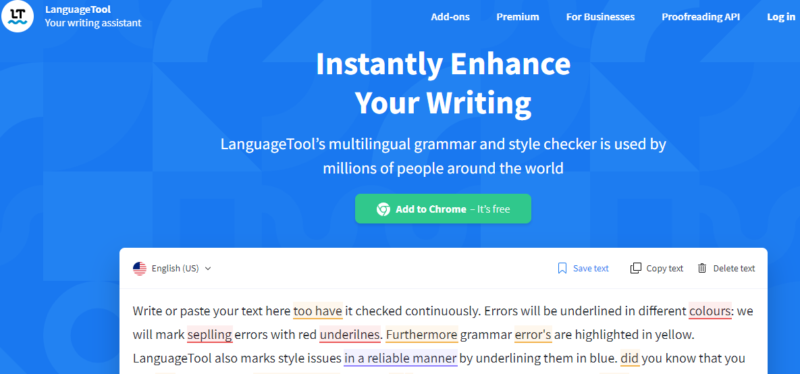 LanguageTool is a very less heard yet hugely successful grammar and punctuation checker.
The free plan of this resource lets us have a basic checking with spelling and grammar and allows only 10,000 characters per text.
Further, with priced plans, we get access to enhanced checking, increased character count of about 40,000 per text field, and various other options along with add-ins for Microsoft Word and Google Docs.
Also, improvement in the style of writing and tonal suggestions can be expected.
Price – It is free to use and the other freemium plan offers $91.58 per month for individual users.
---
Linguix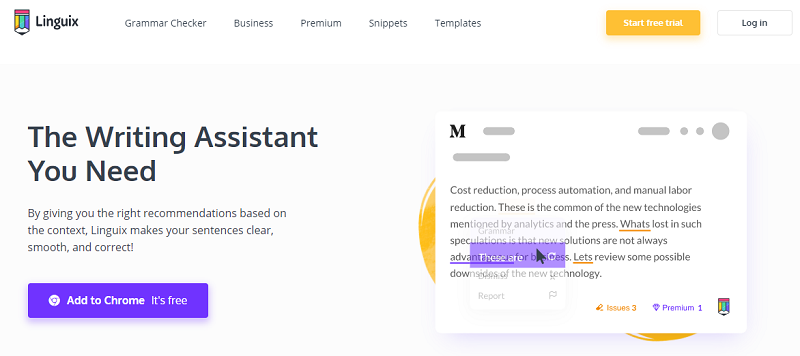 The app is far better than a spell checker and provides more than 2600 specialized corrections addressing thousands of grammar-specific problems.
Linguix provides comprehensive information on common mistakes and
Advises how to properly create our business mails and academic and personal ventures, superior when read.
It offers spelling, grammar, style checker, models for speed writing, browser extension, and third- party tool incorporation.
Pricing – The free version has a basic grammar check. Freemium version starts at $8.00 per month paid annually (Also business plans are available).
---
Proofreading Tool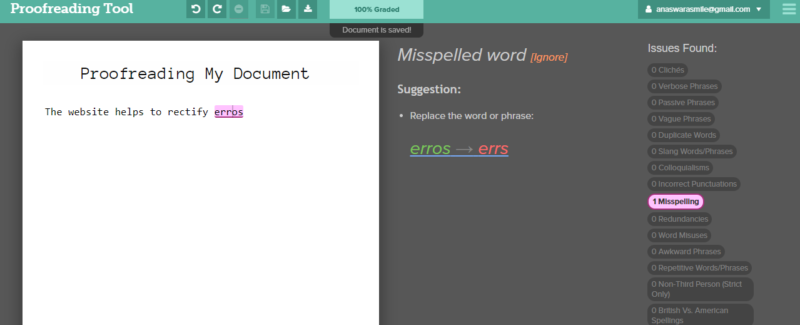 As the name suggests, this is a proofreading tool. It refines grammar and readability. We can get to know the process of proofreading ourselves if we use it for a longer period of time.
It provides quick suggestions, numerous in number, and simple in understanding.
Also enabled with grammar check, spell check, punctuation check, and text editor.
Pricing – The free version of Proofreading Tool can be used online with minimum features. The full-featured subscription begins with $6.25 per month billed annually.
---
Proofread Bot

The tool is used for proofreading. The main characteristics are mentioned below.
Grammar check
Style check
Spelling check
Reporting & analysis
Proofreading
Pricing – The free version is available online with limited features. The paid version starts with the Basic Proofread Bot package at $15, i.e., 50,000 words.
The blog on free punctuation checker tools would be incomplete without suggesting the most recommended tools from the list.
---
Conclusion
So, we took a quick trip through the online punctuation checker tools.
From the features and other details, I recommend Grammarly, Hemingway, and Linguix as the best punctuation checker tools.
Hope you found this article useful to pick the best free punctuation checker tools for your content/website.
Drop your comments below. That will keep us motivated to come up with more insightful blogs.
How do I Check My Grammar on Google?
While there isn't grammar checking available directly from Google, you could easily run a check-in Grammarly which would pop up in the first search result. Or else, Google Docs can also be preferred to check grammar where we need to go to 'Tools > Spelling and grammar > Check Spelling and Grammar'.
What is the Best Free Punctuation Checker on the Internet?
Grammarly, Ginger Punctuation Checker, and ProWritingAid are the best free punctuation checker tools on the Internet. They are mostly freemium tools yet works fine for punctuation checking under the free plan. There are the best grammar and punctuation apps as well.
Which is the Best Free English Checker Tool Online?
Grammarly is once again the best free English checker tool online. It can be best described as a quick, easy, free, and professional punctuation editor and grammar checker, though there are word limits. Read the full article to know everything about Grammarly and other free punctuation checker tools.
Are There Any Online Free Proofreading Tools?
There are proofreading tools available on the web, distinguished from the ordinary grammar checking tools we use. Those which are used exclusively as proofreading tools are Proofreading Tool, Proofread Bot, etc.