No clue about getting your post or article checked for grammar? We cannot underrate the importance of online grammar checking tools. You need to choose a suitable grammar checker for your posts, blogs, websites, etc. which is a crucial step.
Readers will push your work aside as lousy even though your content being unique if the language is sloppy or there are too many typos.
This post will help you find the best free online grammar checker tools and much more.
Firstly, it doesn't matter if you are just great at content creation, your sentence formation and grammar must be proper. It is important to deliver high-quality content.
Secondly, there are loads of Online Grammar Checkers available on the internet; and let me tell you that it is hella confusing to find just the right one for you.
Anyway, you have come to a great source of information if you are looking for the right grammar checker which suits your work as a content creator/blogger, student, teacher, editor… and the list goes on.
Most importantly, let's look for an appropriate grammar checker for you here.
Before we jump to all these amazing grammar police, let's look at our criteria to choose them as the best grammar checkers:
What to Look for in a Grammar Checker?
Online Grammar checker tools offer various features and functionalities for different sets of users.
The following are the most common and basic set of features you should consider while looking for an online proofreading tool:
Efficient proofreading
Quick grammar/typos detection
Multiple alternatives for words, phrases, etc.
Plagiarism checking
Multiple application services
---
Best Online Grammar Checker Tools for You
We have checked quite a number of online grammar checkers. Finally, we are enlisting Grammar Checkers which we found to be the most reliable and efficient.
Based on the features, functionality, pricing and the use of grammar tools we can characterize them into following categories.
Online Grammar
Checker Tools
Premium
Freemium
Free
For Bloggers

– Jetpack
– Grammarly
– Ginger Online
– Polish My Writing
– After The Deadline
For Scholars/
Thesis Writing
– ProWritingAid
– WhiteSmoke
– Hemingway App
– PaperRater
– NA

For Students/
Home
– NA
– LanguageTool
– SCRIBENS
– Reverso
– Slick Write
– GrammarChecker
– Online Correction
– Grammar Check
Best Online Grammar Checker Tools
Now, let's get started and dig deep into the details.
---
Best Online Grammar Checker Tools for Bloggers
In this section you will find the most suitable grammar checker tools for bloggers.
Perhaps, you have heard this one, Grammarly is one of the most popular grammar checker tools for bloggers.
Grammarly provides you with an extensive array of facilities to proofread and edit your documents. It is a wide spectrum tool for all kinds of editing functions.
First of all, Grammarly provides high accuracy corrections for your work and a lot of options to customize your text.
It also provides explanations regarding spelling errors, sentence formation as well as punctuation mistakes. These explanations are easy to understand and very much reliable.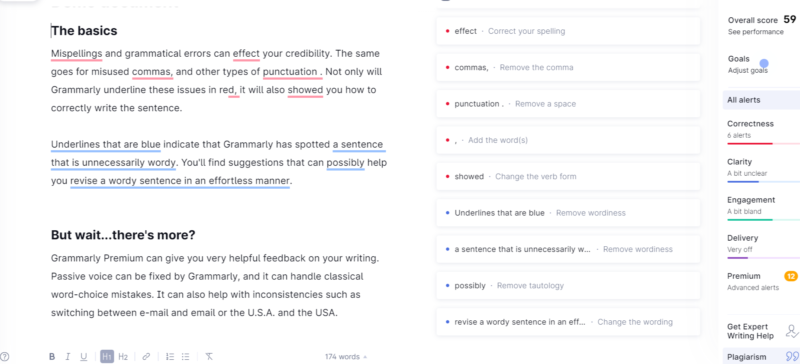 It is a likely tool for bloggers and website designers.
Grammarly is very easy to use and comes with a number of features. However, it has a few drawbacks which include it's Free vs Premium membership.
The Free version is really limited. The Premium version is a really extensive tool but an expensive one too which includes:
A Broad-Spectrum Plagiarism checker
Genre-specific Style checks
Readability check
Vocabulary Enhancement Suggestions
All at a price of:
Monthly: $29.95/month
Quarterly: $19.98/month( Billed as $47.96 – one payment)
Annual: $9.33/month (Billed as $111.96 – one payment)
---
If you need a highly efficient grammar checker, Ginger software can help you with that. It provides you corrections for all kinds of grammatical mistakes. For example, subject-verb agreement, sentence formation, etc.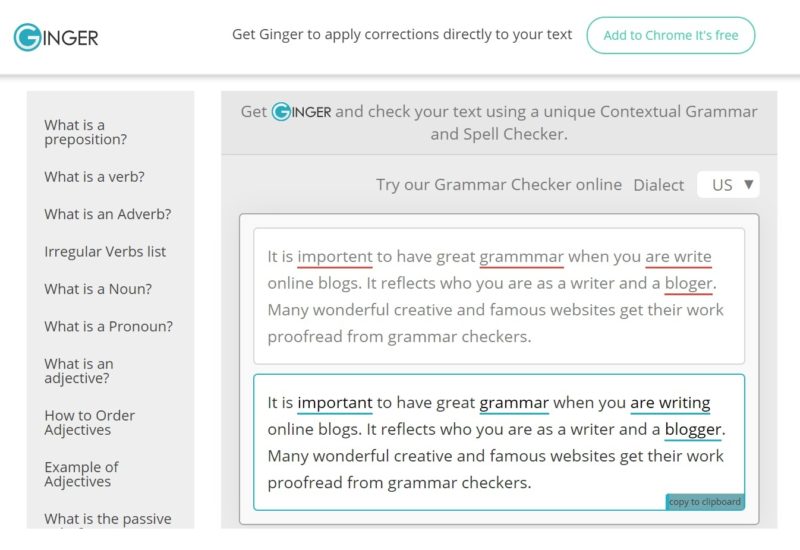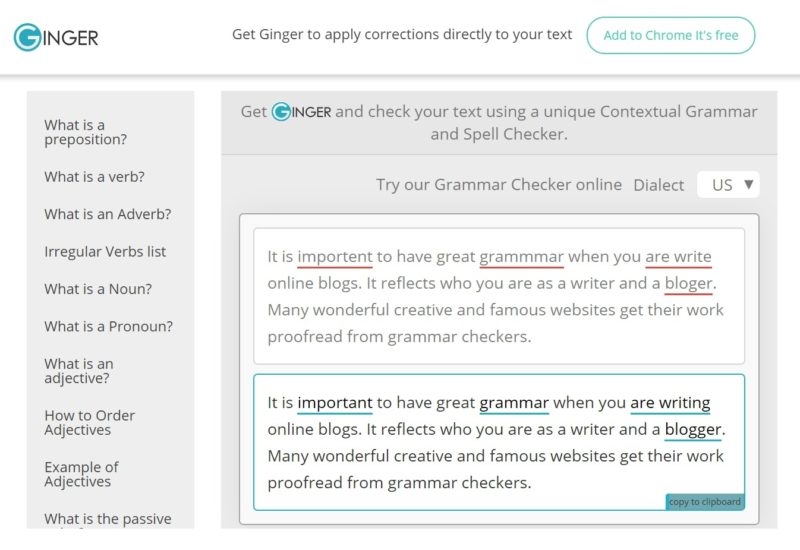 Boost your writing productivity and keep a professional approach with the help of the Ginger grammar checker tool. And what's more? It's free online!
But the paid version brings you the most convenient options of grammar checking as well as plagiarism checking. You can get your file to proofread in a matter of a few minutes, even as you are typing.
If you wish to buy a plan, the following are the options:
Monthly: $20.97/month
Annual: $12.48/month (Billed as one payment of $149.76)
Two Years: $9.99/month (Billed as one payment of $119.88)
If you are a long-time working blogger or web-designer, the annual or two-year plan of Ginger online is a great investment that comes with quality service.
You can copy and paste your text on the tool or better yet, you can upload your document file which needs to be checked. Moreover, it also has an audible readback option which allows you to determine how your text sounds.
In spite of being cheap, it does have a drawback: Ginger grammar checker needs to be updated frequently. A lot of users complain about the updates needed for Ginger to work.
---
Jetpack isn't just your normal grammar editor. Apart from being that, it is a complete manager for your site/blog.
It includes features for updating your blog/website. Also, it has a varied array of security, marketing, design, and blog management tools. Thus, Jetpack is one of the most fitting plugins a blogger or web designer can install.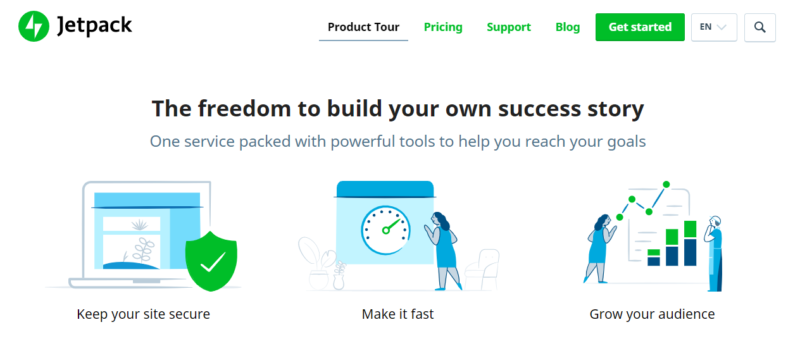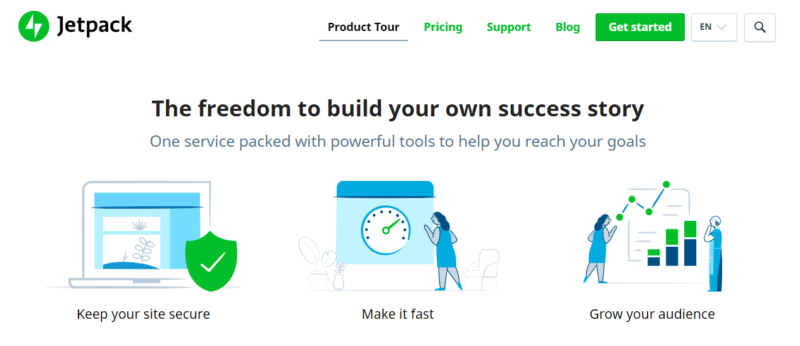 The most popular features offered by Jetpack are following:
Site stats and Downtime monitoring
Protection from Brute force attack
Image Lazy loading and Free image CDN
Automated social media posting
Blog Subscription
Gallery, Related posts and many more
Jetpack can be added as a plug-in onto your WordPress blog/site. You can start with a Free version or upgrade to the following ones:
Personal: $3.50/month
Premium: $9/month
Professional: $29/month
Each upgraded version allows you to gain access to various unlimited services which are inclusive of Video hosting, Image hosting, and Static file hosting.
Once you subscribe to a plan in Jetpack, you'll directly have access to the Polish My Writing/After the Deadline tool for free. It is one of the many in-built features of Jetpack.
---
After the Deadline (AtD), also known as Polish My Writing is an extensive plugin for self-hosted WordPress blogs. In addition to that, it also works for bbPress forums, Firefox, Google Chrome, etc.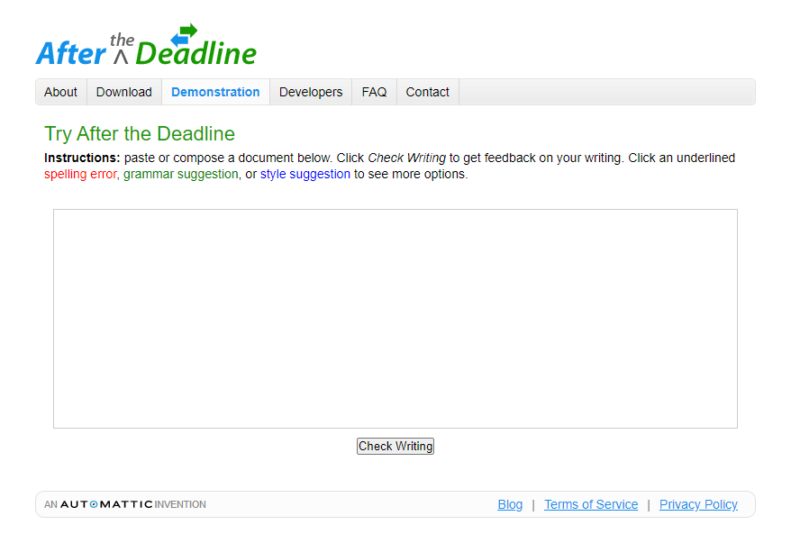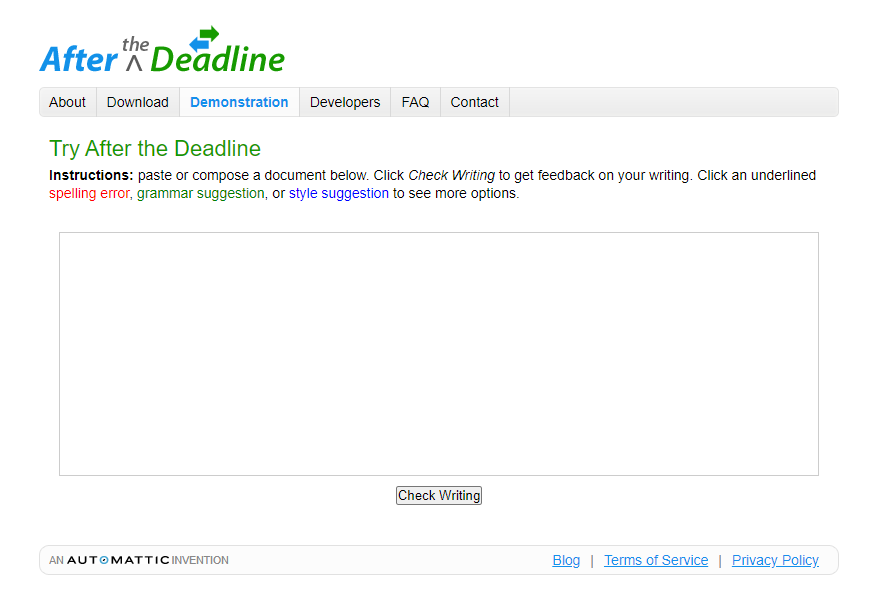 However, it isn't available with Microsoft Word.
In short, it is a good online proofreading tool for WordPress integration using a plugin. It also provides extensive grammar checks for French, Spanish, and German in addition to English.
You don't need to buy a plan for AtD. It is absolutely free and available for everyone to use online. AtD is an inclusive tool in Jetpack.
---
Best Grammar Checker for Thesis (Scholars)
If you are a research scholar or a teacher, the following grammar tools will help you optimize an error-free research paper.
ProWritingAid is a quick fixture for all your grammatical mistakes and spelling errors. Moreover, it is pretty reasonable to purchase.
Additionally, it polishes your work. If you feel like your text or document lacks luster or is bland to read, ProWritingAid can help you with that finishing touch.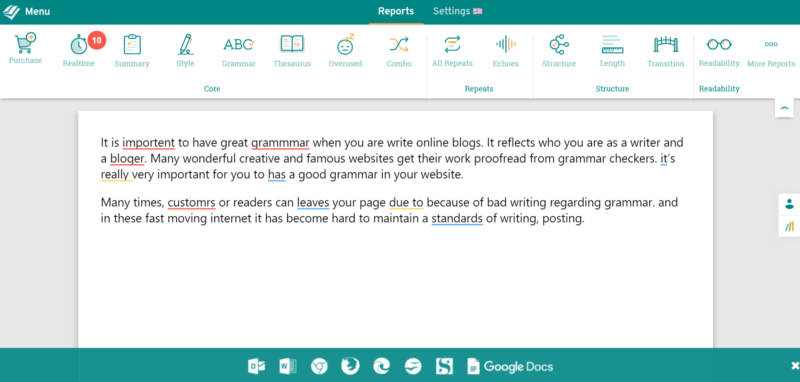 ProWritingAid helps you check the context of your text and plagiarism content as well. Improving readability is also one of its many outstanding features.
Many users claim that ProWritingAid is safe to use. As in, the content and files uploaded on the tool for checking don't get plagiarised.
Although this grammar checker tool is affordable. It does not run with many applications, however, it is compatible with the most common ones like Google Docs, Chrome, Microsoft, etc.
Another great feature of ProWritingAid is that it permits you to transfer and check records of any size for example no restriction on word check.
It costs around $79.00/year for the premium version. Whereas, the lifetime subscription can cost you just $299 – including all the updates.
In short, it will be a one-time purchase with unlimited benefits which makes it an ultimate grammar checker tool for online use.
You can also add the plugin to your browser for free. However, the premium version of ProWritingAid is much more reliable and extensive in function in terms of:
In-depth reports
Plagiarism checker
No word count limit
100% privacy
Free access to unlimited resources for writing reference
Thus, it is an affordable and suitable online grammar checker application for students and teachers.
---
WhiteSmoke is one of the world's most leading English grammar and proofreading software. Also, it is the best grammar checker for the workplace and official proofreading.
It offers a mobile app for Android as well as iOS. Furthermore, it has a wide built-in dictionary and reference corrections at a very affordable cost.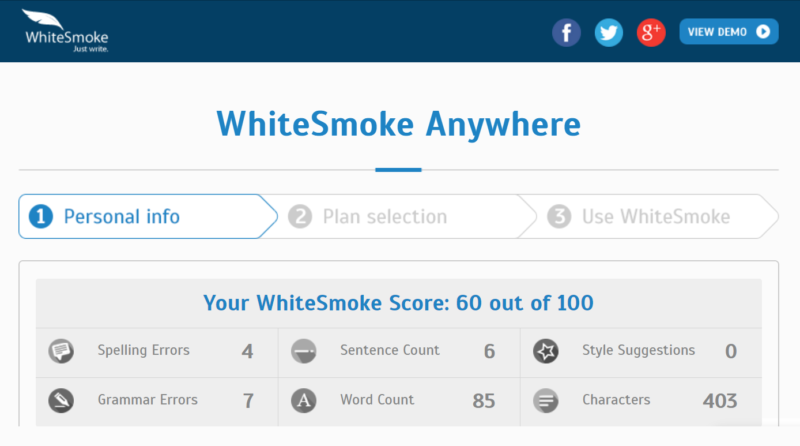 The Web version of WhiteSmoke has the following features:
Grammar checker
Plagiarism checker
Translator
A few other additional features included in the premium version are – one PC license and an instant proofreading option.
However, the Business versions give you these facilities add to the others provided by the above two plans: 3-Computer License, Phone-Customer Support, Extended Download Warranty.
You can buy WhiteSmoke with the following plans:
Web: $5/month (Billed as one payment of $59.95)
Premium: $6.66/month ($79.95, if billed annually)
Business: $11.50 (Billed as one payment of $137.95)
---
Among all the online grammar checker tools, Hemmingway provides you the option to choose from Writing mode to Editing mode.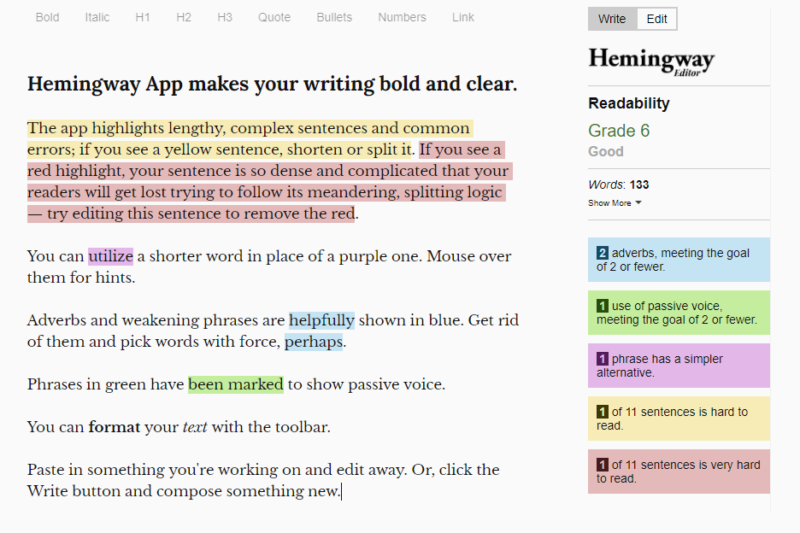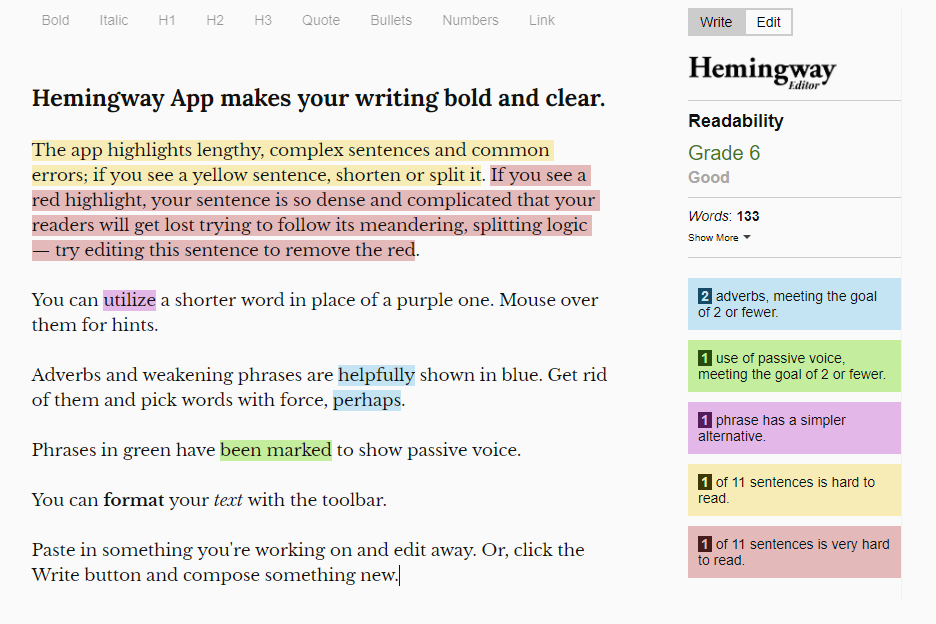 The various color highlights make it easy for you to distinguish the changes which are needed:
Red highlights – intensely complex sentence
Blue highlights – an adverb or qualifier
Yellow highlights – complex sentence
Green highlights – passive voice
Purple highlights – a complex sentence replaceable by a simpler one
The best of it all is that you can gain lifetime access to this app by paying just $20! and to say that it provides almost all the facilities included in other expensive tools such as Grammarly and ProWritingAid.
Even though Hemmingway doesn't have a browser plug-in, it can not be integrated into WordPress and Medium. Including that, the Hemmingway app also has built-in Writing Analysis as well as Style Improvement.
---
Most importantly, it is a FREE online grammar checker service. PaperRater provides free and unlimited online grammar checker tools. But you can avail to its advanced services by subscribing for the Premium version with the following plans:
Monthly: $11.21/month (Total $134.52)
Yearly: $71.55/year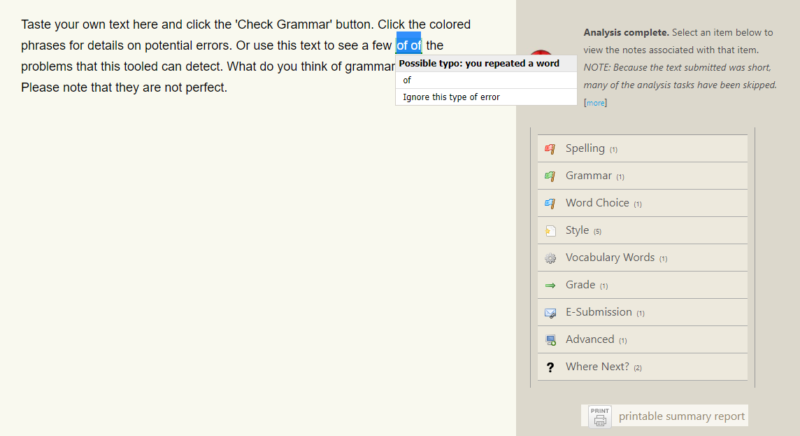 If you decide to subscribe to its Premium version, here are the few additional perks you will be entitled to:
Plagiarism Check & Proofreading
Matching Text Displayed in a Plagiarism check
Unlimited File Uploads
Fats-Processing and Checking
Ad-Free Services
Of course, when being an online scanner with free service, it doesn't accept any document files. One has to copy and paste the text for checking. In case you buy the Premium, you will be able to upload files as well.
Additionally, it detects plagiarized content from online sources only. If the content is slightly modified, PaperRater cannot detect it's plagiarism.
---
Best Grammar Tools for Students/Home
The following grammar checking and proofreading tools are for everyday use. These tools are most popular among the students and/or the professionals working with multiple languages.
Being an open-source grammar editor, Language Tool supports a total of 31 languages!
This grammar editing tool can be used online and also offline by downloading its app. Besides, being of such extensive use, LanguageTool caries a spectacular dictionary for correction purposes.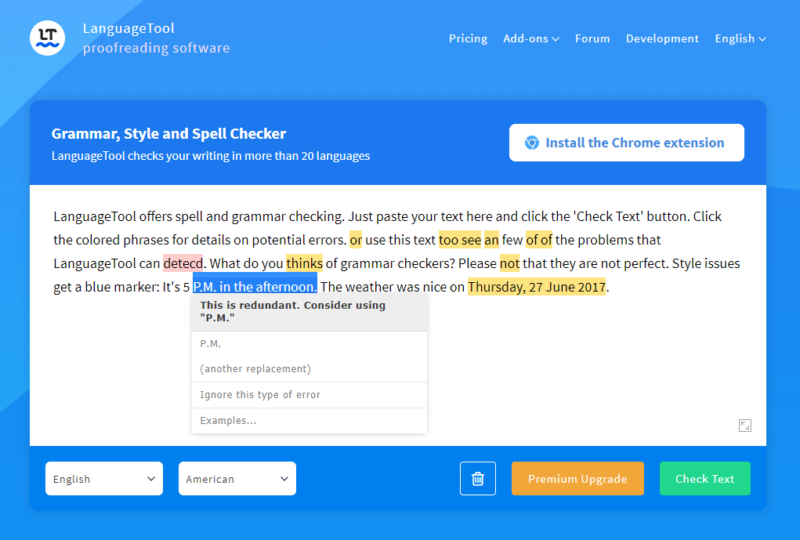 Apart from the free online grammar checking, the premium features comes with the LanguageTool's Subscription, that will cost you:
Monthly: $19/month.
Three-month pack: $39/three months.
Annual: $59/year.
Amongst all other online grammar checker tools, LanguageTool provides an auto-detect feature that detects your location and selects the language accordingly.
Even when this online grammar checker tool has such a vast linguistic feature, sadly it doesn't support plagiarism check or style guiding.
---
Even though Scribens has it's limitations, it is free and easy to use. Specifically saying, it is great and simple for English grammar and spell-checks.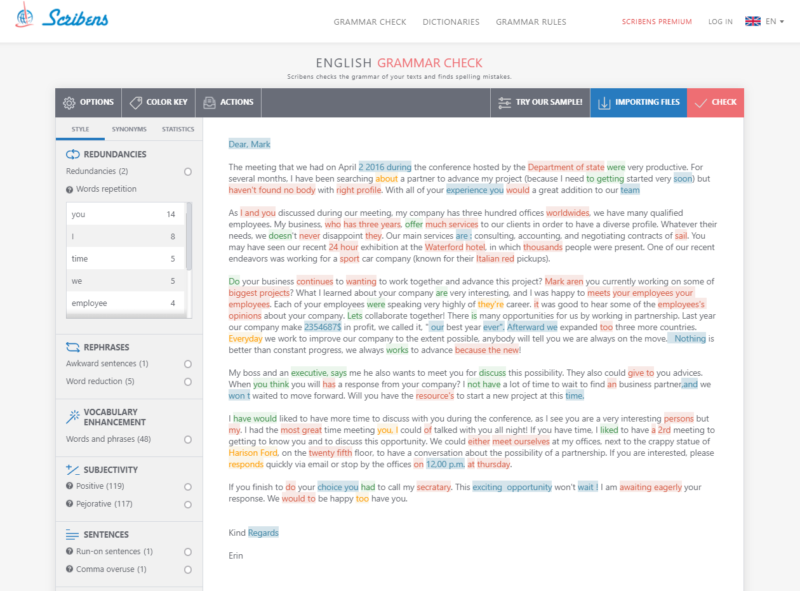 Beyond that, Scribens is really up to the mark in comparison to paid grammar checkers. And what's more? It deals with grammatical corrections just like Grammarly.
Despite being a pretty simple tool, it provides good explanations for corrections.
The facilities of SCRIBENS are limited to Grammar check and dictionaries. Thus, it doesn't include a Plagiarism check and a Multilingual check/translator.
---
A whole lottery! In addition to being a proofreading and grammar checker, Reverso is also a multiple-language translator. It specializes in French to English translation and vice versa.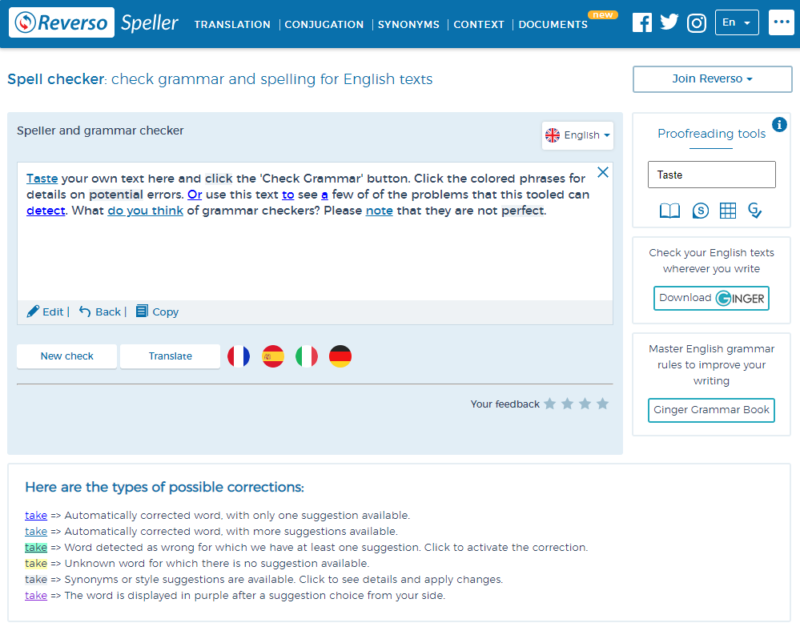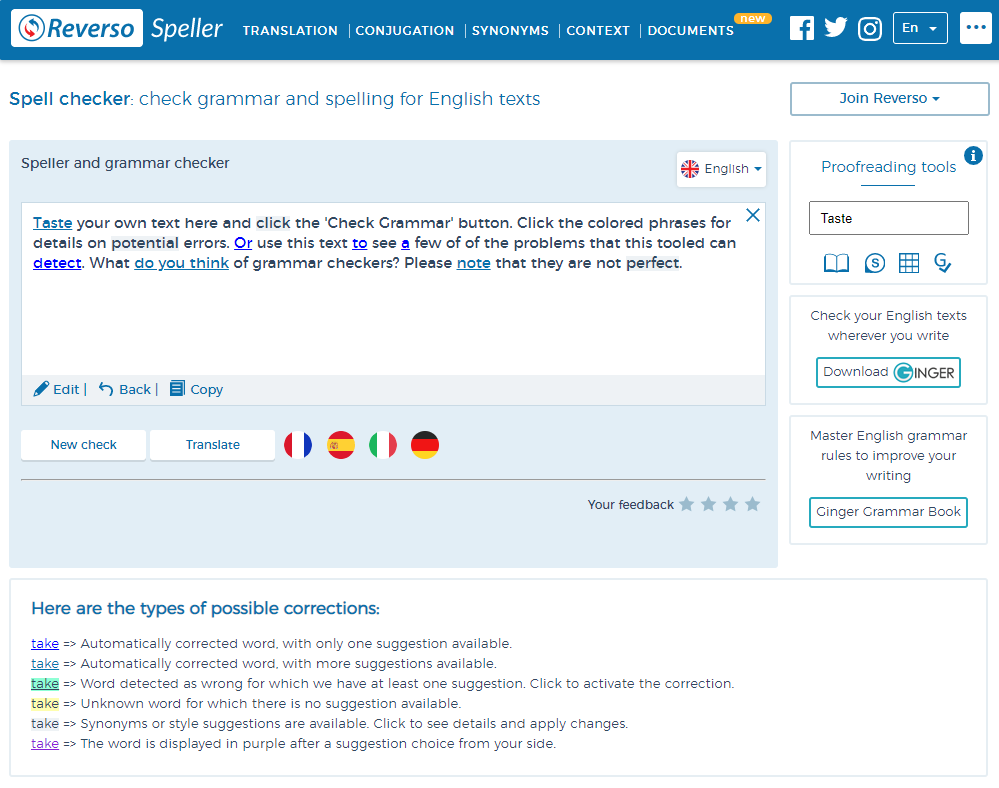 Besides supporting French, it also supports Arabic, Hebrew, Italian, Spanish, Russian, and more. This indeed separates Reverso from any other grammar checker online as it can translate into 11 different languages.
Reverso Spell checker is a free online tool. It can be used as a web app on their website or you can download a chrome extension for the same.
If you are interested in writing in multiple languages, Reverso is your handy tool. The grammar and context editing provided by this tool is mind-blowing.
---
In case you are looking for a cloud-based online grammar checker tool, Slick Write must be your choice. The price for attaining the full version can only be found out by contacting RussTek for purchasing.
However, Slick Write has made a free trial version of an online grammar checker tool before you decide to buy it fully. Briefly, this tool is a must-have for scanning and editing on a cloud base level. It doesn't include installation in Mac or Windows, Android, or iPhone.
Slick Write is just an online tool with Grammar check, Spell check, Text Editor, Style Check, and Dictionary. It excludes the features: Plagiarism check, Contextual speller, and Punctuation check.
Thus, the motive behind using this tool can be narrowed down to one major factor: Web-Based, Saas, Cloud application.
---
This one's pretty simple really. Moreover, the functions and features of this tool are simple as well. Subsequently, GrammarChecker is an online text editor, even a kid can use this tool.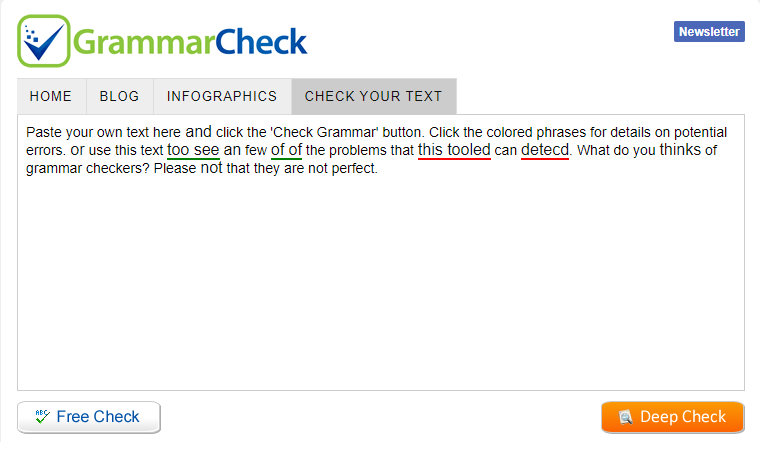 GrammarChecker is suitable for use at home and school as well.
The online tool is very basic and it can be upgraded for a Deep Check. But when you go for the Deep check option, your page is automatically redirected to Grammarly's subscription page.
---
In addition to being a simple language editor, Online Correction is a more wide tool in English itself. It specializes in tackling multiple accents of English such as American, British, Australian, New Zealand, and South African English.
Furthermore, you can find a lot of corrections in these dialects. The inclusion of the various facets of the English language gives this tool an edge.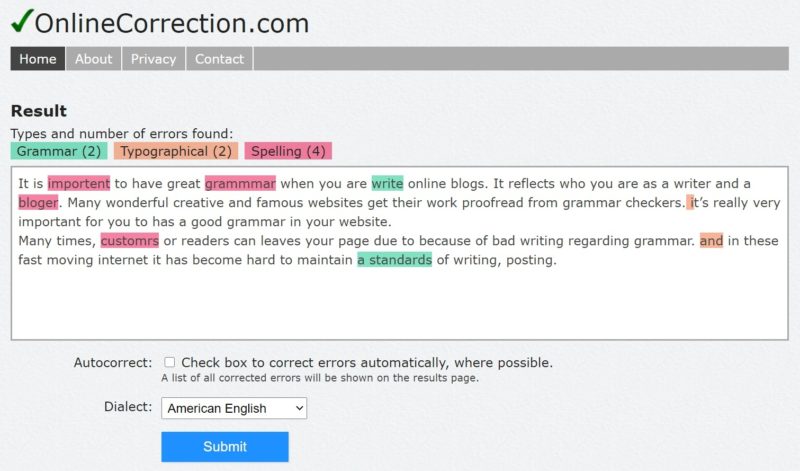 If you are looking for such a tool that helps you with a particular type of English, this must be your pick.
Just in case, you need further support in various other languages in a similar manner, here are some other sites of the Online Correction family:
GermanCorrector.com
FrenchCorrector.com
SpanishCorrector.com
PortugueseCorrector.com
PolishCorrector.com
ItalianCorrector.com
RussianCorrector.com
This provides you with an extensive scope to check your content if you work with various languages.
Fortunately, if you're a language student, this tool might help you check your essays and other comprehension activities.
---
Unlike other grammar checkers, it provides you with quite a different function. Along with other common editing functions, it provides you with a panel of 'Read time' and 'Speak Time'.
This may be a lot helpful when writing speeches or stories.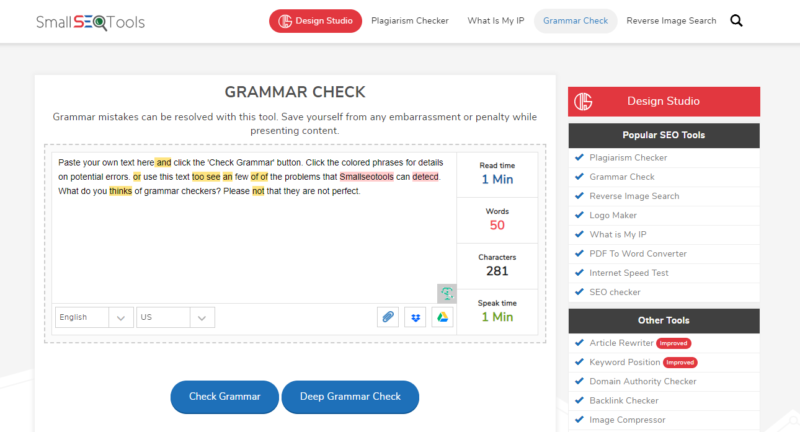 Thus, SmallSEOTools can be of use to students, teachers and bloggers all alike.
SmallSEOtools not only provides a Grammar Check tool, but it also has a lot of other tools for customizing your blog/website/project.
For example Plagiarism checker, Article Rewriter, Word counter, Paraphrasing tool, Word combiner, Image to Text Converter, Text to Image Converter, and much more.
---
How to Choose a Suitable Grammar Checker?
Three are many free online grammar checker tools available to choose from. It all depends on the kind of work you wish to do.
For instance, if you're a student writing an essay you will need a more exciting and inspiring essay. The tools that work for official purposes may not work for you. In such cases, you might want to try out Ginger or Grammarly.
Along with that, if you want a more simple and affordable grammar checker you can use GrammarChecker or PaperRater.
Further, if you are a blogger, having a well-functioning grammar checker is a must. You have a variety of options and accordingly, you can make use of efficient tools like WhiteSmoke and JetPack.
The free browser extension for grammar checker tools such as Grammarly is also the best option for bloggers.
---
Which One's the Best Online Grammar Checker Tool
It is safe to say that Grammarly, ProWritingAid, and WhiteSmoke are the most recommended Grammar checker tools online. The other free or low-cost tools are just as efficient.
But you must choose the ones that suit you the most. For instance, being a student you perhaps can't afford to buy a premium version of these popular tools. So it is alright to play safe with free tools.
If you are a blogger, you need to up your game. For that, subscribing monthly or yearly to premium packages might be a good investment. It provides you with a lot of scopes to improve your online work and avoid beginner blogger mistakes to generate a loyal reader audience.
Considering Features, Needs and Rates, We recommend:
For Bloggers: Grammarly, Jetpack, and Ginger.
For Thesis/Scholars/Teachers: ProWritingAid, WhiteSmoke, and Hemmingway.
At Home/For Students: PaperRater, Online Correction, and LanguageTool.
Hope you find this article useful. Which grammar checker do you use? Do you have any other recommendations? Share your views in the comments below.
---
FAQs – Frequently Asked Questions
As far as you can afford it, it's fine to buy a premium grammar checker tool. If you are a professional, it is highly recommended. But if your necessities are minimum, you can use free versions. Learn which one's best for you.
Are Grammar Checker Dictionaries Reliable?
Frequently, a lot of grammar checking tools have similar dictionaries. Some are vast than the others. Of course, they might vary a bit, but rest assured you can rely on them for good editing.
How Do I Check My Grammar on Google?
You can always rely upon the automatic Google Docs Spell Check. However, it's credibility is a tad bit lower than most grammar checkers, it is suitable for simple spell errors. Read more to find out the best free online grammar checker tool.