Email communication is the most reliable and unobtrusive form of communication. Using emails that communicate with your visitors based on permission, interaction and relevance have been statistically proven to increase and strengthen your subscriber base.

Whether you are a small business or a blogger looking to expand your outreach, Emails will help you to learn more about your audience so you can build your brand and increase your conversion rate. It consists of three main steps:
Opt-in Forms – This is the main basic feature of what a 'WordPress Email subscription plugin' does. These plugins are used to seek permission from your visitors on whether they would like to receive emails from your website.
Email Campaign – This involves sending out targeted emails to your subscribers. There are many platforms to help you take care of this. However, you should ensure that your emails are relevant and sent with optimum frequency. In this day and age, many websites go overboard with their email marketing to such a point that it floods users' inboxes too frequently which would motivate them to unsubscribe.
Feedback & Analytics – It refers to updating your campaign based on the performance of various individual elements.
Did you know that –
Email marketing is the most cost-effective option available. For each $1 spent on Email Marketing generates $38, a whopping 3,800% ROI.
80% of business professionals say that email marketing is a great strategy to retain your customers.
In this article, I will first go over platforms that will help you with the above. Some of these are all-in-one platforms that offer complete marketing control so that you do not need to worry about integrating multiple platforms.
Others are more dedicated opt-in form platforms that offer better customizability to them alone and need an external mail provider. Then I will also offer some recommendations depending on your usage scenario.

On a similar note, if you are starting out with the development of your blog/website, check out our article on Best WordPress voting plugins to skyrocket visitor interactions, as well as read the most common WordPress mistakes Bloggers make unknowingly & ways to fix them.
What is a WordPress Email Subscription Plugin?
A WordPress Email Subscription Plugin is used as an email list builder and marketing tool.
They are used to create forms that offer users the ability to subscribe to your website or newsletter by providing their email address, usually through a pop-up that appears while they navigate through your website.
The aesthetics, functionality, and the trigger for the pop-up can be customized by you to fit your website's theme.

Once subscription forms are done, you may use an Email provider that integrates with the lead generation plugin. The Email provider will allow you to send emails to multiple users at a time utilizing their dedicated servers to ensure zero delays and deliverability.

Best WordPress Email Subscription Plugins – Standalone Options
Here is our list of top all-in-one marketing platforms offer WordPress email subscription plugins and the best email marketing service in the market. All the services in this section offer Opt-in Forms + Email Campaigns
MailChimp for WordPress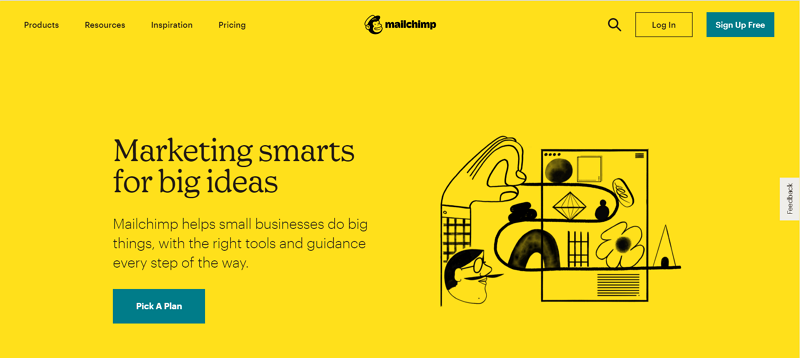 MailChimp is an all-in-one marketing platform that comes with a wide palette of tools. It is one of the big players in the online marketing field.
Its customers include big names like TED, Vimeo, and New Belgium Brewing. That comes as no surprise since Mailchimp has one of the most extensive collections of tools that anyone from a novice to a professional digital marketing firm can use.
Features
Built-in Opt-in forms and Email Provider
Audience Management (Targeting and Segmentations)

Segmentation – which allows you to segment your audience based on shared traits.
Behavioral Targeting – which allows you to send messages to your subscribers based on their activity, purchase behavior, product preferences, etc.
Predictive Demographics – An audience management tool that predicts the gender and age information of your contacts which will help you deliver targeted emails.
Tags & Contact profiles – These allow you to assign customizable tags to your users to help keep track of what you know about each individual or group.

Creative Tools – MailChimp offers a Content Studio that allows you to create, sync, store and edit all images and graphic content in one place.

Creative Assistant – The MailChimp Creative Assistant provides AI-powered guidance during the designing phase.
Dynamic Content – It is a tool that allows you to add and customize individual content blocks within your email.
Subject Line Helper – This tool will return real-time feedback on how to refine your subject lines.
And last but not the least, you get access to their 100+ pre-designed email and landing page templates to choose from.

Marketing Automation

Send Time optimization – to assist email sending frequency is one of the marketing automation tools.
Customer Journeys – A conditional logic-based dynamic automation which means Mailchimp will automatically suggest or implement improvements to your forms, emails, and other marketing resources based on what users and customers navigate through.

A/B testing – This feature allows you to test different variables within a certain program – be it the design of pop-up/email, frequency of sending emails, etc.
Integrations – allow you to bring data from all sorts of other leads such as Google Analytics, Linkedin, Patreon, etc. as well to build a consolidated foundation over which further optimization can be done. This also includes publishing ads on social media.
Insights & Analytics – Reports provided by this feature allow you to track sales and campaign performance.
Smart recommendations – This tool allows for personalized recommendations to help you make your next move.
Pricing Plans
Mailchimp offers 4 plans – Free, Essentials, Standard, and Premium. Their free tier option is quite functional and has all the essential features to help you get started.
With the free plan, you can send out up 10,000 emails a month to 2,000 subscribers as well as get access to their Customer Relations Management (CRM).
If you are looking for something more sophisticated, their premium all-in-one plans have you covered.
With the free version, you have access to the following – Forms and Landing Pages, Marketing CRM, Creative Assistant which is the panel for creating designs, Mailchimp Domain helps you secure a domain name for your website, Website Builder helps you with the design of your website.
The price of paid versions scale according to the size of your audience. This allows you to go for a smaller paid plan as you start and pay as you grow.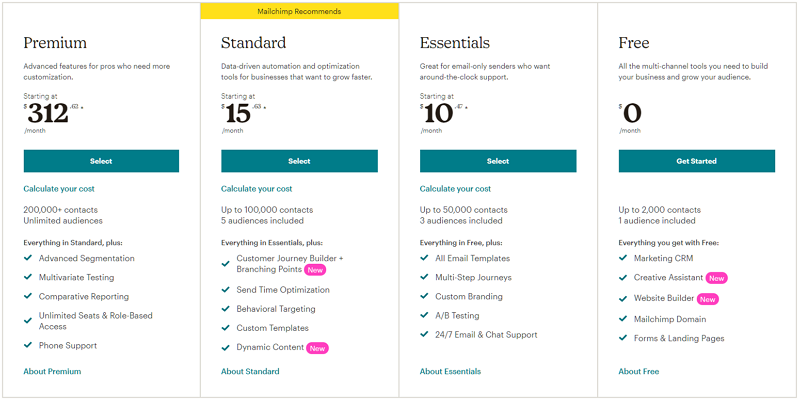 Limitations
Advanced Automation features are not the best.
While the free plan is great, the premium plan costs scale a lot as your number of subscribers increases.
---
SendInBlue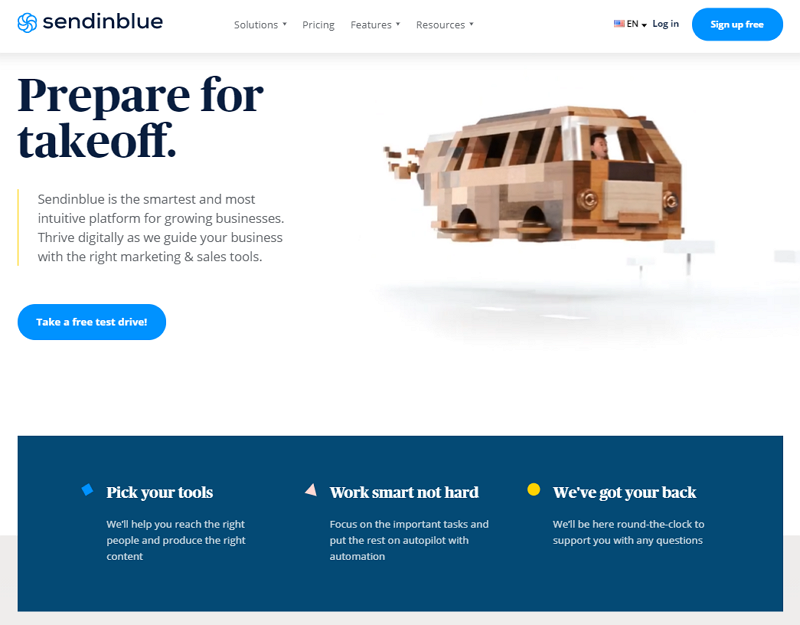 SendInBlue is also one of the prominent players in the world of online marketing. Their all-in-one platform covers it all so that you don't have to decide on different plugins for each purpose.
Features
'Convert' (List Building) – Sign-up forms will all types of triggers, Custom Landing pages, Chatbox, Facebook Ads, and Retargeting based on Segmentation and user data.
Drag and Drop Editor for everything – From Designing sign-up forms, landing pages, emails, and visualized visitor journey mapping.
Email Marketing – Design from scratch, or by modifying or using a template. Uses a Drag and Drop WYSIWYG builder for ease. Also supports custom HTML for additional user-defined functionality. Newsletter software for periodic emails. Transactional emails for e-commerce.
SMS Marketing – Use SMS for more urgent messages.
Chat Assistant Feature – Set up a chat-box for visitors and add real-time support by linking with your customer relations department.
Segmentation & Targeting – Automated segmentation available, as well as targeted marketing based on visitor behavior and existing collected data for personalized dynamic content. Includes declared interests, previous engagement or purchase history, and socio-economic or geographical characteristics.
Retargeting – Showing personalized ads by on-site tracking – knowing which pages your users visit, track user licks on other websites as well to bring them back. Facebook Ads support too.
E-Commerce Integrations – Over 9 e-commerce platform integrations including WooCommerce, Shopify, and Shopware.
Integrations – Over 60+ Integrations across Payment services, lead generators, Email creations, CRM, etc. such as – Paypal, OptinMonster, NinjaForms, Convertful, GetSiteControl, Microsoft Dynamics CRM, ThriveLeads, MailPoet, Outlook, Sumo, Mailchimp, Facebook, EventBrite, Gmail, Google Analytics, and so much more! Check them all out here.
Customer Relations Management – Upload your contacts and a centralized panel of all your contact information, personal client/visitor tags + Organization features for more effective and segmented marketing.
Marketing Automation – Automatic segmentation and automated sending of marketing messages to save time. Runs Campaigns on autopilot. Automatic detection of new/existing visitors. Follow up with shoppers who abandon their cart + Drag and Drop Workflow editor which offers a visual editor to map your user journeys – for both SMS and Email.
'Improve' (Advanced Analytics) – Real-time Data, Open, Click-through report, Email heat map, A/B Testing and Send time Optimization powered by SendInBlue's machine learning algorithm.
Well documented

Pricing Plans
The price of paid versions scale according to the size of your audience. This allows you to go for a smaller paid plan as you start and pay as you grow.
However, their free version isn't the best in business as it has a daily email limit rather than a monthly limit like most other WordPress Email Subscription Plugins. Though, you can capture and send emails to unlimited contacts.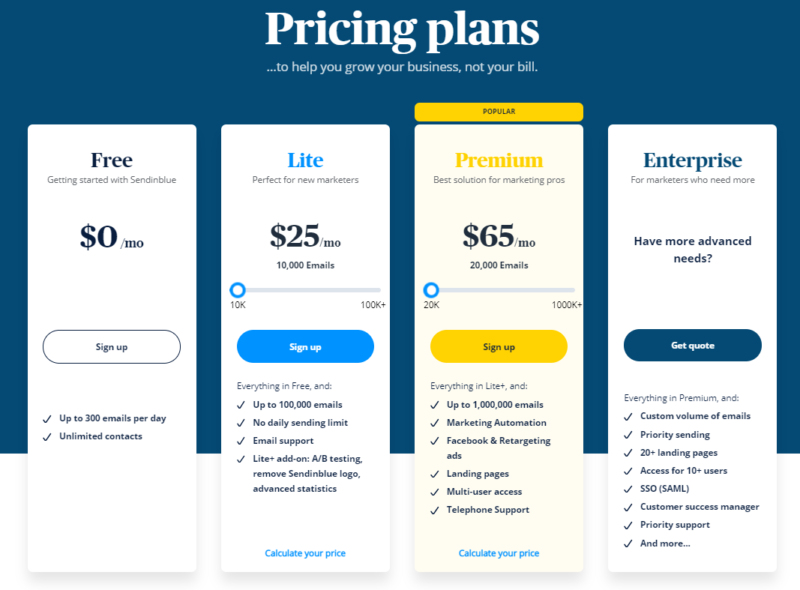 Limitations
Customer Support is slow and takes time.
Not beginner-friendly
---
Sumo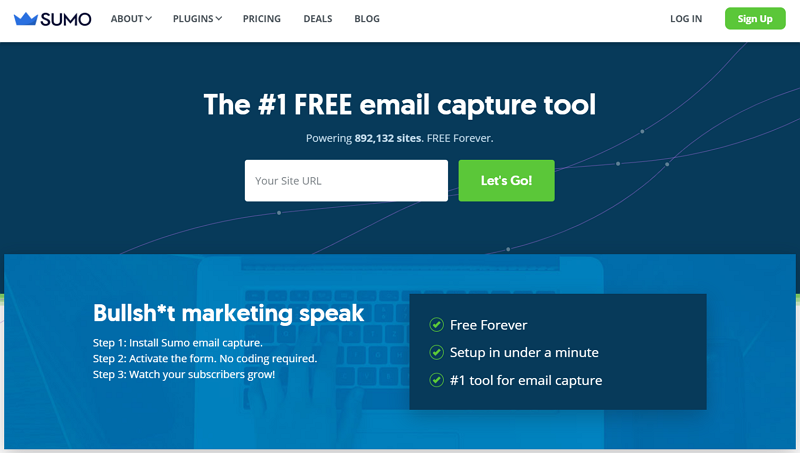 Sumo comes highly recommended by a lot of bloggers. It is simple and very easy to get started on. Boasts over 800,000 users – even some prominent ones such as include Tony Robbins, Pistol Lake, Wink, Solemate among others.
Features
List Builder – In Popup or Scroll box fashion – For collecting visitor emails – Popup, embedded, Popup with a smart mode which uses visitors' cursor location for triggering the popup – click trigger after the user clicks button below the first para, scroll box – based on user scroll – popup/scroll box with call-to-action (CTA) (for example 'Download Our Guide'/'Join Giveaway') button + also custom HTML.
Welcome Mat – It creates a section within each page, either in a header fashion that displays above the page, or embedded fashion where it is located in between the page, or parallax fashion which moves along as a user scrolls in the middle of the article. Welcome Mat can contain a subscription form, CTA buttons, and/or a video background. +Also custom HTML.
Share – This feature allows you to add sharing options to various communication platforms such as social media, SMS, E-mail, Pinterest, etc. Furthermore, it includes an Image sharing button that allows the aforementioned sharing of images alone, and a Highlight feature where visitors can highlight a certain section of your content and share your page with the highlighted part as a snippet.
Smart Bar – The smart bar can be located at the top or bottom of your website and it can be equipped with email collection or CTA buttons.
Site Analytics – Integration with Google Analytics + Scroll maps which shows what percentage of content in a page is actually read by users by recording their scrolls + Heat Maps which shows where and how many visitors are clicking while on your website.
Email Management – Schedule one-off marketing emails or email drips to communicate with your subscribers.
E-commerce Integration – This allows you to get creative with discount/offer pop-ups in your e-commerce product page/shopping cart.
Pricing Plans
Sumo has one of the best to offer Free plans for anyone who is looking to quickly get into email marketing for their website.
And the best part is that the free version isn't a marketing model for the premium – it genuinely is unobtrusive and offers plenty of use so that even if you are starting on a low budget you will still have a good set of tools to work with.
With the premium, you do get some extra goodies. These include – upgrade to 50,000 emails per month, access to their E-commerce templates, Advanced Visitor targeting, A/B testing, Removal of sumo branding, Advanced analytics, and unlimited email statistics and support.

√ Money-back guarantee: 30 days as well.

Limitations
It is expensive if you want to use it on multiple websites.
Users have reported some issues with email delivery for larger audiences.
---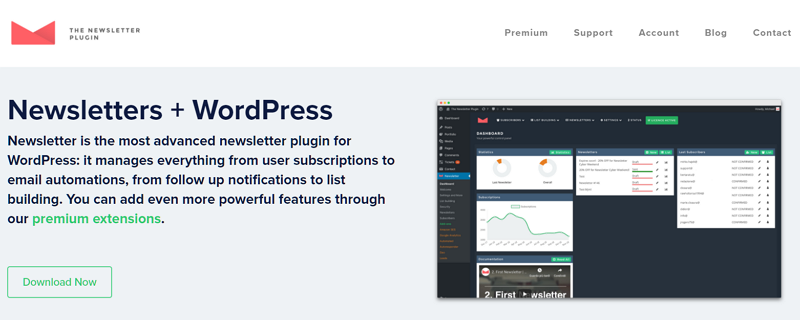 Definitely, a great choice if you are looking for a free yet powerful unlimited email marketing service. That's right – The Newsletter Plugin does not limit the number of subscribers or emails to be sent in the free version.
Features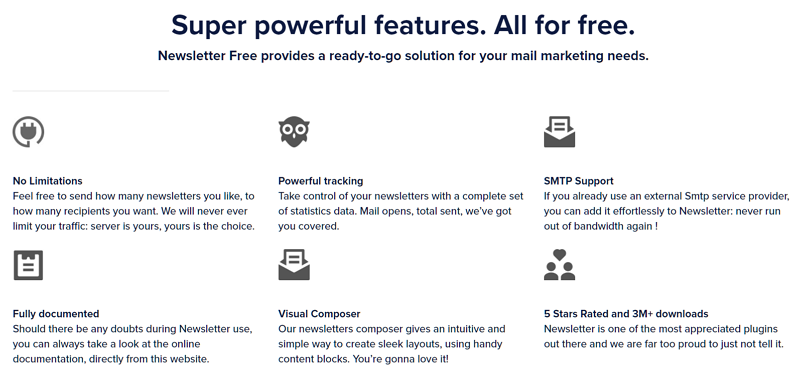 The basic features in both Free and premium versions are:
List Builder – Customizable Subscription widget, page, or form.
Unlimited – No limit on the number of recipients and emails.
Powerful Tracking – Returns data on how many subscribers open the emails, open links, etc. This allows you to get an understanding of the performance of your current campaign.
Visual Composer – An easy-to-use drag and drop panel for helping you design your emails and list builder tools.
Fully documented – They cover all the features as well as FAQs. Video Tutorials are also available that cover some basic and advanced features.
Support external SMTP – This allows you to use a third-party email provider so that you can use an email provider that offers the best deliverability.
In the premium version you get the following additional features:
Reports – Detailed graphs that will help you see how many visitors/subscribers open, click or ignore your email, and check which links are most and least clicked. Using that feedback you can work better on retargeting. In addition, you have the Subscriber Geo-localization which allows you to see from which regions of the world your subscribers are. This allows for targeted marketing.
Automated Addon – Perhaps the most crucial feature from the developers of this plugin – This will act as the autopilot of your email management by automatically sending out your emails based on various criteria that you define. Once you set the conditions, Newsletter Plugin will automatically follow so that you don't need to worry about sending those emails.
Extended Visual Composer – Adds newer blocks to the newsletter composer – list, video, gallery, full post.
Archive – Generates a public archive of the emails that you have sent.
WooCommerce Integration
Integration with other delivery services – such as SendinBlue, SendGrid, Mailjet, Amazon SES, Mailgun, ElasticEmail, SparkPost, and Office 365 Header Removal (if using Office365 SMTP).
Other Integrations – Additional integration with Contact Forms, WP Forms, Ninja Forms, WP Users, Facebook, Comments, Event manager plugin, and Event Calendar by Tribe.
Pricing Plans
The Newsletter Plugin offers annual payment methods only rather than monthly. You also get to install it in an unlimited number of website.
√ Money-back guarantee : 30 days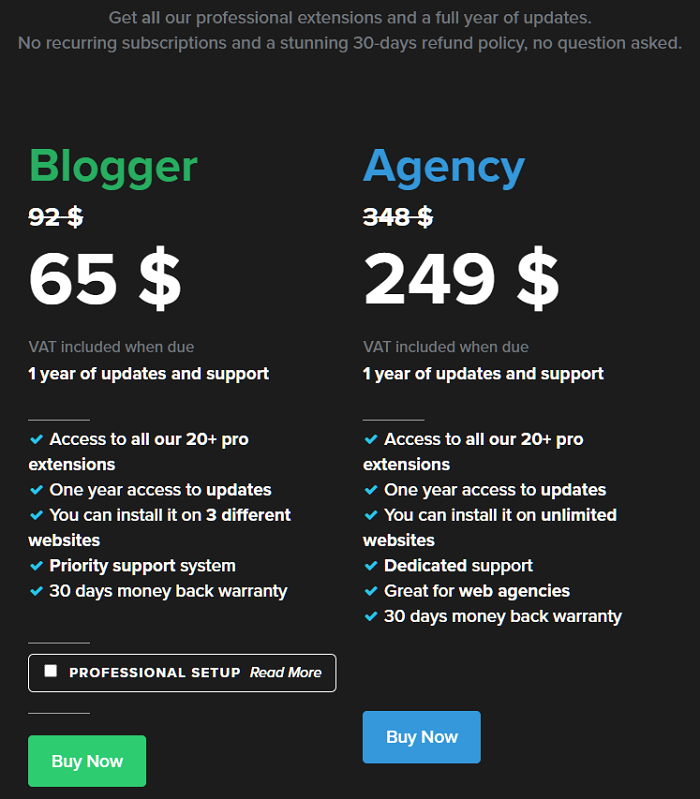 Limitations
While it does have email campaigning, it doesn't have in-built SMTP. Rather it uses WordPress's mailing service, which is not recommended as it can send newsletters only as HTML. So while it can do everything from design to optimization of emails, it is best to integrate with an external SMTP to automatically or manually send emails.
Support is not very good.
---
MailPoet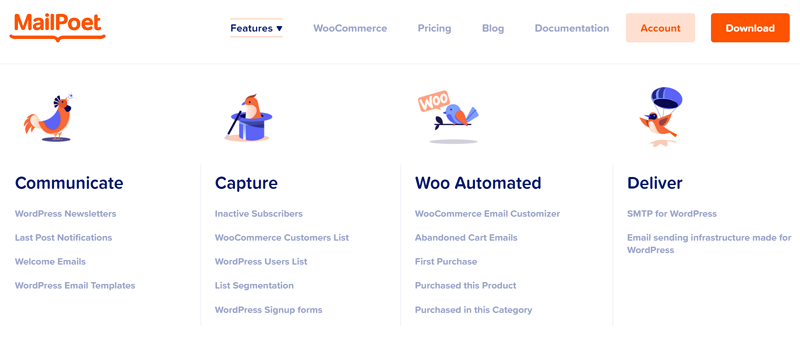 MailPoet is another popular WordPress newsletter and email subscription plugin. It offers a few powerful functions and allows you to manage everything directly from your WordPress dashboard.
Features
Forms Editor – WordPress Sign-up forms with various types and trigger options. Unlimited subscriber list creation. The email limit depends on the pricing plan. WordPress Users List – A dedicated list for your WordPress users, created automatically. WooCommerce Customers list (automatically updated), segmentation for tailored content, Form shortcode for posts and pages, PHP forms, also allows importing subscriber info from CSV or Excel file.
Email Newsletter Editor – Email newsletter, Over 50+ templates for designing your emails, welcome emails, Post notifications to alert your subscribers when you publish a new WordPress post,
WooCommerce Integration – contains customizer so that you can use a different email template for store emails. Send thank you, purchase confirmation emails, and also 'purchased in this category' Also a first purchase thank you emails. Abandoned Shopping Cart emails. Plus create segments of customers based on their purchase behaviors and products/categories that they like to shop in. All automatic.
Deliver – SMTP for WordPress – MailPoet has its own SMTP Service hence no additional plugins required. Also, MailPoet has dedicated its mailing infrastructure to WordPress to ensure that emails are delivered into inboxes and not flagged as spam. Their SMTP can also handle up to 50,000 emails per hour for a user without any hassle.
Statistics & Reporting – Records the opens, clicks, and unsubscribes for each email. Segmentation based on email performance as well as based on interests. Integration with Google Analytics.
Reputation Management – Bounce management (maintain your list hygiene by removing invalid email addresses. Also has an option to automatically remove inactive subscribers. Furthermore, if you are using the MailPoet sending service, you can add a digital signature (DKIM signature) to your emails so that their authenticity can be verified. This also facilitates it to never end up in spam folders.
Sending Methods – MailPoet has its own sending service. However, you can send from your own site using PHPMail or use an alternative third-party email sending service.
Pricing Plans
MailPoet allows for unlimited emails to a limited number of subscribers, and the pricing scales with the number of subscribers while keeping emails unlimited.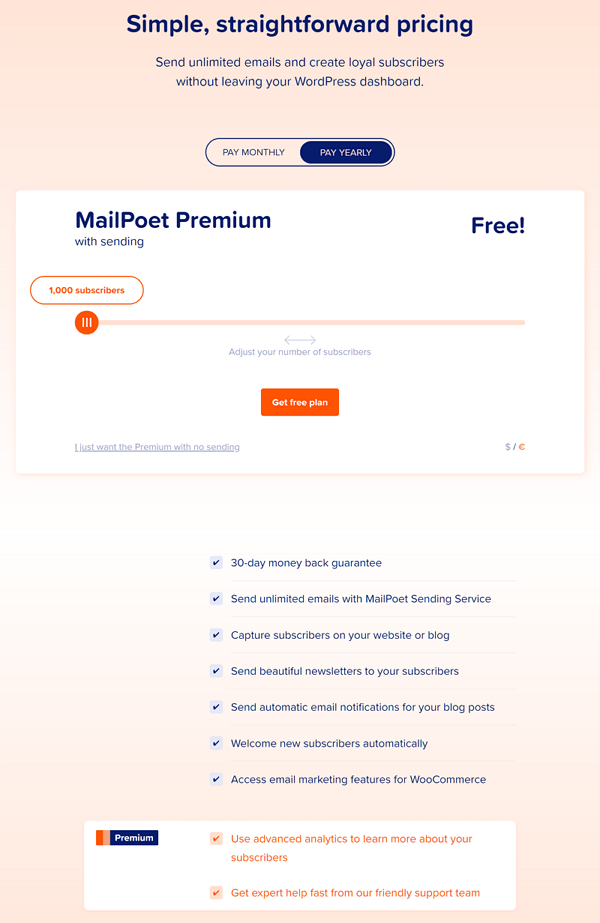 Limitations
It can become very expensive if you have a large number of subscribers even though the number of emails is unlimited. It is suitable only if you have a requirement for a large number of emails to be sent regularly.
The number of templates is limited.
---
Constant Contact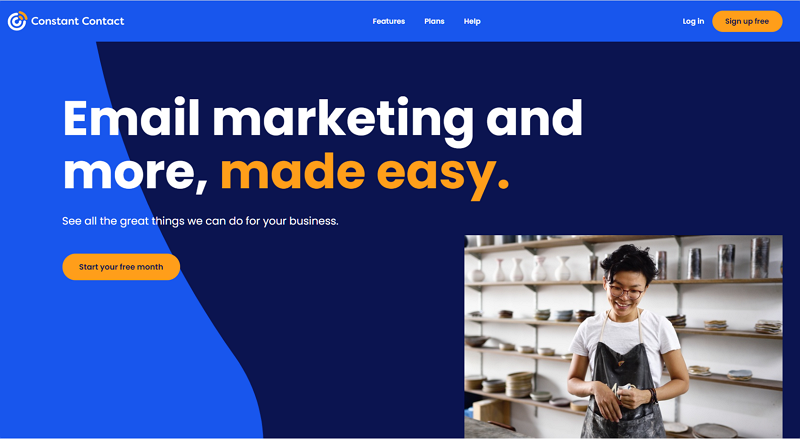 Constant Contact is one of the best all-in-one email marketing options available in the market. A large and powerful set of features makes it quite suitable for small businesses and e-commerce sites.
Features
Drag and Drop editor
Opt-in Forms – Download the Constant Contact Forms plugin for WordPress.
Email Marketing Automation – Welcome Email for New Subscribers, Contact Segmentation, Triggered Email Series, Resend Emails to inactive/low response users.
E-commerce – Automated and segmented emails.
Social Marketing – Social Posting, Inbox, Scheduling, and Analytics – see how your social campaigns are performing, make updates, and easily respond to comments, mentions, and direct messages.
Facebook and Instagram ads – Optimize Ads with detailed metrics and insights.
Contact List Management – Addition through the signup forms or upload/add contact lists from Excel, Outlook, Social Media, etc.
Tracking tools – Real-time performance tracking tools on your emails to track who opens, clicks and shares your emails + Segmentation of contacts help create targeted lists based on the content they click.
Email Plus – In addition to the above, the email plus package with the email plus feature offers customizable dynamic pop-up forms, automated welcome, and behavior-based emails. It also has the feature to create Surveys, Polls, secure donations pages, and Eventbrite integration to manage events..
Pricing Plans

Limitations
Limited customization for the opt-in forms. Constant Contact works better as an email sending server than an opt-in form plugin.
It is quite expensive compared to other providers. But email delivery rates are consistently good.
---
Best WordPress Email Subscription Plugin – Dedicated Opt-in Form services
Keep in mind that all the contenders below have a major limitation – They don't have the provision of sending emails, they can only collect emails for you.

Hence you will need an external email provider along with the plugins below if you want to send emails collectively.

However as these plugins are dedicated to listing building, they offer much more functionality with their opt-in customizations.
OptinMonster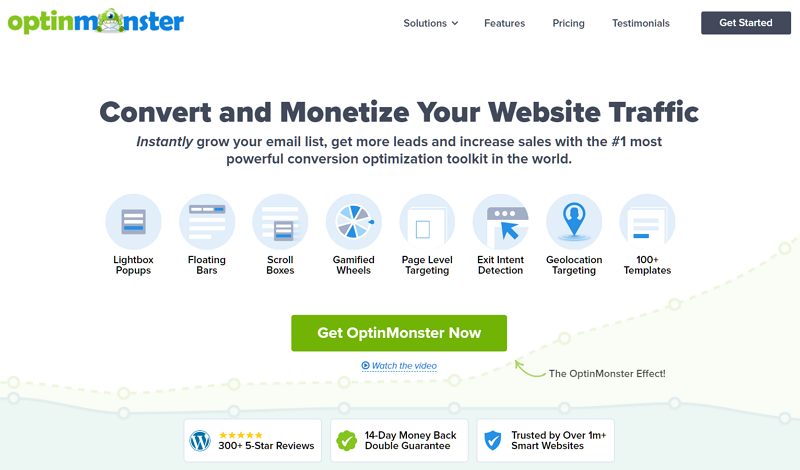 OptinMonster is one of the best premium email mail subscription plugins that allow you to manage your subscription lists directly from your WordPress dashboard.
It offers a few unique campaign trigger options along with power-packed targeting features. Must be used by professional bloggers and Saas business.
Features
Drag and Drop Builder – Intuitive and easy to use. Also has pre-made templates as well as animations and SFX to help you quickly get moving.
Campaign Types – Popups, welcome mat, slide-in scroll box, floating bars (footer/headers that scroll with you), countdown timers, sidebar forms, inline forms that you can add in blog posts and pages, Coupon wheels, Yes/No forms, Mobile-friendly popups, and custom Thank you messages.
Campaign Trigger – Triggers for initiating the list builder campaign. These include – Scroll triggers, Timed display triggers, HTML elements, JavaScript-based triggers, and finally Optinmonster's Exit-Intent Technology, InactivitySensor, and MonsterLinks 2-Step Optins.
Targeted Campaigns

Geo-localization – Obtains visitor's location
Referrer Detection
Visitor Cookies
Device and Adblock detection
Page-level targeting – Allows you to customize your campaign based on the page or section of your website (like landing pages).
OnSite Follow Up Campaigns allows you to create on-site drip campaigns triggered by visitor interactions.
OnSite Retargeting to create special offers and promotions for returning visitors.

Integrations – OptinMonster integrates with a large number of other marketing platforms as well, including Mailchimp, Facebook marketing plugins, etc. This facilitates List Segmentation, lead sharing, and smart tags based on visitor data so that you can provide a more personalized experience for your visitors.
Actionable Insights – With this feature, you get access to Real-Time Behavior Automation, Conversion Analytics, and also OptinMonster's TruLead which automatically filters our bad leads like spambots, temporary email addresses, and other dead or unqualified leads.
A/B Testing
Documentation & Support – OptinMonster has extensive articles, video introductions as well as tutorials on their various features. A ticket system is also available for further queries.
Pricing Plans
With any paid plan of OptinMonster you will also get access to the following –
OptinMonster University – Instant access to a library of expert courses, guides, video training, and ebooks.
Done-For-You Campaign Setup – OptinMonster's conversion experts will design 1 free campaign for you to get maximum results.
√ Money-back guarantee : 14 days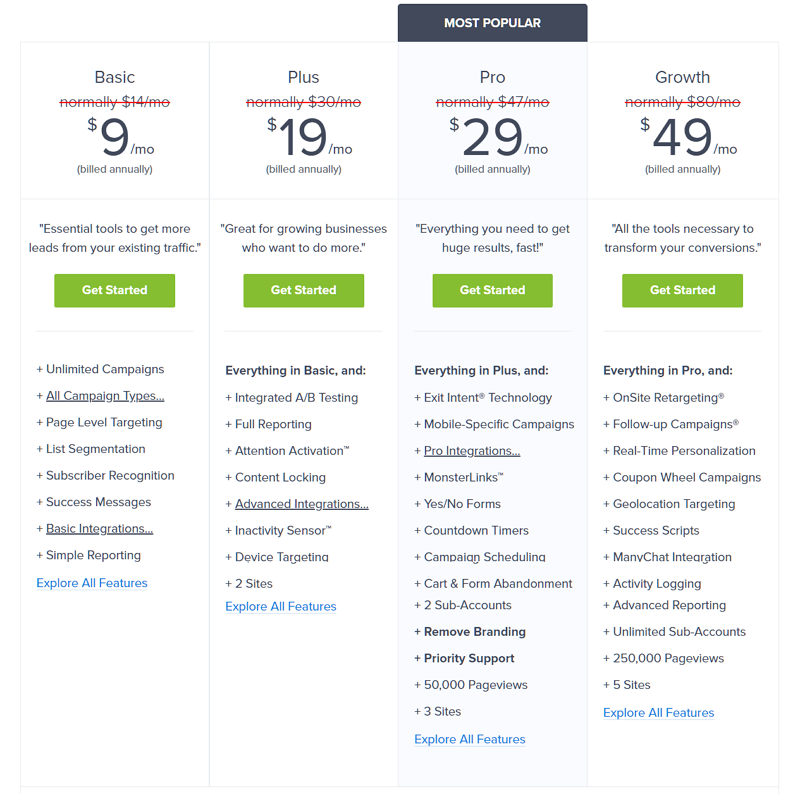 Limitations
The number of templates is limited to just above a dozen, but each template is uniquely designed. However, template customizability is poor.
It is more expensive compared to other mailing list builders.
Does not have automatic winner selection in A/B testing like Thrive Leads.
---
Bloom by Elegant Themes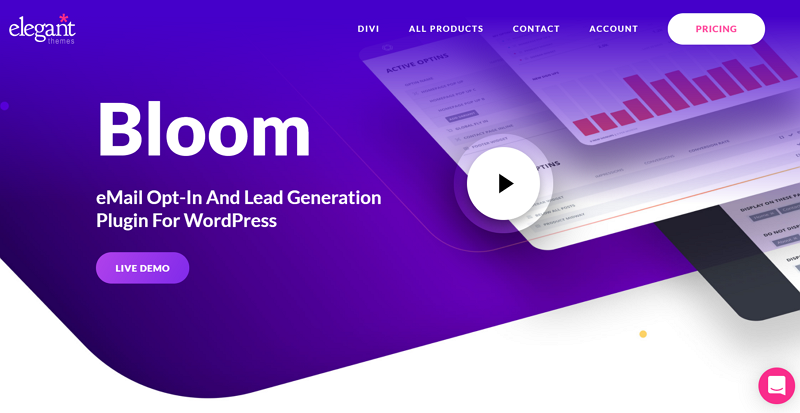 Bloom is developed by Elegant Themes who are also the masterminds behind the good renowned theme Divi, one of the top WordPress themes.
With Bloom, you get a rich collection of templates, options for lifetime access with a single payment, and good customer support.
Features
Design Customization and Templates – Over 100+ design templates and the ability to customize nearly every aspect of your opt-in form including, orientation, customized borders & edges, image orientation and unlimited color options.
List Builder Display Types – Choose among Automatic Pop-up, Fly-ins, In-line forms, Below content forms, Widget area forms, and Content Locking forms.
List Builder Triggers – Highly targeted display settings that allow you to control where and when the opt-ins appear – timed delay, bottom of post, after scrolling, after commenting, after purchasing or after inactivity.
Integration – Integration with 19 Email Marketing platforms including Mailchimp, MailPoet, Sendinblue, Constant Contact among others.
The Bloom Dashboard – A custom panel integrated into the WordPress dashboard providing access to your Bloom accounts, lists and Opt-ins, and analytics and visitor data.

Accounts Panel – Add, modify, and track your email marketing accounts allowing you to have multiple sites and users within a single Bloom account.
Import and Export Bloom Data – Bloom allows you to easily import and export its data from one site to another, facilitating backup and ease of migration if needed.

Conversion Statistics – Real-time overview of the performance of your creations – forms, opt-ins, etc.
A/B Split Testing is now available in Bloom.
24×7 Premium Support – Since Bloom is a part of the Divi theme family, any purchase of bloom grants access to their premium round-the-clock support through their Divi Support Center.
Pricing Plans
Limitations
Limited pop-up triggers – does not have features like exit-intent detection, floating bars, and fullscreen options.
While there are a lot of templates, there seems to be a lack of uniqueness. Many of the templates seem to only be small variations from other templates. Originality can be limited to only a few tens of templates.
---
Thrive Leads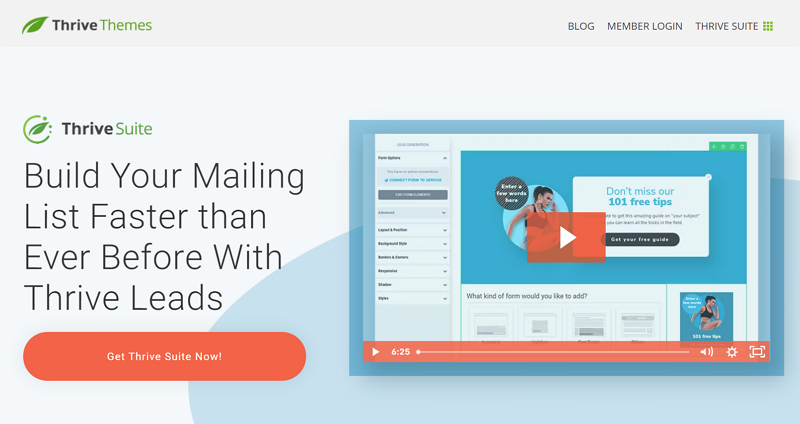 Thrive Leads offers a quick and easy to set up yet highly functional List builder. However, you will require an external email provider like MailChimp in order to send emails to your mailing list.
Features
Drag and Drop Customization Panel for designing.
Extensive Template Library – Professionally designed for your list builders.
List Builder Types – Choose among ThriveBox (unblockable pop-up), Sticky ribbons (works just like a sticky header), In-line forms, 2-step Opt-in Forms, Slide-ins, Widget Forms, unignorable Screen Filler Overlay, Content Lock Forms, Scroll Mat, and CTA Forms.
Targeting (SmartLinks & SmartExit) – With SmartLinks, you can choose which opt-in form to display based on the data of the visitor – whether they are visiting the first time or whether they have already subscribed so that you don't display opt-ins for existing subscribers.
A/B Testing – It is also equipped with A/B split testing for optimization and an 'Automatic Winner' feature so that the losing form is automatically deactivated after the testing period.
Integrations – Over 35 services including Amazon Web services, Facebook, Google, MailChimp, Mailgun, MailPoet, reCaptcha, Sendinblue among others.
Reports & Analytics – It returns easy-to-understand conversion rate reports. You can also track the performance of individuals as well as all forms. (=> con compared to others)
Pricing Plans
It is a premium email optin plugin that starts from $19 per month.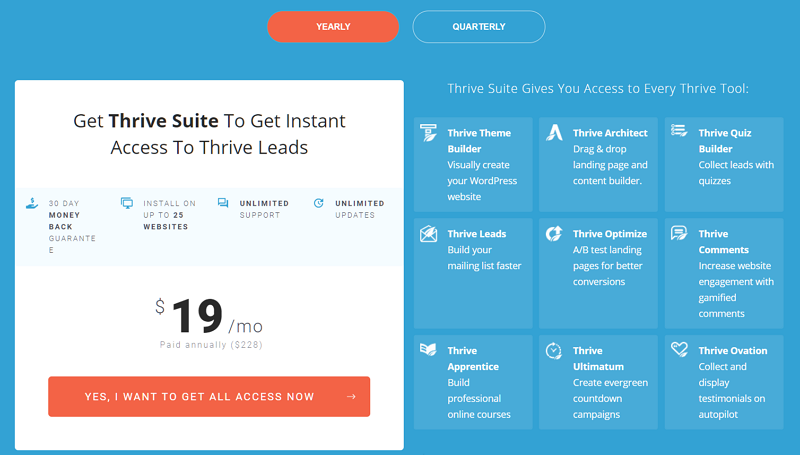 Limitations
The number of triggers is less – also it does not have 'referral detection'.
You can no longer purchase Thrive Leads alone – you have to purchase the entire Thrive Suite. Fortunately it is not very expensive either.
---
Convert Pro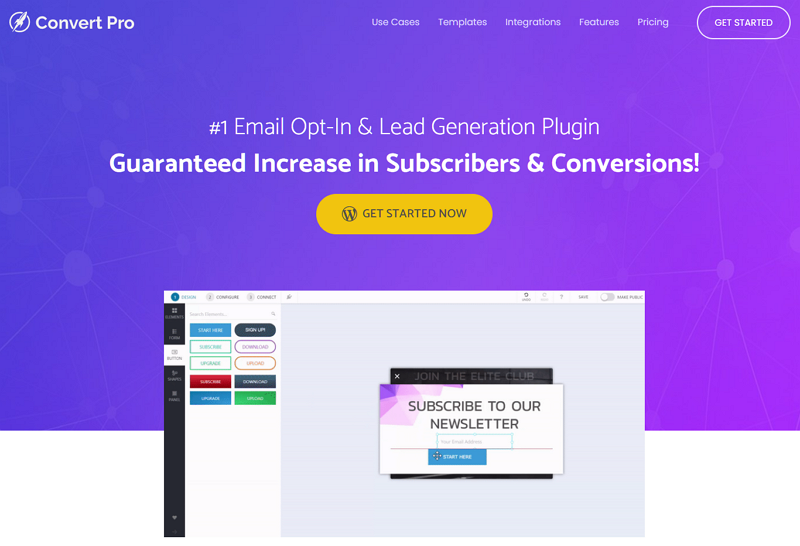 Similar to Bloom, Convert Pro is the opt-in plugin from the developers of the well-reputed Astra theme.
Convert Pro is a great choice for those who are looking for a one-time paid, feature, and template-rich opt-in plugin that offers good customer support. It is also faster compared to Thrive Leads and Opt-in Monster.
Features
Drag and Drop Customization Panel – Code-free and easy to use with a preview for mobile devices as well. Responsive Designs based on visitor's devices.
Cloud Stored Templates – Professionally designed, ready-to-use, and regularly updated. Selectively install only the ones you need. Fully tweakable templates.
Triggers – Exit Intent trigger, timed, welcome triggers for new users based on target/tagged user data, User inactivity triggers, scroll triggers, and after the content trigger.
Advanced A/B Testing – Multi Variant testing by creating multiple versions of opt-in forms as well as inter-style testing.
Targeting

Page level targeting – Allows different opt-in forms for different pages, making them more appropriate for the landing page which the user lands in.
Referrer detection – Customized opt-in forms for users that arrive through a referral link.
Device detection – Desktop, Tablet, or Smartphone.
New vs. Old Visitors – Feature different opt-in for new visitors and old visitors yet to subscribe.
Cookie Control – Allows more ergonomic and non-irritating cooks for users who decline opting in.
Logged-In users – Decide whether to show or hide a specific message from users who are already logged in to your website.

Real-Time Analytics – Integrates with Google Analytics, also allows you to import your analytics data to your WordPress so you can view results and graphs in your WordPress backend.
Integrations – Integrates with over 39 different external email providers and CRM tools such as Mailchimp, Sendinblue, Constant Contact, MailPoet, Mailjet, Mailgun among others.
Pricing Plans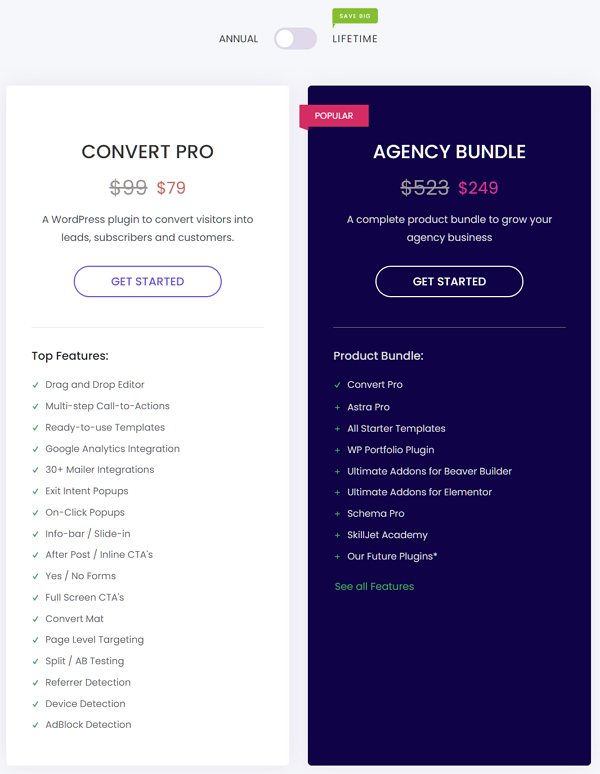 Limitations
No location detection which means no geo-localized opt-in forms
No lightbox animations
---
ConvertBox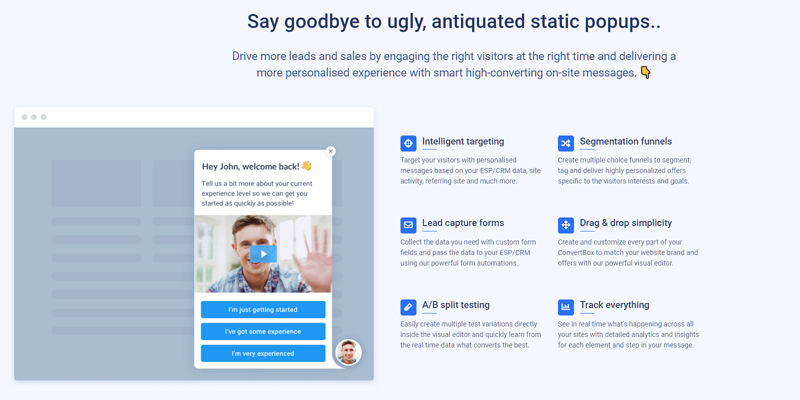 ConvertBox, build by a bunch of SaaS professionals and online course gurus. Offers value for money life-time deals along with all the key features required for inbound content marketing.
Features
Drag and Drop Customization Panel
Personalized opt-in experience for the visitor – Using site data, activity, referrals as well as visitor data from your Email provider or CRM
Segmentation funnels – Multiple choice funnels to segment and tag your visitors
A/B Split testing
Detailed analytics & insights – Real-time data return for every element of your campaign
Pricing
You can get a lifetime deal of ConvertBox in just $495 one time cost.
---
WP Subscribe Pro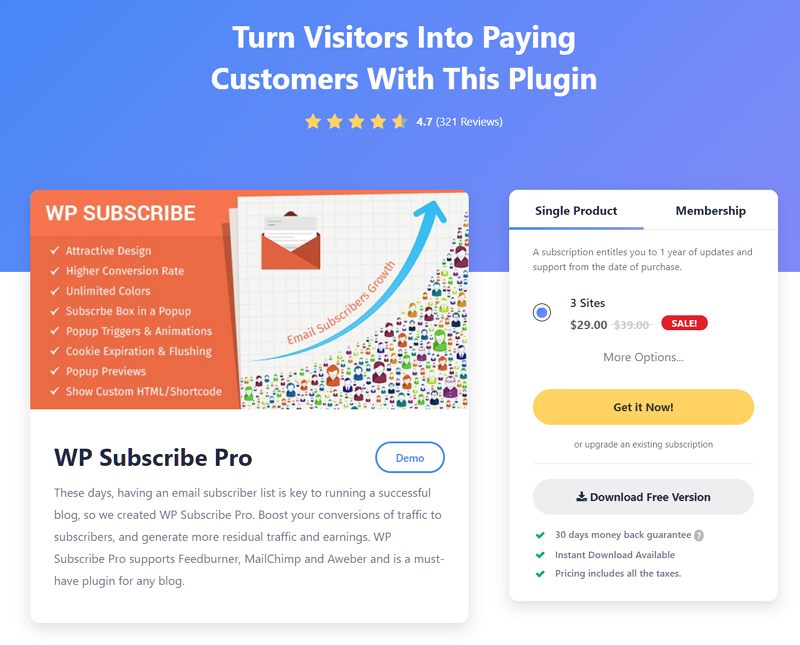 A simple, quick, and easy to get started email subscription plugin is WP Subscribe Pro. Not only is its free version quite functional, but it is also good value for money.
Features
Customization Panel and List Builder Styles – Unlimited Colour options. Has Widget support for widget forms, Pop-up animations, pop-up triggers, exit-intent detection as well as timed delays, as well as provision to add custom HTML/shortcode to further enhance customizability. Above or below content. Live previews, Exclude pages or posts from showing pop-up, Customize colors.
Integrations – Integrates with over 17 third-party tools including MailChimp, Aweber, MailPoet, SendInBlue, and also Google's FeedBurner.
Fully Responsive and Speed Optimized – Super lightweight code making it fast yet powerful.
Compatible with SEO and Caching plugins.
Targeting features – Records user cookies to see if they are new visitors.
Documentation & 24/7 Dedicated Support – Has support forums and also has extensive documentation
Pricing Plans
The basic version of the plugin can be downloaded from the WordPress repository and the pro version starts from $29 for 3 sites.

Limitations
It is very basic and suited only for beginners. Does not have advanced triggers or geo-localization or targeted marketing features. Hence the very low price.
No A/B testing available.
---
Which One should You choose ?
Here are some of my recommendations based on your various requirements you might have or stages you might be in on your WordPress journey:
Best Free – Sumo and MailChimp are my top recommendations for WordPress users who prefer to use free services at the present.
Business/Enterprise – If you are looking for the best marketing platform to support your business reach a wider user base, SendInBlue and MailChimp will prove to be very effective and efficient as these are all-in-one marketing platforms that come equipped will all the tools.
Budget – If you want to get started quickly on a limited budget, Bloom is the best choice. It comes with 110+ good-looking ready-to-use plus fully customizable templates, plus it grants access to other useful products of Elegant Themes such as the Divi and Extra, as well as their social media sharing plugin Monarch. Convert Pro is also a good option if you are on a budget. You can also look for OptinMonster and Thrive Leads as premium email capture plugins.
Final Thoughts
Having shared all this, I can confidently assume you have a good grasp of how Email subscription plugins can assist you in increasing your outreach.
And an overview of some of the best and popular platforms to facilitate successful email communication with your users to grow your brand.
The details of various packages along with their price points and features are laid down for each platform.

You can weigh your priorities and budget and choose one of the above-mentioned tried and tested platforms that are most suited to your requirements.
You may refer to the above short recommendation list for some quick and trusty service and seamless experience for you and your users.

Some of the frequently asked questions on the WordPress Email subscription plugin have been addressed below.
For any further queries on this topic, please feel free to engage with me in the comment section.
FAQs – Frequently Asked Questions
How Do I Add a Subscription Box to My Website
It is a quick and simple process. You have to first sign up for a WordPress Email Subscription plugin. Following which you can quickly create a design for a list builder (in the form of a pop-up, welcome mat, widget, etc.) that asks users for their email addresses.
Following this, all email addresses will be collected in the email subscription plugin from where you can manage them.
To create an email newsletter in WordPress, you should first have an email provider. While WordPress does have an email provider, we highly recommend avoiding it because of its low deliverability.
Instead, go for a reputed email provider from the list above. Once you have signed up, you can import your mailing list into the email provider, design the emails to be sent, along with a plethora of other tweaks to improve reach, and hence periodically send email newsletters to your subscribers.